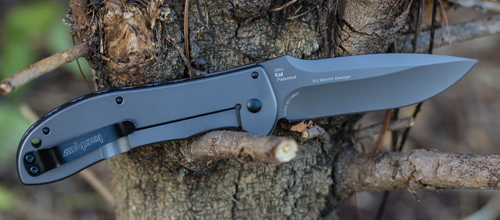 RJ Martin has a knack for functional blade shapes and comfortable, ergonomic handles. Many of his custom and limited production knives sell for $500 and up, so to get one of his designs at this price is remarkable. Kershaw, as well as Boker and some other manufacturers, is very adept at taking high end custom designs and turning them into production pieces. No corners were cut designing, engineering, and manufacturing the 3890 Scrambler. The assisted opening blade can only be opened with the flipper mechanism since it lacks conventional thumbstuds. The SpeedSafe mechanism is quick, strong, durable, and proven. It can be found on countless different Kershaw designs.
The best way to describe the Scrambler is that it is an extremely sleek looking and functioning knife. There's no jimping on the blade spine which I can live without, but some people might call it a crime that they left out this important part of ergonomics. However, the shape of the handle locks this knife into your hand just fine. The machining work on the backspacer, as well as the G10 handle with stainless steel bolsters, adds to the aesthetics of the knife making it a folder you will be proud to carry every day. The frame lock mechanism, ultra stout pocket clip, and coating on the steel parts of the knife add to the design's strength and wearability. This is a knife you should have in your collection and it can be found at www.knifecenter.com.
More about Kershaw Knives:  Full Story

The Model 0300 was Zero Tolerance's first ever knife, co-designed by Ken Onion and Mick Strider, and it became an immediate success in the realm of hard use folding knives. ZT has separated themselves from the competition by using only the best available materials and manufacturing stout tactical knives to some of the tightest tolerances in the industry. The handle of the 0300 is a large 5-1/4″, made from machined G10 with a titanium frame lock. It's got great jimping for your thumb in both the forward and reverse grips, much like a Strider Knife, which is functional even with gloves on. The 3-3/4″ S30V blade features the new Blackwashed finish which is best described as a DLC (diamond-like carbon) finish that been tumbled (or stonewashed) for a non-reflective, broken-in look. The Model 0300 was such a popular design that it spawned a smaller brother, the 0350 with all G10 handles, that continues to be among the most popular knives ZT manufacturers. Blackwash is the same finish as the Acid Stonewash by Brous Blades and seems to be where manufacturers are heading for a durable, non-reflective finish on high end knives. Check out the new Zero Tolerance 0300 at www.knifecenter.com.
More from Zero Tolerance Knives:  Full Story
The Barrage was Benchmade's first ever AXIS lock model to incorporate an assisted opening mechanism and it's continued to be a very popular design, even four years later. The model 581 was introduced in 2011 with the same specifications as the model 580 but with some nice material upgrades. The FRN handle was changed to G10 with stainless steel bolsters and the blade steel was upgraded to M390 super steel, providing a much better using steel while losing little of the stainless qualities 154CM steel provides. Now, in 2013 you can get the Mini Barrage with the same upgrades as the model 581 – the new 586. They've got 2.91″ drop point blades with either a nice stonewashed finish or the black BK2 coating. You can't go wrong with any Benchmade design but if assisted openers are your thing, then the new model 586 is a superior EDC choice. Check it out at www.knifecenter.com.
A Little More From Benchmade: Full Story
After the overwhelming success of our first run of Exclusive M390 Gunhammers, the KnifeCenter is extremely excited to see the new batch of these awesome tactical knives come in with the Torpedo style blade shapes. Available in either serrated or honed, spring-assisted or manual opening, you now have the choice between a tactical black DLC coated blade or an attractive Stonewashed finish. If you choose to go with a manual opening knife but are not familiar with the Maxx Glide Pivot System these knives utilize, you're in for a pleasant surprise. This ball bearing design is exclusive to knives by Darrel Ralph and it really does close the speed gap between assisted and manual knives. With little to no wrist action, the blade flies open using the thumb studs or flipper mechanism and locks up solidly with the overly-thick titanium lockbar. M390 Steel from Bohler is an excellent performance steel balancing corrosion resistance and extremely high hardness (62HRC) which  provides superb wear resistance during hard use cutting. You can check out these new M390 Gunhammer models exclusively at www.knifecenter.com.
More about Darrel Ralph: Full Story
KnifeCenter is very excited about all of CRKT' s new 2013 offerings.    While at the 2013 SHOT show (Shooting Hunting and Outdoor Trade Show) we had the opportunity to see and play with many of their new items including the MJ Lerch designed  Enticer. Thanks to the glass filled nylon handles, this knife is extremely light (just 2 ounces) and is a perfect light weight cutting tool for many tasks.  Blade opening is shockingly quick with CRKT's patented FireSafe mechanism which, for the first time, is used with a thumb-disk to engage the mechanism.  The drop point blade is 3.2" and is composed of 1.4034 steel which is known for its hardness and good corrosion resistance.  The Enticer comes in either a Satin Plain blade or a combo edge version.  The Enticer is available now for pre-order here at KnifeCenter.
Other new items from Columbia River Knife and Tool include the Ken Onion Redemption (described in our blog here);  the Onion Para-Saw Paracord Survival Bracelet , nylon paracord that's braided into a bracelet form—with a plastic encased, tungsten carbide coated wire saw woven into the braided cord; the Endorser, featuring a 3.1″ drop point blade and CRKT's patended  OutBurst® assisted opening system; the fixed blade Sakimori; and many other  new items that can all be found here.
More on the Enticer from Columbia River Knife and Tool here: Full Story
The very popular model 0350 has added yet another new variation to the family, this one with bright orange handles. The G10 on this model is slightly thicker than previous versions making for a more comfortable knife to hold and to use. The 3-1/4″ recurved blade is best described as a mix of bead blasted and stonewashed for a good looking and most likely very durable blade finish. The 0550BLK is the same exact knife as it was before but with a black DLC coated S35VN blade. The titanium locking side features the new more-Hinderer inspired frame lock and the same deep carry pocket clip found on the 0560 and 0561 models. Excellent ergonomics, good looks, and a real sense of toughness emanates from these two knives and there's no doubt both would serve well in just about any application. Check out these brand new Zero Tolerance knives at www.knifecenter.com.
More about Zero Tolerance Knives: Full Story


We have thousands of products made in the USA. We try to find the very best American Made products that we can. We have a page of links to various products that are made in America. From American Made Folding Knives to American Made Mulititools, to American Made Kitchen Products and American Made Flashlights and much, much more.
Just released for 2012 and now available at the KnifeCenter are the three limited edition Kershaw Blurs. These include two DLC coated models with a Purple or Green spider web pattern handle and a Carbon Fiber model with a beautiful stonewashed finish. The 154CM steel blades come razor sharp and fly open with just the slightest pressure to the tapered thumbstuds. Light jimping on the spine and frame, paired with an ergonomically curved handle make this knife extremely comfortable to use for extended cutting tasks. Limited production of 700 Pieces for the Green, 550 pieces for the Purple, and 850 pieces for the Carbon Fiber – get these highly collectible and ultra cool designs before they're all gone. Available at www.knifecenter.com.
More from Kershaw: Full Story
The well known and extremely talented designer Darrel Ralph produces some of the most sought after tactical and collectible knives on the market and for good reason. New from HTM Knives and featured in the 2010 summer blockbuster "The Expendables", the AXD 5.5 Tanto Folder is now at the KnifeCenter. This assisted opening beast of a knife is 11-1/2″ overall with a 5-1/2″ S35VN blade that flies open with just a little pressure on the flipper. The 3D machined Titanium handle is curved for excellent ergonomics and has a solid frame lock which is very easy to manipulate. The knife comes with an HTM zipper carry pouch and can be found at www.knifecenter.com.
More about Darrel Ralph and the AXD 5.5: Full Story
The Tailwind Urban Tactical Stilettos are slim lightweight folders with quite a kick. They take the Stiletto design to the next level and you get an ergonomic, functional, and economical knife with a great tactical look. Available with the classic spear point blade shape or a more tactical tanto design, all are 7CR17 stainless steel blades coated in black for improved corrosion resistance. A double finder guard, deep carry bayonet clip, large lanyard hole, and solid liner lock are just a few of the many features on these knives. An excellent bang for your buck, check them out at www.knifecenter.com.
More about United Cutlery: Full Story