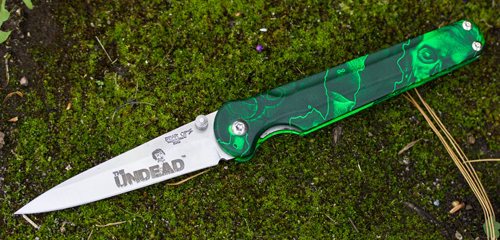 Stilettos are known for their fast action, thin profiles, and symmetrical spear point blades. Bear OPS has created a smaller sized Stiletto folder that will serve you as an excellent EDC utility knife. The best thing about this knife, besides the S30V blade of course, is the lightweight yet strong aluminum handles. They're shaped eerily similar and have the same anodized feeling as the Benchmade 940/943 and comes with a reasonably deep carry pocket clip. Take the Reaper Z handles or leave them, it's up to you. For my money they're something different in the collection so fine by me. This knife features a liner lock, smooth fast action, and flow-through design for easy cleaning. Proudly made in Alabama, this knife is available at www.knifecenter.com.
About Bear OPS, a Division of Bear & Son Cutlery:  Full Story


We have thousands of products made in the USA. We try to find the very best American Made products that we can. We have a page of links to various products that are made in America. From American Made Folding Knives to American Made Mulititools, to American Made Kitchen Products and American Made Flashlights and much, much more.
If you're new to flipping or are ready take off the training wheels, why not pick up a limited edition butterfly knife for a fraction of the price you'll spend on other models. The new red handled Bali Songs from Bear & Sons Cutlery are available in a compact 4″ closed length model and also 5″ for those who like a full size knife to flip with. Now available at the KnifeCenter, this popular and economic butterfly knife is limited to 263 production pieces per model. Smooth to flip, ergonomic to use, and sharp right out of the box, Bear & Sons Bali Songs are great tools for your hard earned money. Check them out at www.knifecenter.com.
About Bear & Sons Cutlery: Full Story
The Blade Show 2011. Full Story

Bear OPS Combat Knives from Bear and Son Cutlery
Bear and Son Cutlery is one of America's premier manufacturers. They have a selection of folding pocketknives and fixed blades that casual users and hunters have carried for years. Now, Bear and Son is offering a selection of good quality and all American made combat knives called the Bear Ops. We're proud to be one of the first dealers to offer these to the public and you can see the Bear Ops selection at www.knifecenter.com
Some more data from Bear and Son Cutlery: Full Story

New Damascus Bowie Knives from Bear and Son at the Knife Center
Every now and then we get offered an amazing opportunity by our vendors. Recently, Bear and Son came to us with a batch of these bowies that they had made several years ago, but had misplaced in their factory. These were typically made with a 10.25″ blade, but, due to a mistake by the lazer cutting machine, these have a unique 7.5″ damascus blade. They also feature beautiful cocobolo handles and a leather sheath. These are Western Style Bowies made in the USA at really great prices.
More information from Bear and Son: Full Story

Bear MGC and United Cutlery Butterfly Knives
Bear MGC made these butterfly knives in their USA factory for United Cutlery Brands over a decade ago. Fortunately for us, they found a leftover batch in their warehouse, and they are letting us offer them to the public at a great price. In fact, these are the lowest priced live bali-songs we have available.
If you have ever considered trying a butterfly knife, this is your chance to get a great USA made knife at a price that is impossible to beat.
Find these knives at www.knifecenter.com
More information from Bear and Sons: Full Story

Bear & Son Custom Heritage Damascus Genuine India Stag Horn Handle
Bear and Son Company does a good job building decent quality folders in the USA. These new folders have good Damascus steel blades that sharpen up to a razor edge. The handles are genuine stag. They are limited editions.
Bear and Son says: Full Story

Bear and Son Gold Rush Bowies
Ahhh…the long road of the old Western Bowie. First it was made by Western States Cutlery, and then Coleman-Western, then it was a Camillus product, now it has made its home with the fine folks at Bear & Son Cutlery. Still made in the USA-Jacksonville, Alabama to be specific-this is a Bowie that has stood the test of time. For their introduction of it into their line they have produced a standard model as well as one with a beautiful ladder damascus blade.
We see a lot of multitools come through the Knife Center. This Bear Electrician tool one is unique in several ways. First of all, it is a electrician's tool with a great wire stripper in the jaw. It is made entirely in the USA from quality materials. Full Story