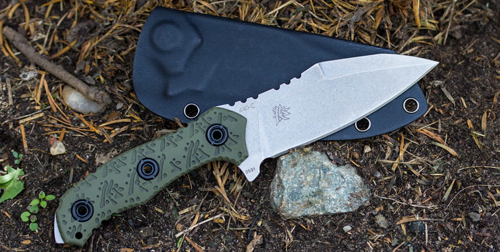 Very rarely do we get knives in the door that we have to double, then triple check the price to make sure we got it right. That's just the case with the new Boker Plus Colubris, an all-around fixed blade designed by DJ Urbanovsky. When you get this knife in your hand, it's a lot like the Ontario RAT folders, you just can't believe what you're getting for the price. True, the blade is made from 440C steel but the way Boker heat treats and finishes these blades, you end up with a great user steel that will hold an adequate edge. Other than the knock on the steel, we wouldn't change a single thing about the knife. The G10 handle is ergonomically contoured for a comfortable grip in multiple positions and the aesthetic dimpling/texturing provides good purchase. The modified Wharncliff blade is angled for deep, effective slicing and has enough belly for most of your utility work. I strongly feel a fixed blade knife is only as good as it's sheath, and the friction fit Kydex sheath you get with the Colubris is right on point. It perfectly fits the knife with little to no rattling sound, and comes with a multi-position Boker belt clip, which functions exactly the same as a Spyderco G-Clip. Check out this awesome new Boker Plus knife at www.knifecenter.com.
More about the Colubris from Boker:  Full Story
Very Spyderco Vallotton and Starmate-esque, the new Boker Plus Squail is a large tactical folder with serious style. The designer, Charles Marlowe, is known for combining function with elegance in all his designs, whether they be tactical or utility in nature. The Squail features a large 4″ 440C blade that is beautifully stonewashed and has a nice-sized thumb hole for easy actuation. The handles are linen Micarta paired with matte finished titanium bolsters for a refined looking and feeling knife. The jimping on the spine is very sharp for excellent purchase and the liner lock, though not grooved like it is in the picture, does lock the knife up with no play whatsoever. This is another awesome piece from Boker Plus and their decision to go with production versions of custom knife designs is paying off with some really excellent products. Keep your eyes peeled for more new designs and check out this handsome new tactical knife at www.knifecenter.com.
More From the Designer: Full Story

New Damascus from Boker Plus
Boker Plus has long been known as the brand the Boker of Solingen offers with the innovative designs that they can offer at reasonable prices because they're made in Taiwan or China. They keep getting better and better at producing pocket knives and hunting knives that are world class in quality and materials and still reasonably priced. These two new offerings in Damascus steel are a case in point. The traditional folder has all the design points from Boker's Solingen made Optima series and their lockback series with the curved bolsters. They have done the blades as well as the bolsters is beautiful Damascus and the knife makes a gorgeous folding lockback at an incredible price. The Damascus Cuisine folding pocketknife is equally elegant as an all Damascus handle contains both a long pen blade and a fork entirely made of the elegant layered steel. Personally, I don't care who made these pocket knives, they are beautifully made and will be a real keepsake for anyone who owns one.
More information from Boker HERE: Full Story
Boker SUBCOM Dusk to Dawn- Orange Handles
Boker Plus' Chad los Banos SUBCOM line of thin profile pocket knives has been a great seller here at the KnifeCenter.com site for years now. Boker Plus keeps coming up with new permutations of the features and these new orange handle SUBCOMs are perfect. Orange handles means you are less likely to leave these knives behind. If you are looking for a new pocketknife, consider these and also consider they will offer this in a slipjoint soon. See these at www.knifecenter.com
Here is some more information about these from Boker Plus: Full Story
A Kwaiken is very simplistic Japanese style short sword with a slim, slender profile which can be easily concealed. Carried by both the samurai men and women, it was preferred when either a Katana or Wakizashi was too large or impractical to use. The Boker Plus Kwaiken is a folding interpretation of this knife designed by Lucas Burnley out of New Mexico. It features the classic Kwaiken blade shape, sleek Micarta scales, a tight pocket clip, and a very attractive stonewashed finish. The thumb disk is very difficult to actuate right out of the box but with everything in life, just a little practice and thumb pressure to the right area finds this knife flying open extremely fast. This is due to the IKBS bearing system found on a couple CRKT knives which, for the money, is the smoothest opening system on the market. This knife may not be for everyone but it is a very well constructed tactical design with all the elegance typical of Boker designs. Check this knife out at www.knifecenter.com.
More from Boker Plus: Full Story
What makes a good Buchcraft design is an easily resharpened blade, comfortable handle, and of course a good sheath. The new Boker Plus Classic Bushcraft knife gets all of these things right. The 4″ 440C blade may not be the best looking I've ever seen but it will cut well and resharpen quite easily. The black Micarta handle scales have a huge lanyard hole for 550 cord and are nicely rounded for a comfortable grip. The leather sheath is a simplistic drop-in design but it secures the knife very well so you'll have no fear of losing it. The Classic Bushcraft knife comes from Boker Plus in very nice gift packaging complete with a fire steel and striker, which must be carried separate from the sheath. Check it out this affordable new design at www.knifecenter.com.
More from Boker: Full Story
This is a very well designed, high quality new combat knife from Jesper Voxnaes and Boker. It's constructed from one solid piece of N690BO stainless steel with a beautiful stonewashed finish. The handle is contoured canvas Micarta with holes drilled through it allowing for the knife to be easily attached to a stick for a homemade spear. The clip point blade is an excellent tactical design that can also be pressed into hunting tasks with ease. Part of what makes a good fixed blade knife is having a good sheath and that's definitely the case for the Boker JTN. The black leather sheath is extremely well made, visually appealing, and durable. It's got a pouch on the front for extra survival gear and has Velcro and button attachments on the belt loop so the sheath can be put on and removed without having to undo your belt. A very nice knife from Boker that's built like a tank and available at www.knifecenter.com.
More about the Boker JTN: Full Story
The Boker Magnum Shadow Rainbow is a high quality small utility folder with a lot of flare. The handles scales are made from polished wood with a rich grain pattern and they are slightly smaller than the liners the entire way round the knife. This isn't a design defect but more of a feature of the knife allowing for the beautiful rainbow liners to show easily. Heat treated bluing has been applied to the face and locking liners which accents the plain satin finished 2-1/2″ blade nicely. You can find this sharp, affordable pocket folder at www.knifecenter.com.
More about the Magnum Shadow Rainbow: Full Story
Wicked…The best single word to describe the new Exodus tactical fixed blade model from Boker Plus. It's robust, it's ergonomic, it's cool, it's functional, and best of all it's affordable. With a wide 4.5mm thick blade, curved ergonomic G10 handle, and high quality Kydex sheath with included Tek-Lok, this is one awesome and well designed package. Andy Fitz and Boker Plus have  a winner here with the Exodus tactical fixed blade, which can be seen at www.knifecenter.com.
More from Boker Plus: Full Story
Boker is well known for producing some of the highest quality pocket and fixed blade knives in the world. The Special Edition Evergreen Series with smooth olive wood handles are no exception. The beautifully brushed 440C blades come razor sharp and have an extremely strong detent providing solid lockup. All the handles are nicely rounded and very smooth for a comfortable, ergonomic grip. The inlaid Tree-Brand logo reads 'Solingen' underneath symbolizing the quality of manufacturing coming from one of the premier steel capitals of the world. These knives are serial numbered and limited to only 500 production pieces worldwide. Pick yours up for a great price at www.knifecenter.com.
More about the Evergreen Series: Full Story