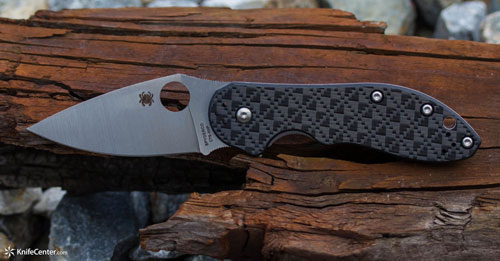 With two new flippers in two successive years, Spyderco must be trying to change their Trademark Hole or something fishy is going on. Flippers keep gaining popularity with knife knuts because they're easier and are in some cases faster to open. The addition of an assist mechanism or ball bearing system gives you the peace of mind that the blade will open quickly and do so completely, every time. The Domino is just this kind of knife with buttery smooth bearings, making it very fun to play with. In use, it's like any other Spyderco - just made to cut things! The CTS XHP steel is among the best in performance on the market due a high hardness and edge holding capability. The best thing about it though, is something you cannot see; the ease at which it can be resharpened. Hard steels like D2 and ZDP perform very well until they get dull. That's when you either have to spend an hour working on the edge or send it out to get professionally sharpened. Not so with XHP. It's fine particle metallurgy and high chromium content makes sharpening easier while also boosting its corrosion resistance. The Chris Reeve Integral frame lock (with replaceable lock bar insert), four-position pocket clip, and carbon fiber laminate handle are just other parts of this very well manufactured product. Check out the new Spyderco flipper at www.knifecenter.com.
More from Spyderco about the Domino:  Full Story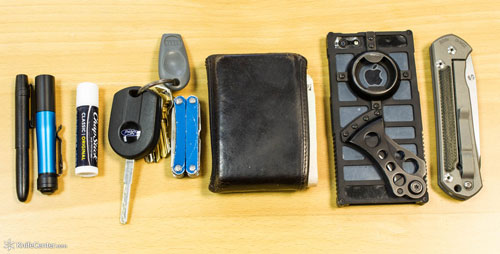 EDC is an acronym that's been gaining momentum in popularity the past couple years and it stands for Every Day Carry. It refers to those items you don't leave home without and always carry with you wherever you go. They can be be as simple as your keys and wallet or as complex as a bail-out-bag with hundreds of items. You can carry these items simply in your pockets or purse or can have a devoted bag/pack to hold them, depending on how much you carry. There is no magic formula for your EDC items, just a snapshot of what you need each and every day. Here's a what I've got in my pockets right now, much of which you can find at www.knifecenter.com.


We have thousands of products made in the USA. We try to find the very best American Made products that we can. We have a page of links to various products that are made in America. From American Made Folding Knives to American Made Mulititools, to American Made Kitchen Products and American Made Flashlights and much, much more.
Introducing the 25th year anniversary edition of the original frame lock folder – the Sebenza. The hole in the middle of the face scale is gone making for simply a better looking knife. The extra finger contour is the most noticeable difference on this model but it's inside where all the real change has happened. The handle screws and pivot are now larger to wear better over time. The washers are absolutely gigantic and fit with extra holes for better oil distribution resulting in a smoother opening blade. The thumb ramp has been redesigned with a much larger curve so it's actually functional now and really locks the knife in the hand. Finally, the attached blue lanyard and bead really are just a cherry on top. It's an absolutely stunning knife built to the quality Chris Reeve is famous for. This is a Prototype, serial number 22 of 25, and is hand signed and dated by the legend himself – Chris Reeve.  Check it out before it's gone at www.knifecenter.com.
More from Chris Reeve Knives: Full Story
New one of a kind knives from Chris Reeve! When it comes to production knives, Chris Reeve stands alone atop the mountain. He has made many innovations and collaborated on designs that have forever changed our industry. He is the father of the one-piece knife concept, with his original model MK IV, the chief innovator of the Reeve Integral Lock, commonly referred to as a Frame lock, and was even crucial to the development of S30V stainless steel. He worked alongside the Crucible Materials Company to develop the first steel specifically designed for the cutlery industry. The various inlays, CNC machined graphics on the handle scales or beautiful Devin Thomas Damascus steels can make your production knife one of a kind. If you don't love Chris Reeve Knives, then you probably haven't handled one – they're that awesome. Check out all the Chris Reeve fixed and folding offerings and the new one of a kind models while they last at www.knifecenter.com.
More from Chris Reeve: Full Story
2012 Industry Achievement: Knife Rights & AKTI
2012 Accessory of the Year: Wicked Edge Precision Sharpener Pro-Pack I
2012 Kitchen Knife of the Year: Shun Tayo Kitchen Knife
2012 Investor Collector Knife of the Year: William Henry B12 Freedom
2012 Collaboration of the Year: Zero Tolerance & RJ Martin 0600
2012 Best Buy of the Year: Kershaw Cryo
2012 Manufacturing Quality Award : Chris Reeve Knives
2012 Hall of Fame Inductee: Harold Kit Carson
2012 Most Innovative Imported Design: Lionsteel DPX Gear HEST 2.0
2012 Most Innovative American Design: Spyderco Autonomy
2012 Imported Knife of the Year: CRKT Ken Onion Foresight
2012 American Made Knife of the Year: Microtech Socom Delta
2012 Overall Knife of the Year: Zero Tolerance 0888

Chris Reeve Knives Ti-Lock
Chris Reeve doesn't release new models very often. This is a monumental occasion because he has released a model that he designed with the Hawk family. The Hawks, Grant and Gavin, are an Idaho father and son team that has contributed some of the most innovative knife designs we have ever seen. This one is a great combo with Chris Reeve's engineering and we think it will be a hit for many years. More about the knife: This is a great pocketknife. It is extremely lightweight. The action is very easy. Opening with the thumbstud using just one hand is very natural. Closing with one hand is also easy, but takes a little practice. The remarkable quality, though, is the very full sized blade and relatively small handle. It is really a compact knife with a really useful blade. The quality of manufacture is, of course, second to none.
You can see these at www.knifecenter.com
Here is a further description from the makers: Full Story

Chris Reeve Knives Nyala Classic Skinner
Chris Reeve Knives are famous around the world for their quality of design and workmanship. This new entry in the Chris Reeve lineup does not fail to live up to their reputation.
In the Chris Reeve Knives tradition of simple, elegant and functional, the Nyala is a modern version of a classic skinner.
Featuring the utility of a drop point and enough belly for skinning, this all purpose knife will prove useful in a multitude of applications. The integral handle and blade of CPM S35VN is sturdy and practical – spiral and lineal grooves in the micarta handle provide positive grip – good knife control is provided by serrations on the spine.
The high quality sheath is made of leather treated to be water resistant.
The Nyala is a Southern African antelope found in dense forested areas, and is one of Chris's favorite African animals. They are prevalent in Mkuze Game Reserve in the northern KwaZulu Natal region of South Africa – one of Chris's favorite areas. Nyala (pronounced Nn-yaal-a) is the Zulu and Swahili name for this handsome antelope.
Male Nyala are most easily recognized by their distinctive spiral horns and vertical striped bodies. The grooves on the handles of knife Nyala, are reminiscent of those distinctive spiral horns, hence the decision to borrow the name! You can see these great knives at www.knifecenter.com
Here are the SPECS: Full Story

New! Benchmade Assisted Opening Subrosa
Full titanium handles with a Chris Reeve inspired monolock… and assisted opening??? Finally, the much anticipated Lerch Subrosa is here! This knife is easy on your pocket, powerful and strong. It is also beautiful. Plus, if you act quick, the batch we currently have on our shelf is serial numbered and marked first production run. This knife will be looked back on as one of the classic Benchmades.
See this knife at www.knifecenter.com
More information from the manufacturer: Full Story

New, Low Price Chris Reeve Razionale Knives!
Ever thought you'd see a Chris Reeve folder for under 200 bucks? Yeah, neither did we… but here they are! In the interest of full disclosure, the knife is built in the Fantoni facility in Italy, but each knife was inspected by (the very particular) Chris Reeve in Idaho before they were shipped out. The design is a collaboration between Chris and Bill Harsey – with whom he has designed several fixed blades. This knife is limited to only a few dozen left on the market anywhere , so don't miss this opportunity to own a beautiful knife at an unheard of price.
See these knives at www.knifecenter.com
See more information from Chris Reeves: Full Story