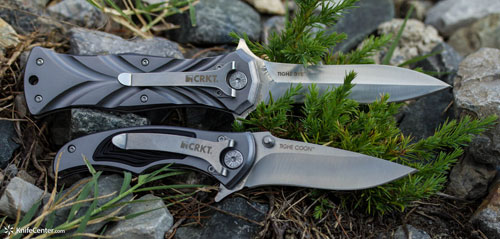 CRKT has been pumping out the Brian Tighe designs hard and fast recently, and for good reason. Each and every model he comes up with is refreshingly different and once you get one in the hand, is hard to put down. The two newest to arrives through the KnifeCenter doors are the Tighe Coon and Tighe Dye folders. They both have flipper mechanisms, gray aluminum handles, button locks, and reasonably deep carry pocket clips. However, apart from these material similarities, they really are quite different designs. The Dye model is a single edged version of an Italian Stiletto, but the handle provides a much more stout feeling for more demanding cutting tasks. The Tighe Coon knife is ultra smooth opening with a slightly recurved drop point blade for better slicing performance. Both knives feature mirror polished AUS-8 blades and are built like tanks. Check out these Tighet new knives at www.knifecenter.com.
More about the Designer Brian Tighe:  Full Story
Ken Onion Swindle – An honestly Great Deal
Columbia River's models that are designed by world famous knifemaker Ken Onion have a great reputation for innovation and quality. This latest release, the "Swindle" is a really innovative pocketknife. The handles are super slim and smooth allowing for easy pocket carrying. The IKBS system of blade pivot is very slick and the opening is just silky smooth. The overall shape is very unique and artsy and the hollow grind is so deep that the edge is really hair thin. We like this folder a lot. The steel is basic and we wish it was a little (or a lot!) more premium, but, as it is, this is a great every day carry knife. You can see them at www.knifecenter.com
Here is some more info from Columbia River Knife and Tool: Full Story

Ken Onion Ripple gets a Redo
The Ripple series has been a great selection since they were introduced last year. This iteration has really dressed them up. The handles are a lot smoother with a steel material rather than the aluminum they formerly came with. The blade steel has also been upgraded to the Acuto 440 which comes harder and should give very good service to the user. The overall feel and "walk and talk" of the knives is, in our opinion, much improved. As always, they fly open on ball bearings making any spring assist mechanisms unnecessary. You can see the entire Ripple Series HERE or you can see the new ones HERE
You can learn more here: Full Story
KnifeCenter is very excited about all of CRKT' s new 2013 offerings.    While at the 2013 SHOT show (Shooting Hunting and Outdoor Trade Show) we had the opportunity to see and play with many of their new items including the MJ Lerch designed  Enticer. Thanks to the glass filled nylon handles, this knife is extremely light (just 2 ounces) and is a perfect light weight cutting tool for many tasks.  Blade opening is shockingly quick with CRKT's patented FireSafe mechanism which, for the first time, is used with a thumb-disk to engage the mechanism.  The drop point blade is 3.2" and is composed of 1.4034 steel which is known for its hardness and good corrosion resistance.  The Enticer comes in either a Satin Plain blade or a combo edge version.  The Enticer is available now for pre-order here at KnifeCenter.
Other new items from Columbia River Knife and Tool include the Ken Onion Redemption (described in our blog here);  the Onion Para-Saw Paracord Survival Bracelet , nylon paracord that's braided into a bracelet form—with a plastic encased, tungsten carbide coated wire saw woven into the braided cord; the Endorser, featuring a 3.1″ drop point blade and CRKT's patended  OutBurst® assisted opening system; the fixed blade Sakimori; and many other  new items that can all be found here.
More on the Enticer from Columbia River Knife and Tool here: Full Story
This Columbia River Knife and Tool "First Production" fixed blade Redemption Tactical/Survival Knife definitely has an immediate WOW! factor. Here at KnifeCenter we were all impressed by the overall heft of the knife and the truly unique Ken Onion designed blade. This behemoth combat tactical weapon features G10 handles which provide for a more comfortable feel and ease of use and Includes a nylon sheath with belt loops, a leg strap, and an extra storage pocket. The knife is secured in a removable Kydex liner (simply unscrew one bolt) within the nylon sheath. The black plain blade features a dramatic recurve and is constructed using YK-30 high-carbon steel.
Whether you're blazing through the jungle, removing unwanted brush from the backyard, or simply wish to impress your pals with this wicked beast of a knife, the Redemption will surely fit the bill. These are sure to move quickly so get yours here ASAP at www.knifecenter.com!!
More Information From CRKT: Full Story
Recently anointed the Best Imported Knife of 2012 at the Blade Show in Atlanta, the CRKT Foresight has now arrived at the KnifeCenter. This truly is a robust tactical folder with a 3.5″ Titanium-Nitride coated AUS 8 blade, available with or without serrations. The handle is extremely well contoured, anodized aluminum to provide a firm hold on the knife in both the forward and reverse grips. The added finger grooves are identical on both sides so both righties and lefties can get an extremely comfortable grip for hard use cutting. Featuring the Ikoma Korth Bearing System (IKBS), you might think this knife is an assisted model as it flies open so fast. It's just that silky-smooth. The clip is quite strong and carries deeply in the pocket but is only situated for tip down, right hand carry. This is actually a safety feature of the design to minimize the chances of the blade opening when it's entering or exiting your pocket. An extremely stout folding knife design, the Foresight is a great tactical blade that is perfectly designed to be a large EDC folder as well. You can find this new brilliant Ken Onion knife at www.knifecenter.com.
More from CRKT: Full Story
2012 Industry Achievement: Knife Rights & AKTI
2012 Accessory of the Year: Wicked Edge Precision Sharpener Pro-Pack I
2012 Kitchen Knife of the Year: Shun Tayo Kitchen Knife
2012 Investor Collector Knife of the Year: William Henry B12 Freedom
2012 Collaboration of the Year: Zero Tolerance & RJ Martin 0600
2012 Best Buy of the Year: Kershaw Cryo
2012 Manufacturing Quality Award : Chris Reeve Knives
2012 Hall of Fame Inductee: Harold Kit Carson
2012 Most Innovative Imported Design: Lionsteel DPX Gear HEST 2.0
2012 Most Innovative American Design: Spyderco Autonomy
2012 Imported Knife of the Year: CRKT Ken Onion Foresight
2012 American Made Knife of the Year: Microtech Socom Delta
2012 Overall Knife of the Year: Zero Tolerance 0888
Columbia River Knife & Tool has some of the best and highest value knife designs available on the market today. The Eraser from Liong Mah is the next combat worthy folder that you will be able to count on for your life. The knife features a 3-7/8″ blade with an extremely versatile blade shape which also happens to be a personal favorite. The reverse tanto blade is extremely strong, durable, and fit for every use from slicing to stabbing to chopping. The slight curvature in the handle is very ergonomic and locks the knife in your hand with a full four finger grip. The handle scales are contoured G10 and the blade steel is AUS8, hollow ground, with a bead blast or Titanium-Nitride finish. There are no thumbstuds on the knife but the pocket clip can be positioned in four places for complete ambidextrous carry. The Mah Eraser is a highly functional knife design which is extremely well built, check it out at www.knifecenter.com.
More from the CRKT website: Full Story

The CRKT Ripple introduces a new knife to the line, an economical version with aluminum handles and a linerlock. The original Ripple models are available in two sizes, one with a 3.125″ blade, the other 2.7″ and both feature titanium nitride coated stainless steel handles and a framelock. Designed by well known knife maker Ken Onion, the Ripple integrates the IKBS internal knife ball-bearing system for super smooth and fast opening action. All the handles are CNC machined with the ripple pattern as well as over 40 small holes to lighten the weight of the knife. For a nearly 7.5″ overall knife, it's extremely light at only 2.5 ounces. You can see this at www.knifecenter.com.
More from the CRKT Website: Full Story

CRKT Folts S.P.E.W. Everyday Wharncliff
Columbia River Knife and Tool creates some of the greatest products we offer. This is a great design on a great product. The blade style is useful and the sheath allows for really easy carry options. The price is right and we feel you won't go wrong with this one.
You can see these at www.knifecenter.com
Here is the description from Columbia River Knife and Tool! Full Story