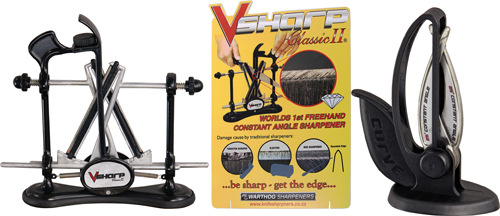 Pull-through sharpeners are by far the easiest to use of any sharpener type. All you need to do is set it up and pull your blade through for fast, simple, and effective results. The Warthog Sharpeners V-Sharp Classic II is a new, adjustable angle design with multiple diamond sharpening rods you can use with all your different knives. The Curve is a compact, easy to use, highly portable model that always provides the right amount of pressure to the edge when you pull it through. What sets these apart from every other pull-through sharpener on the market is that these include a blade guide for precisely lining up the edge with the sharpening rods. Warthog Sharpeners are designed to be used by anyone to quickly achieve a functional edge, no matter your sharpening experience. You can find these excellent new sharpening products at www.knifecenter.com.
More about Warthog Sharpeners:  Full Story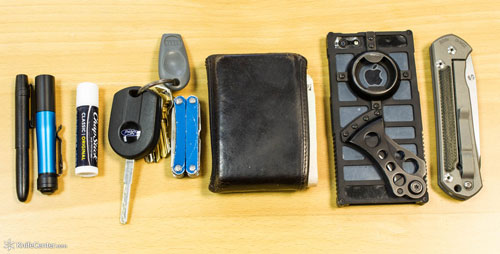 EDC is an acronym that's been gaining momentum in popularity the past couple years and it stands for Every Day Carry. It refers to those items you don't leave home without and always carry with you wherever you go. They can be be as simple as your keys and wallet or as complex as a bail-out-bag with hundreds of items. You can carry these items simply in your pockets or purse or can have a devoted bag/pack to hold them, depending on how much you carry. There is no magic formula for your EDC items, just a snapshot of what you need each and every day. Here's a what I've got in my pockets right now, much of which you can find at www.knifecenter.com.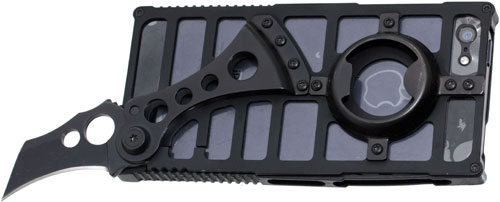 If you're looking for a conversation starter, something that will impress each and every person you show it to, this is it! True, many people will scoff at it or ask you what happens when you encounter a TSA agent with this in your pocket, but that's neither here nor there. It's the convenience of having a blade with you at all times, even if you forget your EDC knife, and ease of which you can remove the case with the torx bit it comes with that makes this an excellent product. All you have to do is pop out the four corner screws and viola, you're in business. I've had my TactiCall for a little over a month now and after you get used to the added weight, it really becomes a highly useful and functional tool. I was wary at first that the bottle opener would apply too much force to the back side of the phone and could break it, but that's definitely not the case, ha. The opener is strongly reinforced by the design of the case and it pops the tops off quickly and effectively the first time, every time. The knife comes as sharp as any karambit blade out there and locks up solidly right out of the packaging. The pivot is adjustable if any play develops using the same supplied torx tool as you use to remove the case, so you always have a properly functioning knife. This is a very useful product and does an excellent job protecting your iPhone 5, check it out at www.knifecenter.com.

The Mad Blacksmith, better known as Jared West, has a distinct style unlike any other. From his knife designs to his other far out products, you will find a cool new item you know you need but never thought would be a reality. The City Dweller Pen Lanyards are just that sort of item. The idea is to disguise the fact that you have a knife by attaching a lanyard with a 2-1/2″ piece resembling a pen. The execution is the key here and these well done products function exactly as designed. Tie the 550 paracord through the lanyard hole, clip it in the pocket and it'll be nearly impossible to tell you've got a knife on you at all. The Mad Blacksmith stands up for your rights to carry a knife without unwarranted attention or accusation. Check out these bold new lanyards at www.knifecenter.com.
More from Jared about the City Dweller:  Full Story
Manual pocket sharpeners have met their match with the new Guided Field Sharpener from Work Sharp. Previously limited to a hand held belt sharpening system, Work Sharp has branched out this year to add a variety of products to quickly get a great edge on your tools. The new field sharpener includes two diamond plates (one coarse, one fine) which are held in place by a pair of strong magnets but can easily be removed for cleaning. The large ceramic rod allows one to touch up not only knives but it has a groove cut in for fish hooks that can be accessed by rotating the red knob on the end. Another feature you don't see on many hand held sharpeners is the leather strop opposite the ceramic rods. Stropping a readily sharp blade polishes up the edge by straightening out the burr which not only makes for a sharper edge but also a more durable one. The Guided Field Sharpener is a very easy to use tool (set up for both 20° and 25° edge angless) and can sharpen almost anything you throw on it. Check out this awesome new sharpener at www.knifecenter.com.
More from Work Sharp:   Full Story
Mushroom Knives at KnifeCenter of the InterNet
The Knifecenter of the InterNet specializes in offering all types of knives to you. We don't limit ourselves to combat knives or imported knives, because we have been the number one resource for knives on the internet since the beginning of the World Wide Web in the early 1990′s and we have been expanding ever since. So we have been offering mushroom knives for years, now and we recently got in a new variety from Maserin in Italy. The Italians and French seem to produce mushroom knives we suppose because gathering up the wild fungi is more popular over there. We don't encourage the random sampling of mushrooms as there are many poisonous varieties that can actually kill you. It's important to be careful and learn the good varieties before you venture forth. However, if you are in the mushroom gathering mood, the proper knife can help you in trimming them off and brushing them off so that you don't have to take home all the soil that they grow in. Some of the mushroom knives we offer have measuring scales and most have brushes. We think these are an interesting product and hope you always are careful in the picking of mushrooms and have the proper tool! You can see the variety at www.knifecenter.com
ASP-USA produces without a doubt the highest quality expandable batons we stock here at the KnifeCenter. New for 2013, they're expanding their inventory to include not just batons, pepper spray, handcuffs, and high quality carry cases but some serious EDC and keychain flashlights for the tactical professional.  If you've already got an ASP baton, accessorize it with the tactical Triad attachment which replaces the end cap with a 70 lumen LED flashlight that's tough as nails. Or if you're just looking for an everyday carry lighting option, they've got you covered with the compact Tungsten flashlights or a Triad model available in AA, CR123 or 18650 Lithium, all putting out over 200 lumens. However the coolest items to be released are the new Sapphire keychain LED models that come in a variety of colors with a USB attachment so it can be recharged with any computer. Check out all the new ASP products at www.knifecenter.com.
More about ASP-USA: Full Story
When the power goes out, you'll want a great flashlight at the ready. Your keychain is the perfect place for a flashlight, but most are so dim that they are essentially useless, or they're too big, bulky, and heavy. The other issue with the average keychain light is that they tend to use some tiny, impossible to replace battery. When that light dies, you're better off throwing it away and picking up the Klarus MiX6 Ti.
The MiX6 Ti solves all of standard keychain light issues. At 12 g (.43 oz), it weighs just a little more than 2 standard house keys, and with its slim, titanium construction, you'll hardly notice its addition to your key ring. That is until you turn it on. The Klarus blasts out light with 4 modes that cover all of your lighting needs, spanning from 3 lumens to an impressive 85! The modes are changed by twisting the flashlight head left and right and it glides easily enough that it can be done with one hand. If you're wondering how long the light lasts, you'll get 70 minutes from the full 85 lumens, 5.7 hours from the medium 26 lumens, and almost 3 days at the low 3 lumens setting. All this from a single, easy to find, AAA battery. Check out this perfect keychain light at www.knifecenter.com.
More from Klarus: Full Story
FOURSEVENS has just released their second generation of select flashlights with 20% brighter LED output! The new CREE XP-G2 LED emitters are among the best in the industry for brightness, longevity, and of course efficiency. This will be the third Preon 2 I've owned and the Gen 2 is noticeably brighter than previous models. Best of all, no increase in price with the increase in performance. For the money, FOURSEVENS definitely have some of the best performing illumination tools on the market. Check out the new Gen 2 flashlights at www.knifecenter.com.
More from FOURSEVENS about the Gen 2 LEDs: Full Story
Two great products for one great price! Check out this sweet combo pack from Leatherman-it includes a limited-edition orange Fuse multi-tool, and an awesome LED Lenser H5 headlamp. Perfect for camping, survival, or just when the power goes out, this set provides all the tools you need, and the light you need to use them.
The Fuse weighs in at just over 6 ounces, but is bristling with all the tools you could want-a 420HC main blade, needlenose pliers, wire cutters, Phillips and flat head screwdrivers, scissors, bottle opener, and more! Includes a nylon sheath.
The set also includes the LED Lenser H5 headlamp, which pumps out 25 lumens and uses advanced optics to allow you to focus the light-you can create a circular low beam for reading at night, or a bright beam to pierce the darkness at a distance.  Joggers may appreciate the red backlight for extra visibility. 3 AAA batteries included.
Check out this great set-for a great value-while it lasts at www.knifecenter.com!
The details from Leatherman: Full Story