We have the
new for 2014 Benchmade Knives and items
up on the site. There are some beauties! A full Carbon Fiber 940, some great hunting knives- just amazing stuff. Check it out at
www.knifecenter.com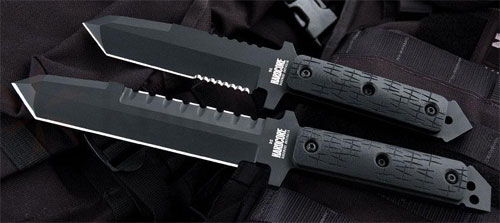 The tides of the fixed blade knife are a-changing and Hardcore Hardware Australia is riding that wave and doing it very well. These days people are flocking to the larger, bulkier knives that have a multitude of uses beyond cutting. They want to be able to chop, pry, split, saw, dig, hammer, break, etc. from a single tool that they always have at their side. Much like Mercworx, Robson RPW, and Medford Knives, these are meant for battlefield use and hard use at that. All blades and tactical axes are made from Teflon coated D2 tool steel and measure at least 6 mm thick. This gives you peace of mind that Hardcore Hardware knives can handle what needs to be done, even if not intended to do so. Fit and finish is right up there with Spartan Blades when it comes to fixed knives, they are just perfectly ground, honed, and assembled to give you a tool that will last years. Check out this newest bomb proof line of knives at www.knifecenter.com.
More from Hardcore Hardware Australia:  Full Story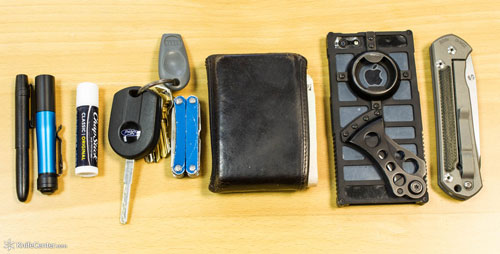 EDC is an acronym that's been gaining momentum in popularity the past couple years and it stands for Every Day Carry. It refers to those items you don't leave home without and always carry with you wherever you go. They can be be as simple as your keys and wallet or as complex as a bail-out-bag with hundreds of items. You can carry these items simply in your pockets or purse or can have a devoted bag/pack to hold them, depending on how much you carry. There is no magic formula for your EDC items, just a snapshot of what you need each and every day. Here's a what I've got in my pockets right now, much of which you can find at www.knifecenter.com.

The Model 0300 was Zero Tolerance's first ever knife, co-designed by Ken Onion and Mick Strider, and it became an immediate success in the realm of hard use folding knives. ZT has separated themselves from the competition by using only the best available materials and manufacturing stout tactical knives to some of the tightest tolerances in the industry. The handle of the 0300 is a large 5-1/4″, made from machined G10 with a titanium frame lock. It's got great jimping for your thumb in both the forward and reverse grips, much like a Strider Knife, which is functional even with gloves on. The 3-3/4″ S30V blade features the new Blackwashed finish which is best described as a DLC (diamond-like carbon) finish that been tumbled (or stonewashed) for a non-reflective, broken-in look. The Model 0300 was such a popular design that it spawned a smaller brother, the 0350 with all G10 handles, that continues to be among the most popular knives ZT manufacturers. Blackwash is the same finish as the Acid Stonewash by Brous Blades and seems to be where manufacturers are heading for a durable, non-reflective finish on high end knives. Check out the new Zero Tolerance 0300 at www.knifecenter.com.
More from Zero Tolerance Knives:  Full Story

The Mad Blacksmith, better known as Jared West, has a distinct style unlike any other. From his knife designs to his other far out products, you will find a cool new item you know you need but never thought would be a reality. The City Dweller Pen Lanyards are just that sort of item. The idea is to disguise the fact that you have a knife by attaching a lanyard with a 2-1/2″ piece resembling a pen. The execution is the key here and these well done products function exactly as designed. Tie the 550 paracord through the lanyard hole, clip it in the pocket and it'll be nearly impossible to tell you've got a knife on you at all. The Mad Blacksmith stands up for your rights to carry a knife without unwarranted attention or accusation. Check out these bold new lanyards at www.knifecenter.com.
More from Jared about the City Dweller:  Full Story
A good flashlight is an invaluable tool, especially when you happen to have it with you at all times. With some of these new NITECORE designs, you'd be in the minority if you didn't carry it with you everywhere you went. NITECORE is among the cutting edge brands when it comes to compact and tactical flashlights putting out crazy high lumens. Some would even argue they are the industry leader in that category and for good reason. The new Tiny Monster lights are the most compact designs on the market that have a maximum output over 2000 lumens. The Multi-Task series of lights are awesome, general/tactical use lights with all the features you need and are also available as Hybrid models that come with a USB charging cable and rechargeable batteries from the manufacturer. The Explorer and SENS series are EDC lights meant to be with you wherever you go and the Precise P25 model is among the best all-round lights on the market. You really can't beat a good flashlight, check out the entire line of NITECORE products at www.knifecenter.com.
More about NITECORE: Full Story
Case Knives and Carhartt were both founded in 1889 but have just now begun a collaborative effort to bring you some very high quality hard use traditional knives. For those who are unfamiliar with Carhartt, they started out making specialized workers clothes and are currently branching out to knives with this collaboration. With 22 different models spanning three series there is something sure to impress any Case or Carhartt fan. The three lines introduced include models with genuine dark molasses bone, rugged "duck" g-10, and jigged double-dyed synthetic handles. You can see the entire Case Carhartt series at www.knifecenter.com.
More about Carhartt: Full Story
ASP-USA produces without a doubt the highest quality expandable batons we stock here at the KnifeCenter. New for 2013, they're expanding their inventory to include not just batons, pepper spray, handcuffs, and high quality carry cases but some serious EDC and keychain flashlights for the tactical professional.  If you've already got an ASP baton, accessorize it with the tactical Triad attachment which replaces the end cap with a 70 lumen LED flashlight that's tough as nails. Or if you're just looking for an everyday carry lighting option, they've got you covered with the compact Tungsten flashlights or a Triad model available in AA, CR123 or 18650 Lithium, all putting out over 200 lumens. However the coolest items to be released are the new Sapphire keychain LED models that come in a variety of colors with a USB attachment so it can be recharged with any computer. Check out all the new ASP products at www.knifecenter.com.
More about ASP-USA: Full Story
Jason Brous, the mastermind behind Brous Blades, is one of the great young craftsman on the rise in our industry. His first successful design, the Silent Soldier, was and still is among the most popular true neck knives we carry. Soon after the Silent Soldier came out, a fixed blade with three distinct bevels was created called the Triple Threat. Now, just over a year later, we are pleased to see coming through our doors a very well done folding version of that wicked knife. The 3-1/2″ blade is made from D2 tool steel and is a paired with a 4-1/2″ well textured and contoured G10 handle. Speed, ergonomics, lockup, fit and finish are right on par with knives of this price point.
The Coroner is the large fixed blade model we just received in and it really is an awe-inspiring piece of work. Brous has a strong background in CNC-machine work and that's readily apparent with this knife. The 6-1/4″ spear point blade is a whopping 1/4″ thick piece of D2 tool steel but is not sharpened on both sides.  The chainsaw-like serrations on the blade spine are extremely well executed and designed to unleash devastating, non-lethal, impact strikes. The milled G10 handle is a little small for gloved hands but it locks the heavy knife in the hand extremely well. Besides the excellent milling work on the blade, the sheath is not far behind as the best part of this knife. The friction fit Kydex sheath is as slim and sleek as it is functional; one of the best executed Kydex sheaths I've ever seen. These are two great overbuilt knives that you can be sure not many other people will have, check them out at www.knifecenter.com.
More about Jason Brous: Full Story
Hogue EX03 Folders!
The tactical folding knives from Hogue are high quality, beautiful production models of custom designs from Allen Elishewitz. Following the success of the EX01 and EX-F01 models,  and the first liner locking model from Hogue; the EX02 we now have the more economical EX3 series of folders.  This series has polymer handles and the button lock system found on the EX01 series. Available in two different sizes and blade configurations, you have a choice between the drop point model and the wicked sharp tanto design. This is a Hogue knife designed by Elishewitz that we all can afford! They can be found at www.knifecenter.com.
More from Hogue: Full Story