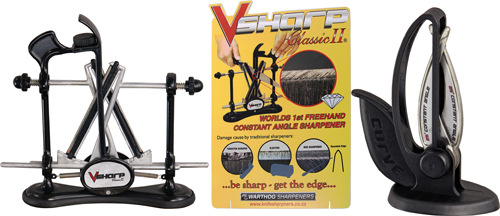 Pull-through sharpeners are by far the easiest to use of any sharpener type. All you need to do is set it up and pull your blade through for fast, simple, and effective results. The Warthog Sharpeners V-Sharp Classic II is a new, adjustable angle design with multiple diamond sharpening rods you can use with all your different knives. The Curve is a compact, easy to use, highly portable model that always provides the right amount of pressure to the edge when you pull it through. What sets these apart from every other pull-through sharpener on the market is that these include a blade guide for precisely lining up the edge with the sharpening rods. Warthog Sharpeners are designed to be used by anyone to quickly achieve a functional edge, no matter your sharpening experience. You can find these excellent new sharpening products at www.knifecenter.com.
More about Warthog Sharpeners:  Full Story
Throwing darts is a great leisure activity because it's relatively easy to set up and play, there are a variety of games within the game you can play, and best of all you can have a beer while playing. Everything good about throwing darts also translates to the new zombie throwing knife and target sets from United Cutlery, except you may want to limit that beverage intake for safety sake. This product makes a game out of the art of throwing knives so you're not just putting holes in a piece of wood, you're actually aiming your throws and strategizing a winning formula. These amazingly cool sets come with a dozen throwing knives, specially designed target, game instruction book, and even a nylon carry case for the knives. If zombies or neon green aren't really your thing, then the On Target sets are just as cool with their yellow or red target boards. Start on your way to hours of enjoyment and entertainment with these throwing knife and target sets available at www.knifecenter.com.
More about United Cutlery:  Full Story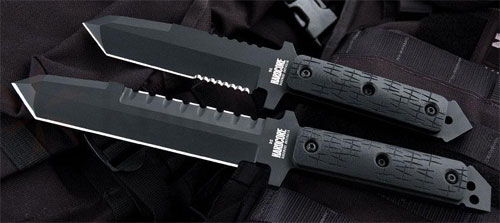 The tides of the fixed blade knife are a-changing and Hardcore Hardware Australia is riding that wave and doing it very well. These days people are flocking to the larger, bulkier knives that have a multitude of uses beyond cutting. They want to be able to chop, pry, split, saw, dig, hammer, break, etc. from a single tool that they always have at their side. Much like Mercworx, Robson RPW, and Medford Knives, these are meant for battlefield use and hard use at that. All blades and tactical axes are made from Teflon coated D2 tool steel and measure at least 6 mm thick. This gives you peace of mind that Hardcore Hardware knives can handle what needs to be done, even if not intended to do so. Fit and finish is right up there with Spartan Blades when it comes to fixed knives, they are just perfectly ground, honed, and assembled to give you a tool that will last years. Check out this newest bomb proof line of knives at www.knifecenter.com.
More from Hardcore Hardware Australia:  Full Story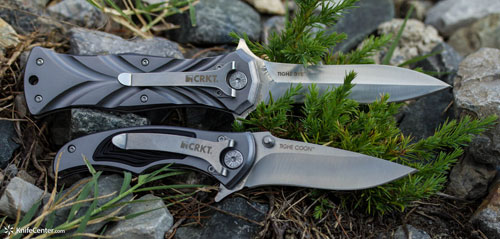 CRKT has been pumping out the Brian Tighe designs hard and fast recently, and for good reason. Each and every model he comes up with is refreshingly different and once you get one in the hand, is hard to put down. The two newest to arrives through the KnifeCenter doors are the Tighe Coon and Tighe Dye folders. They both have flipper mechanisms, gray aluminum handles, button locks, and reasonably deep carry pocket clips. However, apart from these material similarities, they really are quite different designs. The Dye model is a single edged version of an Italian Stiletto, but the handle provides a much more stout feeling for more demanding cutting tasks. The Tighe Coon knife is ultra smooth opening with a slightly recurved drop point blade for better slicing performance. Both knives feature mirror polished AUS-8 blades and are built like tanks. Check out these Tighet new knives at www.knifecenter.com.
More about the Designer Brian Tighe:  Full Story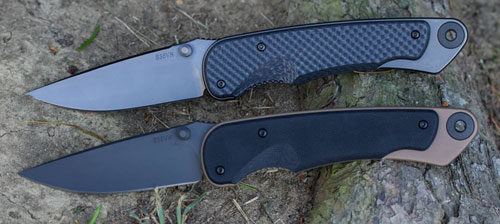 Here at the KnifeCenter, we strive to offer you the best edged tools available and we believe these Akribis folders fit that bill nicely. Spartan Blades is well known in the industry for their stout, well built fixed blade designs. The fit and finish on any Spartan Blade is very Chris Reeve-esque with great attention paid to the ergonomics and cutting angle of each knife. The Akribis is their first folding knife and we are very excited about this one. It features titanium handles, with a Rick Hinderer lock bar stabilizer, available in meteorite grey or flat dark earth and your choice of G10 or carbon fiber scales. The 3-1/2″ blade is made from S35VN stainless steel and also comes in your choice of a meteorite grey or black PVC blade coating. The opening action is buttery smooth and the loud click of the lock bar engaging is one sweet sound you'll definitely appreciate. This is a hard use, tactical folder that's as at-home in your jeans or khakis as it is on your LBE. There's no doubt you will be proud to show this knife off to your friends, check them all out at www.knifecenter.com.
More about Spartan Blades:  Full Story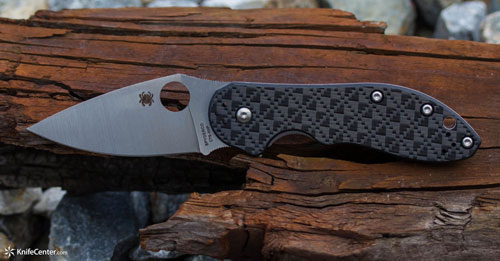 With two new flippers in two successive years, Spyderco must be trying to change their Trademark Hole or something fishy is going on. Flippers keep gaining popularity with knife knuts because they're easier and are in some cases faster to open. The addition of an assist mechanism or ball bearing system gives you the peace of mind that the blade will open quickly and do so completely, every time. The Domino is just this kind of knife with buttery smooth bearings, making it very fun to play with. In use, it's like any other Spyderco - just made to cut things! The CTS XHP steel is among the best in performance on the market due a high hardness and edge holding capability. The best thing about it though, is something you cannot see; the ease at which it can be resharpened. Hard steels like D2 and ZDP perform very well until they get dull. That's when you either have to spend an hour working on the edge or send it out to get professionally sharpened. Not so with XHP. It's fine particle metallurgy and high chromium content makes sharpening easier while also boosting its corrosion resistance. The Chris Reeve Integral frame lock (with replaceable lock bar insert), four-position pocket clip, and carbon fiber laminate handle are just other parts of this very well manufactured product. Check out the new Spyderco flipper at www.knifecenter.com.
More from Spyderco about the Domino:  Full Story

The Model 0300 was Zero Tolerance's first ever knife, co-designed by Ken Onion and Mick Strider, and it became an immediate success in the realm of hard use folding knives. ZT has separated themselves from the competition by using only the best available materials and manufacturing stout tactical knives to some of the tightest tolerances in the industry. The handle of the 0300 is a large 5-1/4″, made from machined G10 with a titanium frame lock. It's got great jimping for your thumb in both the forward and reverse grips, much like a Strider Knife, which is functional even with gloves on. The 3-3/4″ S30V blade features the new Blackwashed finish which is best described as a DLC (diamond-like carbon) finish that been tumbled (or stonewashed) for a non-reflective, broken-in look. The Model 0300 was such a popular design that it spawned a smaller brother, the 0350 with all G10 handles, that continues to be among the most popular knives ZT manufacturers. Blackwash is the same finish as the Acid Stonewash by Brous Blades and seems to be where manufacturers are heading for a durable, non-reflective finish on high end knives. Check out the new Zero Tolerance 0300 at www.knifecenter.com.
More from Zero Tolerance Knives:  Full Story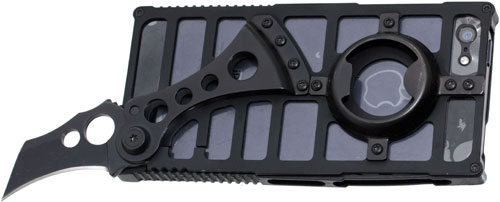 If you're looking for a conversation starter, something that will impress each and every person you show it to, this is it! True, many people will scoff at it or ask you what happens when you encounter a TSA agent with this in your pocket, but that's neither here nor there. It's the convenience of having a blade with you at all times, even if you forget your EDC knife, and ease of which you can remove the case with the torx bit it comes with that makes this an excellent product. All you have to do is pop out the four corner screws and viola, you're in business. I've had my TactiCall for a little over a month now and after you get used to the added weight, it really becomes a highly useful and functional tool. I was wary at first that the bottle opener would apply too much force to the back side of the phone and could break it, but that's definitely not the case, ha. The opener is strongly reinforced by the design of the case and it pops the tops off quickly and effectively the first time, every time. The knife comes as sharp as any karambit blade out there and locks up solidly right out of the packaging. The pivot is adjustable if any play develops using the same supplied torx tool as you use to remove the case, so you always have a properly functioning knife. This is a very useful product and does an excellent job protecting your iPhone 5, check it out at www.knifecenter.com.

Medford Knife and Tool – Amazing!
We've had Medford products for several weeks now and I haven't gotten around to a Blog post- because they have been coming and going out in a fast and furious fashion. These combat knives and folding knives are amazing- they are strong, well made and well designed and not inexpensive- and the public loves them. We ordered them back in January and they finally arrived in July, and this is the typical lead time on these items. They are absolutely worth the wait. The whole operation is a reflection of the creators, Greg and Amy Medford in Phoenix, AZ. These two are dynamic, high spirited, fun and creative individuals with a real passion for the product and the business. They have an amazing process for each knife that includes fully hand grinding each blade and fitting each knife together to the utmost perfection. The fit and finish on these workhorse big, honkin' knives is superb. The materials are great and the the packaging is super professional. We see a lot of products come through the Knifecenter, but the Medfords have really raised the bar in all these respects. Look for great things in the future with a quicker production cycle, but the knives will never be better than they are now. They may have automatic grinders in their production down the road, but now everything is ground by hand. You may regret not getting these early models.

A long-lasting friendship with some of the insiders at QTRM5TR Knives has allowed Knifecenter a very unique opportunity. QTRM5TR has just recently introduced it's "second season". This time, QTRM5TR has decided to pay homage to another pop culture favorite television show from the 80's. Set in Hawaii, and filling our heads with images of scantily clad beach bunnies and Ferrari's; the show has left a lasting impression with a lot of us males, aged 30-60.
At first discovery, the names seem strange, but once the overall theme is realized, it's quite amusing and certainly a unique way to draw a kinship with their customer base. The names of the knives hardly matter at all once it's in your hand. The angular, modern and industrial stylings of their knives are attractive and unique, but the surprisingly comfortable ergonomic-grip in the midst of all the angles and edges is remarkable.
The use of a new Carpenter Alloy in these knives is a great choice. We've received stellar reviews of the CTS XHP alloy and their newest air-hardened, high-carbon, chromium steel offering certainly won't disappoint either. CTS BD4P alloy is a high-performance blade steel offering a fine, uniform carbide structure yielding excellent edge retention and grinding/polishing characteristics.
All in-line QTRM5TR Knives come equipped with the ORB® pivot system and tri-spoke pivot assembly: These two features will continue to further separate this new American brand from its competition and allow them to yield more popularity in the years to come. The folders are so smooth and lock up is so solid that you'd think they were customs that were triple the price. Get them now. We bought the entire run of pre-production examples, no one else on earth has these knives for sale.
A Little Background About QTRM5TR Knives: Full Story