We wish all of the American public a happy Thanksgiving and everyone a great holiday season!

The KnifeCenter will be sending out some really great email deals with thousands of discounted products. Sign up now, if you haven't already. We'll be closed on Thanksgiving day so that our employees can enjoy the day with their families, but the emails will go out and you can order from your computer as much as you like- we encourage it!
We love our industry, business, customers and products. This time of year is really busy, but we will all work as hard as it takes to get your packages to you safely and on time. We will ship packages out as you request through the Monday before Christmas and we'll be back at work the day after Christmas. Keep checking in with us for new specials and bargains for you and your family and friends and please, stay safe this season and remember: life is short and you can't have too many knives!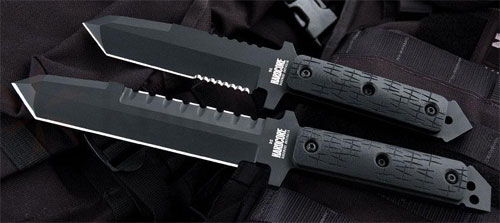 The tides of the fixed blade knife are a-changing and Hardcore Hardware Australia is riding that wave and doing it very well. These days people are flocking to the larger, bulkier knives that have a multitude of uses beyond cutting. They want to be able to chop, pry, split, saw, dig, hammer, break, etc. from a single tool that they always have at their side. Much like Mercworx, Robson RPW, and Medford Knives, these are meant for battlefield use and hard use at that. All blades and tactical axes are made from Teflon coated D2 tool steel and measure at least 6 mm thick. This gives you peace of mind that Hardcore Hardware knives can handle what needs to be done, even if not intended to do so. Fit and finish is right up there with Spartan Blades when it comes to fixed knives, they are just perfectly ground, honed, and assembled to give you a tool that will last years. Check out this newest bomb proof line of knives at www.knifecenter.com.
More from Hardcore Hardware Australia:  Full Story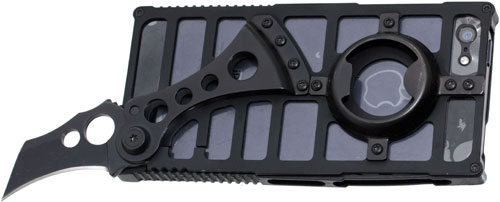 If you're looking for a conversation starter, something that will impress each and every person you show it to, this is it! True, many people will scoff at it or ask you what happens when you encounter a TSA agent with this in your pocket, but that's neither here nor there. It's the convenience of having a blade with you at all times, even if you forget your EDC knife, and ease of which you can remove the case with the torx bit it comes with that makes this an excellent product. All you have to do is pop out the four corner screws and viola, you're in business. I've had my TactiCall for a little over a month now and after you get used to the added weight, it really becomes a highly useful and functional tool. I was wary at first that the bottle opener would apply too much force to the back side of the phone and could break it, but that's definitely not the case, ha. The opener is strongly reinforced by the design of the case and it pops the tops off quickly and effectively the first time, every time. The knife comes as sharp as any karambit blade out there and locks up solidly right out of the packaging. The pivot is adjustable if any play develops using the same supplied torx tool as you use to remove the case, so you always have a properly functioning knife. This is a very useful product and does an excellent job protecting your iPhone 5, check it out at www.knifecenter.com.

The Mad Blacksmith, better known as Jared West, has a distinct style unlike any other. From his knife designs to his other far out products, you will find a cool new item you know you need but never thought would be a reality. The City Dweller Pen Lanyards are just that sort of item. The idea is to disguise the fact that you have a knife by attaching a lanyard with a 2-1/2″ piece resembling a pen. The execution is the key here and these well done products function exactly as designed. Tie the 550 paracord through the lanyard hole, clip it in the pocket and it'll be nearly impossible to tell you've got a knife on you at all. The Mad Blacksmith stands up for your rights to carry a knife without unwarranted attention or accusation. Check out these bold new lanyards at www.knifecenter.com.
More from Jared about the City Dweller:  Full Story

A long-lasting friendship with some of the insiders at QTRM5TR Knives has allowed Knifecenter a very unique opportunity. QTRM5TR has just recently introduced it's "second season". This time, QTRM5TR has decided to pay homage to another pop culture favorite television show from the 80's. Set in Hawaii, and filling our heads with images of scantily clad beach bunnies and Ferrari's; the show has left a lasting impression with a lot of us males, aged 30-60.
At first discovery, the names seem strange, but once the overall theme is realized, it's quite amusing and certainly a unique way to draw a kinship with their customer base. The names of the knives hardly matter at all once it's in your hand. The angular, modern and industrial stylings of their knives are attractive and unique, but the surprisingly comfortable ergonomic-grip in the midst of all the angles and edges is remarkable.
The use of a new Carpenter Alloy in these knives is a great choice. We've received stellar reviews of the CTS XHP alloy and their newest air-hardened, high-carbon, chromium steel offering certainly won't disappoint either. CTS BD4P alloy is a high-performance blade steel offering a fine, uniform carbide structure yielding excellent edge retention and grinding/polishing characteristics.
All in-line QTRM5TR Knives come equipped with the ORB® pivot system and tri-spoke pivot assembly: These two features will continue to further separate this new American brand from its competition and allow them to yield more popularity in the years to come. The folders are so smooth and lock up is so solid that you'd think they were customs that were triple the price. Get them now. We bought the entire run of pre-production examples, no one else on earth has these knives for sale.
A Little Background About QTRM5TR Knives: Full Story
Manual pocket sharpeners have met their match with the new Guided Field Sharpener from Work Sharp. Previously limited to a hand held belt sharpening system, Work Sharp has branched out this year to add a variety of products to quickly get a great edge on your tools. The new field sharpener includes two diamond plates (one coarse, one fine) which are held in place by a pair of strong magnets but can easily be removed for cleaning. The large ceramic rod allows one to touch up not only knives but it has a groove cut in for fish hooks that can be accessed by rotating the red knob on the end. Another feature you don't see on many hand held sharpeners is the leather strop opposite the ceramic rods. Stropping a readily sharp blade polishes up the edge by straightening out the burr which not only makes for a sharper edge but also a more durable one. The Guided Field Sharpener is a very easy to use tool (set up for both 20° and 25° edge angless) and can sharpen almost anything you throw on it. Check out this awesome new sharpener at www.knifecenter.com.
More from Work Sharp:   Full Story
The Blade Show 2013 Banquet announced the awards for the year. These are highly respected in the industry and we applaud all winners for their great work- and those nominated!
Hall of Fame: Wayne Goddard
Publishers Award: Joyce Laturi from Spyderco
Industry Achievement: Joe Keesler
Accessory of the Year: Paracord Bracelet with Saw from CRKT
Kitchen Knife of the Year: Chefworks and Ken Onion
Investor Collector: Protech
Collaboration: Microtech and Strider
Best Buy: CRKT Endorser
Manufacture Quality: Chris Reeve
Innovative Import: CRKT Ken Onion Swindle
Innovative American: Microtech DOT Killswitch
Import Knife of the Year: FOX Knives Modras
American Knife of the Year: Hogue EX04
Overall Knife of the Year: ZT0454
A good flashlight is an invaluable tool, especially when you happen to have it with you at all times. With some of these new NITECORE designs, you'd be in the minority if you didn't carry it with you everywhere you went. NITECORE is among the cutting edge brands when it comes to compact and tactical flashlights putting out crazy high lumens. Some would even argue they are the industry leader in that category and for good reason. The new Tiny Monster lights are the most compact designs on the market that have a maximum output over 2000 lumens. The Multi-Task series of lights are awesome, general/tactical use lights with all the features you need and are also available as Hybrid models that come with a USB charging cable and rechargeable batteries from the manufacturer. The Explorer and SENS series are EDC lights meant to be with you wherever you go and the Precise P25 model is among the best all-round lights on the market. You really can't beat a good flashlight, check out the entire line of NITECORE products at www.knifecenter.com.
More about NITECORE: Full Story
The Mantis Vuja De is finally here at the KnifeCenter and what a cool knife this is! The butterfly karambit – many people thought it couldn't be done but the genius behind Mantis and QTRM5TR Knives, Jared West, has pulled it off and executed it well. It features a very cool and effective button that locks the knife in both the open and closed positions. It's not really designed for practicing your flipping tricks as the  lock automatically engages when the knife becomes completely open. It could flip smoother, like a Benchmade 51 or 62, and it could be a little sharper like an Emerson Karambit but it really is nothing like those other knives. It's in a class all its own with a 2″ M-VX steel hawkbill blade and 7″ overall profile including the rear finger hole so you'll never have the problem of guessing which one the safety handle is again. Karambits are tactical, defense specific tools and the Vuja De by Mantis Knives is no different, plus it has the cool added feature of being a Bali-Song flipper. Check it out at www.knifecenter.com.
More about Mantis Knives and M-VX Steel: Full Story
Case Knives and Carhartt were both founded in 1889 but have just now begun a collaborative effort to bring you some very high quality hard use traditional knives. For those who are unfamiliar with Carhartt, they started out making specialized workers clothes and are currently branching out to knives with this collaboration. With 22 different models spanning three series there is something sure to impress any Case or Carhartt fan. The three lines introduced include models with genuine dark molasses bone, rugged "duck" g-10, and jigged double-dyed synthetic handles. You can see the entire Case Carhartt series at www.knifecenter.com.
More about Carhartt: Full Story