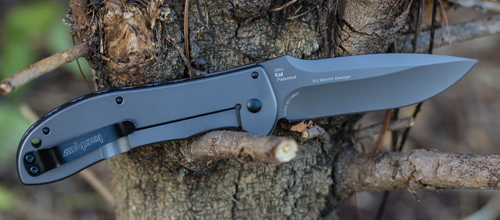 RJ Martin has a knack for functional blade shapes and comfortable, ergonomic handles. Many of his custom and limited production knives sell for $500 and up, so to get one of his designs at this price is remarkable. Kershaw, as well as Boker and some other manufacturers, is very adept at taking high end custom designs and turning them into production pieces. No corners were cut designing, engineering, and manufacturing the 3890 Scrambler. The assisted opening blade can only be opened with the flipper mechanism since it lacks conventional thumbstuds. The SpeedSafe mechanism is quick, strong, durable, and proven. It can be found on countless different Kershaw designs.
The best way to describe the Scrambler is that it is an extremely sleek looking and functioning knife. There's no jimping on the blade spine which I can live without, but some people might call it a crime that they left out this important part of ergonomics. However, the shape of the handle locks this knife into your hand just fine. The machining work on the backspacer, as well as the G10 handle with stainless steel bolsters, adds to the aesthetics of the knife making it a folder you will be proud to carry every day. The frame lock mechanism, ultra stout pocket clip, and coating on the steel parts of the knife add to the design's strength and wearability. This is a knife you should have in your collection and it can be found at www.knifecenter.com.
More about Kershaw Knives:  Full Story
Cryo Craziness! Kershaw Cryo Models Arrive
The Kershaw Cryo assisted opening pocket knives have been hot, hot, hot with our customers. They're inexpensive and have all the bells and whistles everyone wants in an every day carry folder. Designed at Kershaw with the master knife maker Rick Hinderer, these are fast opening and feel great in your hand. In fact, this model was voted the 2012 best buy of the year by Blade magazine. We now have 2 sizes and three different color combinations and many in plain and serrated variations. You can see the whole Kershaw Cryo selection at www.knifecenter.com
Here is some more descriptions from Kershaw: Full Story


We have thousands of products made in the USA. We try to find the very best American Made products that we can. We have a page of links to various products that are made in America. From American Made Folding Knives to American Made Mulititools, to American Made Kitchen Products and American Made Flashlights and much, much more.
Just released for 2012 and now available at the KnifeCenter are the three limited edition Kershaw Blurs. These include two DLC coated models with a Purple or Green spider web pattern handle and a Carbon Fiber model with a beautiful stonewashed finish. The 154CM steel blades come razor sharp and fly open with just the slightest pressure to the tapered thumbstuds. Light jimping on the spine and frame, paired with an ergonomically curved handle make this knife extremely comfortable to use for extended cutting tasks. Limited production of 700 Pieces for the Green, 550 pieces for the Purple, and 850 pieces for the Carbon Fiber – get these highly collectible and ultra cool designs before they're all gone. Available at www.knifecenter.com.
More from Kershaw: Full Story
Every once in a while, our friends over at Kershaw Knives come out with something new that generates a buzz around our office. When we first laid eyes on the new Kurai, we knew that they had come up with something really interesting.
The Kurai is a gentleman's folder with style to spare, with carbon fiber-patterned aluminum handle scales. It doesn't sacrifice substance either-it's heavy for its size (in a good way), and its 2.5″ 8Cr13MoV blade with Titanium Carbo-Nitride coating provides great performance and corrosion resistance at an extremely reasonable price. Opening is smooth and easy with the thumb stud, and the linerlock is nice and solid. The Kurai makes a great gift, too! Check them out today at www.knifecenter.com!
2012 Industry Achievement: Knife Rights & AKTI
2012 Accessory of the Year: Wicked Edge Precision Sharpener Pro-Pack I
2012 Kitchen Knife of the Year: Shun Tayo Kitchen Knife
2012 Investor Collector Knife of the Year: William Henry B12 Freedom
2012 Collaboration of the Year: Zero Tolerance & RJ Martin 0600
2012 Best Buy of the Year: Kershaw Cryo
2012 Manufacturing Quality Award : Chris Reeve Knives
2012 Hall of Fame Inductee: Harold Kit Carson
2012 Most Innovative Imported Design: Lionsteel DPX Gear HEST 2.0
2012 Most Innovative American Design: Spyderco Autonomy
2012 Imported Knife of the Year: CRKT Ken Onion Foresight
2012 American Made Knife of the Year: Microtech Socom Delta
2012 Overall Knife of the Year: Zero Tolerance 0888
Skinning, quartering, dressing, light splitting, shaving, and whittling are only a few of the things the Diskin Hunter is capable of. Designed by custom maker Matt Diskin to be a field dressing knife that could also perform camp tasks, the 1085 is the happy medium between functional blade size and svelte, compact design. The blade is 4-5/8″ long with tons of belly and shaped like a cross between the Tremor and Rake models. The steel is 14C28N stainless, which will take an extremely sharp edge and provide excellent corrosion resistance so you won't have to worry about your blade rusting out in the field. The thing that sets the Diskin Hunter apart is the handle. Made from textured G10, the handle being only one inch at it's widest point makes it easy to get a good grip on, especially with gloved hands. The knife comes with a high quality leather belt sheath and is backed by the Kershaw lifetime warranty. Best of all is it's made in the USA and can be found at www.knifecenter.com.
More from Kershaw: Full Story

Rick Hinderer Model from Zero Tolerance
Zero Tolerance produces some fine knives. They are all American made and are an extraordinary sample of American high quality manufacturing and design. This new model, the ZT0550, is one of their finest. It is a full size folder with a frame lock system. The blade is an aggressive shape using the newer style triabngle style with a wide base. The blade material is the top quality S35VN that a lot of custom makers use. There are four positions for the pocket clip. That frame lock is a massive system. The back side of the handle is titanium and the locking section of the handle folds over to lock the blade open. It's really secure.
Here is more info from Kershaw, the makers of all Zero Tolerance: Full Story
Kershaw Compound-Combo Edge (KS1940ST)
Kershaw Knives, manufacturers of the super plain-edged Compound folding knife, have added a new combo edge version. Featuring Kershaw's buttery-smooth, precise SpeedSafe® assisted opening mechanism (accessed by a built-in flipper), this knife opens with a very solid "click", and is secured by a locking liner.
This Kershaw Compound sports a 3.5″ partially-serrated, heat-treated 8CR13MoV steel blade. Offering a removable clip for tip-up or tip-down carry, the Compound utilizes glass-reinforced nylon handles. The result is a very solid-feeling knife, yet it weighs just 3.8 oz.-and it costs just $25.95! Take a look at the combo edge Compound-and its plain-edged brother-at www.knifecenter.com!
More from Kershaw Knives:
Kershaw Brawler Assisted Series
The Kershaw Knives new entry:
A cold front blew in from the West the other day, leaving us with sunny skies and-oh look, the awesome new Kershaw Brawlers! These are a whole lot of knife for the money. They offer Kershaw's smooth SpeedSafe® assisted opening, accessed via the thumb studs or the built-in flipper. A nice, solid liner lock secures the tanto-style 3 1/4″ blade, featuring 8CR13MOV stainless steel with a non-reflective black DLC coating, available in both plain and partial-serrated edges. Grab one today before somebody else beats you to the punch! Check them out at www.knifecenter.com!
More from Kershaw:
Full Story