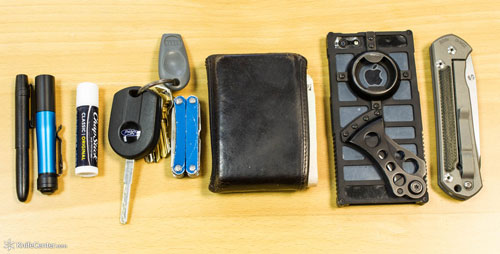 EDC is an acronym that's been gaining momentum in popularity the past couple years and it stands for Every Day Carry. It refers to those items you don't leave home without and always carry with you wherever you go. They can be be as simple as your keys and wallet or as complex as a bail-out-bag with hundreds of items. You can carry these items simply in your pockets or purse or can have a devoted bag/pack to hold them, depending on how much you carry. There is no magic formula for your EDC items, just a snapshot of what you need each and every day. Here's a what I've got in my pockets right now, much of which you can find at www.knifecenter.com.
When the power goes out, you'll want a great flashlight at the ready. Your keychain is the perfect place for a flashlight, but most are so dim that they are essentially useless, or they're too big, bulky, and heavy. The other issue with the average keychain light is that they tend to use some tiny, impossible to replace battery. When that light dies, you're better off throwing it away and picking up the Klarus MiX6 Ti.
The MiX6 Ti solves all of standard keychain light issues. At 12 g (.43 oz), it weighs just a little more than 2 standard house keys, and with its slim, titanium construction, you'll hardly notice its addition to your key ring. That is until you turn it on. The Klarus blasts out light with 4 modes that cover all of your lighting needs, spanning from 3 lumens to an impressive 85! The modes are changed by twisting the flashlight head left and right and it glides easily enough that it can be done with one hand. If you're wondering how long the light lasts, you'll get 70 minutes from the full 85 lumens, 5.7 hours from the medium 26 lumens, and almost 3 days at the low 3 lumens setting. All this from a single, easy to find, AAA battery. Check out this perfect keychain light at www.knifecenter.com.
More from Klarus: Full Story
Cold Steel is one of the most popular knife brands in the industry today and the Recon 1 is a main stay in their line. New for 2012, the Recon series adds two new sizes which are here for good and much more easily carried than the original 4-inch models. The Mini Recon's are the perfect EDC size for most people packing a 3″ blade and 4-1/8″ highly textured G10 handle. The Micro Recon series is more of a keychain knife with a 2″ blade, 2-3/4″ closed length and an included keyring. Ergonomics are definitely a strong point for the Recons as all three sizes meld into your hand perfectly. All knives are or will soon be available in Tanto, Spear Point or Clip Point blade configurations except the Micro, which will only be Tanto and Spear Point. See all the variations at www.knifecenter.com.
More from Cold Steel: Full Story

Spyderco Jester – The Return of a Great Knife
Spyderco Knives released the Jester many years ago and we loved it then! It's a small key ring type folder without a pocket clip featuring a mid-back lock. The original had a plastic handle, but this re-release features a gray color G10 handle. This is a limited release called a "sprint run" and so they will be sold out soon. Grab one if you like them. They make about the best key ring knife made anywhere.
You can see them at www.knifecenter.com
Here is more information from Spyderco Knives: Full Story

Gerber Dime Micro Multi-Tool in Black
Gerber Knives have come up with another winner. Gerber produces some amazing multitools. The Gerber Dime Multitool is a small, spring action pliers based tool with loots of options and an amazing price. $16.95 gets you this well engineered and manufactured tool. They will be available in different colors soon. First, it closes up nice and compact with rounded edges so that, when you carry it, you don't get bothered with sharp corners. Then, it has a great tool selection with a flathead screwdriver, a small, double sided file, an interestingly shaped knife blade, a very nice springed scissors, wire cutter and a unique cutting edge made for opening clam packs! There is also a bottle opener on the end. Everything seems well made and this is an amazing deal at this price. You can see them at www.knifecenter.com
Here is the data from Gerber: Full Story
4Sevens has taken the Flashlight community by storm since their introduction nearly four years ago. Following the mantra form follows function, 4Sevens has surpassed others in the industry with their ultra compact, extremely bright duty and EDC flashlights. If you're looking for a keychain, everyday pocket or large tactical light, 4Sevens has a light for you. They use the latest LED emitters, variable output technology for longer battery life, and aircraft-grade aluminum designed to IPX-8 waterproof standards for all their products. When looking for a light to get you through the night, turn to 4Sevens. You can see these at www.knifecenter.com. Full Story
PocketToolX Pocket Tools and Multi-Tools
Introducing a new brand to Knifecenter, we're proud to offer the amazingly useful USA-made PocketToolX line of multitools! Whether you need to maintain your bicycle, loosen a rusty bolt, or crack open a cold brew, these are the multi-tools for you! Even better, the PIRANHA and BREWZER tools are TSA-compliant*, so you won't have to worry about losing yours if you forget to take it out of your pocket before going to the airport.  Let's get to know them a little bit!
PIRANHA Pocket Tool-Measuring under 4″, this handy tool can always be at your side. Among the 10 functions, the PIRANHA sports an open SAE wrench, Phillips/flat driver bit, bottle opener, box ripper, and pry tool among others.
BREWZER Keychain Tool-Some things are very important, like being able to open a frosty cold beer at a moment's notice. The BREWZER keychain tool is there for you! It'll also open boxes, offers a flat head screwdriver, has a hex tool, and more!
MAKO Bike Tool-Offering 2 spoke wrenches, a box wrench, Phillips and Torx bits, and 2 Allen wrenches, this pocket tool has everything to keep your bike on the road, plus a bottle opener for the end of the ride! Go check 'em out at www.knifecenter.com!
More information from PocketToolX: Full Story

Spyderco Ladybug with ZDP-189 Super Steel
ZDP-189 steel is super hard, holds an edge and gets super sharp. Spyderco Knife Company has put flat ground ZDP-189 steel into their popular Ladybug frame, and has thereby created a fabulous lockback that fits safely in the bottom of your pocket or onto your keychain. Finally, because it is a Spyderco, you know it has all the features you want in a lockblade. You can see them at www.knifecenter.com
Here is more information from Spyderco Knife Company: Full Story

Mantis Bottleneck Series Bali-Song Style Keychain Knife
Mantis Knives is one of the most exciting new up-and-coming knife companies we deal with… and the Bottleneck is exactly why. This clever little butterfly style folder features a single or double edge blade that is under two inches long, and it is available in you choice of satin or black. The real fun is that it can be used to open a bottle cap, then clipped shut on your key ring, or played with like a bali-song!
You can see the series at www.knifecenter.com
Here is a longer description from Mantis knives: Full Story

New Kershaw Little Lockback Folding Knives!
Kershaw's new Little Lockback line is aptly named. These knives are quite small, with a 2″ blade and a 2-5/8″ handle. The lockback mechanism holds the knife tight, whether in the open position or the closed position. This is not much of a camping knife or a tactical knife, but the size makes it perfect as an every day carry knife. It is unobtrusive and non-threatening, making it easy to use around people who are skittish around knives.
See these knives at www.knifecenter.com
See more information from Kershaw: Full Story