Enjoy FREE shipping on all non-oversized items  to the contiguous 48 US States.  HERE at KnifeCenter.com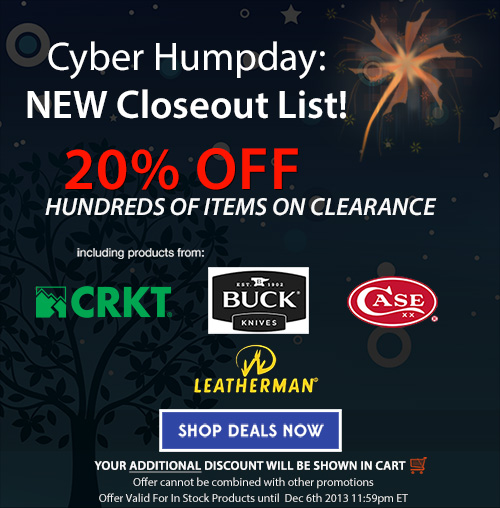 Enjoy 20 % OFF 100′s of items including additional discounts on  existing Sale items! – Discounted price will appear when you add the item to you cart.  Limited Time While They Last HERE at KnifeCenter.com
This huge Sale Event includes many of our most popular brands including:
- ESEE
- Leatherman
- Boker
- Brous
- Case
- Buck
-Spyderco
- KA-BAR
Black Friday at the KnifeCenter
We've put over 2500 items on special for 20% off! This is an incredible list that you can explore and find lots of wonderful gifts for everyone – including yourself! We'll have some other specials through the season, but this is the big list. Items must be in stock to qualify and they are limited to stock on hand. Thanks for a great year. Look for incredible changes at the KnifeCenter in the year to come!

We have the greatest selection of great holiday gifts you will find anywhere!
Shop on our holiday page or all over our web site for great selection and deals.
We wish all of the American public a happy Thanksgiving and everyone a great holiday season!

The KnifeCenter will be sending out some really great email deals with thousands of discounted products. Sign up now, if you haven't already. We'll be closed on Thanksgiving day so that our employees can enjoy the day with their families, but the emails will go out and you can order from your computer as much as you like- we encourage it!
We love our industry, business, customers and products. This time of year is really busy, but we will all work as hard as it takes to get your packages to you safely and on time. We will ship packages out as you request through the Monday before Christmas and we'll be back at work the day after Christmas. Keep checking in with us for new specials and bargains for you and your family and friends and please, stay safe this season and remember: life is short and you can't have too many knives!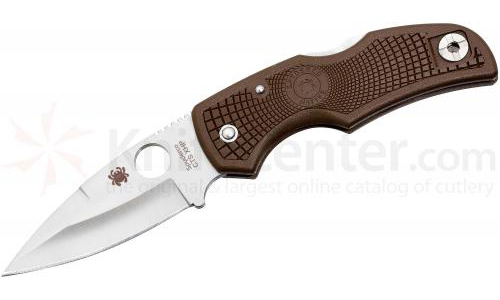 Spyderco Native with Carpenter  Steel Blade and Brown Handle
We think the Native is one of Spyderco's best designs. It is medium sized, has a great blade shape and the handle is thin so it's easy to carry. We thought you might want one with the great Carpenter CTS-XHP steel and so we got this model for you.  Not only that, but we are offering it at an initial discount of only $79.95! These blog posts stay up here, so don't blame us if, when you see this post, it's already back to our full discount price of $89.95. These are a Sprint Run meaning there are only but so many made. They will run out so grab one if you're interested!
Spyderco® describes this item as follows: Full Story
Manicure sets make a wonderful and thoughtful gift for someone special in your life. The KnifeCenter offers a great selection of kits from Germany and Switzerland at all price levels. The KnifeCenter was the first web site to sell DOVO grooming sets and products way back in 1995, and now we're thrilled to announce the addition of some new manicure sets to the lineup!  Let's get to know them, ja?
Manufactured in Solingen, Germany-the "City of Blades"-DOVO manicure sets are finely crafted from top quality steel, and produced to exacting quality standards. Available with an assortment of grooming tools, these kits offer luxurious storage cases.
These grooming sets make the perfect birthday or holiday gift! With a manicure set to fit most any budget, legendary DOVO quality is in your reach! Take a look at www.knifecenter.com! (Detailed descriptions of individual sets below.)
More information from DOVO: Full Story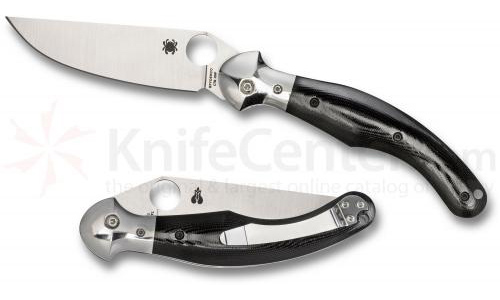 Spyderco Hungarian Design Folding Knife
Spyderco's ethnic series has amazed a lot of us through the last several years. They have taken designs – some ancient – and modernized them in their own inimitable fashion, into modern Spyderco models. Included among them are the Jot Singh Khalsa, Bob Lum Chinese Models, the Ed Schempp Navaja, and the Nilakka Folding Puukko among others. This model, however, is really exceptional. The eastern European flavor is reflected in the stylized handle which fits an average sized hand very well. The dual extensions on the highly polished bolster serve as a thumb rest on top and a guard on the inside of the handle. The materials seem really well thought out a with nicely polished and well formed G10 handle along with a top quality steel blade that is what Spyderco calls a full flat grind- meaning flat from the top of the blade to the top of the final bevel that goes to the cutting edge. Although all parts of the handle, bolster and pocket clip are highly polished, the blade is left with a satin finish. This is a great knife, made in Taiwan and presented at Spyderco's high level of quality. Collector's will want to have one of these so that, in years to come, they will be able to take this out and amaze others. The liner lock works very well and is buried just enough to avoid accidental release. These swing open easily, lock securely and close conveniently. We see this latest entry from Spyderco Knives as a real winner, even though the price is not low. You get what you pay for- at least in this case, and in our opinion.
Here is more information from Spyderco Knives: Full Story
While we pause today to remember our Veterans, let us be thankful for them every day. We thank the millions of men and women for the countless sacrifices they have given and continue to give in support of the freedoms we have. From each and every one of us here at the KnifeCenter and around the country, we salute you.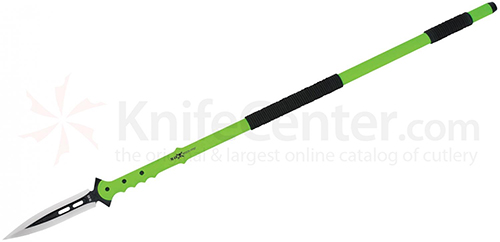 Whether you are slaying zombies, hunting a wild boar, or in need of the ultimate conversation piece, the United Cutlery M48 Apocalypse Spear is the answer.  At ~ 44 inches long, the M48 is not overly cumbersome and the light-weight FRN (Fiberglass Reinforced Nylon) shaft also make this a very portable spear.  This spear features an extremely sharp Black Oxide-Coated 2Cr13  stainless steel blade and also comes with a Snap Sheath for safe and easy storing.  Get yours BEFORE the Apocalypse at www.knifecenter.com.
More from United Cutlery on the M48 Apocolypse……. Full Story