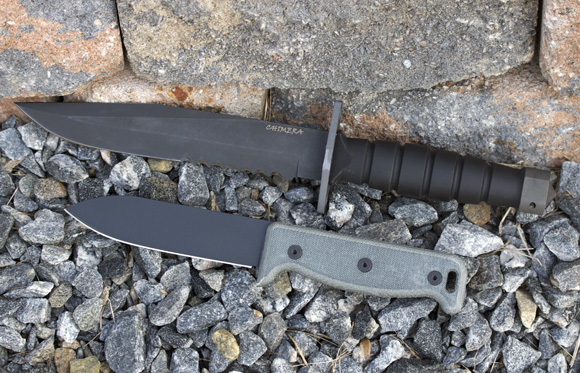 Ontario Knife Company has a long history of making high quality tactical knives and tools, including fighting knives and machetes that have seen combat in WWII, Korea, Vietnam, the Gulf War, and through to the present conflicts facing the United States. OKC's tactical products are designed to provide maximum function in dangerous situations while providing excellent value for your money.
The Chimera is a tactical fighting knife with a comfortable round Kraton handle, skull crusher butt end, and a 1095 sharply serrated blade. Comes with a combination Kraton and Polypropylene sheath and is proudly made in the USA.
The Blackbird SK-5 blade is crafted from 154CM. This steel is American made, known for its superior toughness, edge-retaining ability, sharpness and corrosion resistance. The SK-5′s blade is 0.13 inch thick and features a full-taper grind.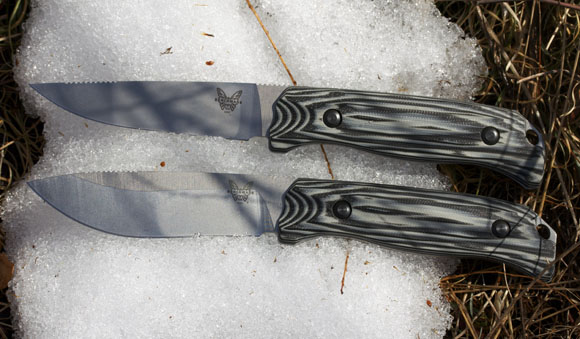 Two awesome new knives from the Benchmade Hunt series…these are what you get when you devote research projects, R&D lab tests, and many miles of field research to building the perfect hunting knife…built from advanced materials usually reserved for spaceships" – S30V, G10 Handles, plus Kydex Sheath, and both ship free!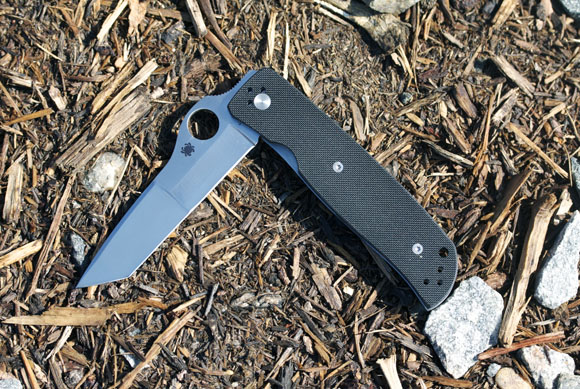 VG-10 blade, G-10 scales, and designed by Bob Terzuola, the "father" of custom tactical folding knives.  And it ships for free!
We have the
new for 2014 Benchmade Knives and items
up on the site. There are some beauties! A full Carbon Fiber 940, some great hunting knives- just amazing stuff. Check it out at
www.knifecenter.com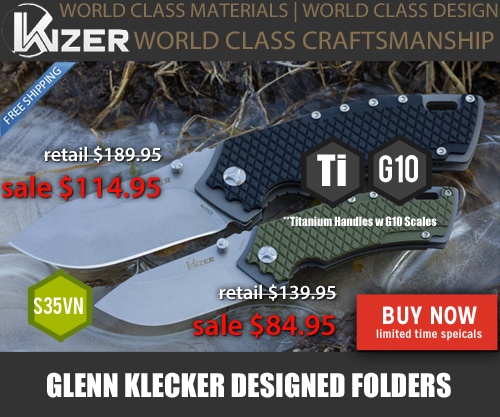 This Klecker design is very well made with the finest materials. You can't get this kind of quality for your dollar anywhere else. Titanium frame with textured green G-10 front and back handles. Lanyard slot. 6AL4V titanium pocket clip. Designed by Glenn Klecker.

Buck's latest 2014 offerings include a couple of really great folders – the Mini SpitFire and the Rush.  Knifecenter offers these two sure-to-be winners in several colors so take your pick!
The Mini-SpitFire is the not-so baby -brother to the classic Buck SpitFire.  This more compact version features a 2 3/4  inch 420C Steel blade (1/2 inch smaller than the full-size Spitfire) and light-weight anodized aluminum handles.  The blade is super sharp  and the thumb hole  allows for very easy one-hand opening (the thumb hole on the new minis are actually a bit wider than the full size SpitFire allowing for even easier opening).  The Mini SpitFire's  lockback blade is also very secure and easy to engage.  These very affordable 100% USA made folders are available at KnifeCenter.com  - get'em while they last!
The Buck Rush is appropriately named  - if  you're in a rush and need super-fast blade deployment, the Buck Rush is sure to fit the bill.  Its lightening-fast assist mechanism provides for one of the quickest and smoothest deployments I've seen.  I really like the added safety latch that sits directly below the blade flipper – this  should prevent any accidental openings while in your pocket.  The skeletonized aluminum handles, thin profile,secure belt clip, and ambidextrous thumb studs make this a very easy to carry pocketknife.  This small folder is also very light light at  just over 2oz.  As with the Mini Spitfire, the Rush is completely USA made  - these are sure to sell thru fast so grab one HERE at KnifeCenter.
More from Buck on the Mini SpitFire and the Rush: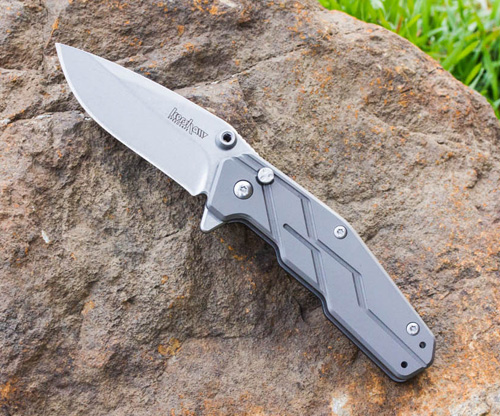 What can we say about this new folder from Kershaw except what an awesome deal it is. Here Kershaw has reproduced in a very reasonably-priced knife all the outstanding qualities you'd expect to find in more expensive knives from brands that shall remain unnamed (but we're sure you can figure it out just by taking a look at the blade and handle design). Here are just a few great things about this knife:
Titanium handles – solid, tough construction with machined grooves that will ensure a great grip for a lifetime
8Cr13MoV blade – a respectable, if not outstanding, steel that is known for its strength and ability to hold an edge
Push-button assisted open – All the quality in the world wouldn't matter if you can't get it open when you need to…the Speed-Safe® push-button mechanism will allow you to do just that quickly and easily
Flipper – another way to open the knife in case you choose not to use the Speed-Safe button.
Push-button lock – locks the knife in the open position until you are ready to close it for storage
This is an awesome all-around EDC from Kershaw that we expect to sell for many years, but for now our stock is limited – so hurry and get yours while they last!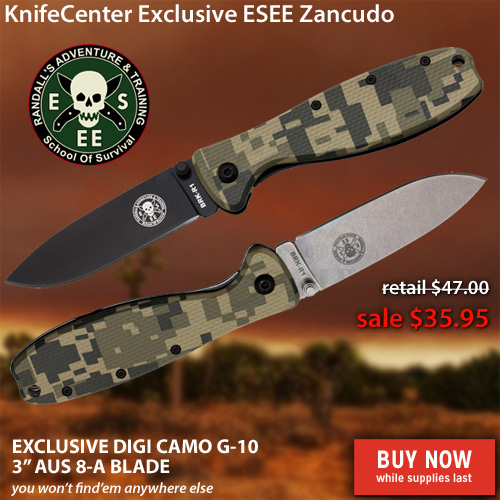 The ESEE Zancudo was designed by the survival experts over at ESEE Knives, Mike Perrin and Jeff Randal, and was produced by Blue Ridge Knives. It's an amazingly slim, well built folder that you won't have a problem carrying and using every day.
The KnifeCenter is having the biggest sale we have ever offered. We are relocating our entire operation to the beautiful hills of Spotsylvania County Virginia and are -having a once in a lifetime sale of EVERYTHING! (except price protected items-sorry!). It will all be at 20% off our normal price. This sale will not be repeated. We can't include Benchmade, Chris Reeve and some others, but there are over 6000 items on sale! We'll be offering it through December 30th but it only applies to orders that are entirely in stock and immediately shippable, so don't miss your favorite items.
We will be working a half day on New Years Eve and are closed on January 1, 2013 We'll be back in full swing on Thursday, January 2.
We want to wish all of our customers and shoppers a happy and healthy holiday season. Here at the KnifeCenter, we have been working long hours trying to play Santa's elves and not the Grinch this Christmas so everyone can get their toys in time. The hard work has paid off, we believe, and there are very few problem packages this year.
The web site has been going through some really significant upgrades and we hope it is still serving you well. We appreciate your feedback and we will use it to improve the site.
Thanks again: The team at The KnifeCenter of the InterNet