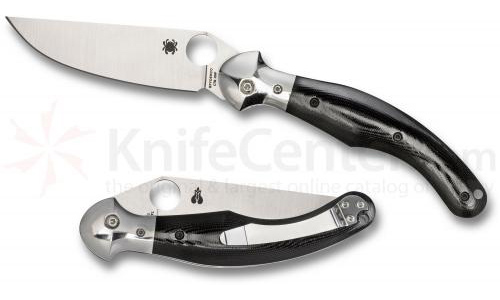 Spyderco Hungarian Design Folding Knife
Spyderco's ethnic series has amazed a lot of us through the last several years. They have taken designs – some ancient – and modernized them in their own inimitable fashion, into modern Spyderco models. Included among them are the Jot Singh Khalsa, Bob Lum Chinese Models, the Ed Schempp Navaja, and the Nilakka Folding Puukko among others. This model, however, is really exceptional. The eastern European flavor is reflected in the stylized handle which fits an average sized hand very well. The dual extensions on the highly polished bolster serve as a thumb rest on top and a guard on the inside of the handle. The materials seem really well thought out a with nicely polished and well formed G10 handle along with a top quality steel blade that is what Spyderco calls a full flat grind- meaning flat from the top of the blade to the top of the final bevel that goes to the cutting edge. Although all parts of the handle, bolster and pocket clip are highly polished, the blade is left with a satin finish. This is a great knife, made in Taiwan and presented at Spyderco's high level of quality. Collector's will want to have one of these so that, in years to come, they will be able to take this out and amaze others. The liner lock works very well and is buried just enough to avoid accidental release. These swing open easily, lock securely and close conveniently. We see this latest entry from Spyderco Knives as a real winner, even though the price is not low. You get what you pay for- at least in this case, and in our opinion.
Here is more information from Spyderco Knives: Full Story
While we pause today to remember our Veterans, let us be thankful for them every day. We thank the millions of men and women for the countless sacrifices they have given and continue to give in support of the freedoms we have. From each and every one of us here at the KnifeCenter and around the country, we salute you.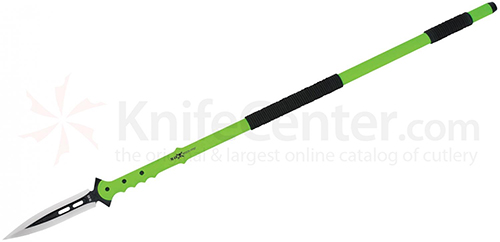 Whether you are slaying zombies, hunting a wild boar, or in need of the ultimate conversation piece, the United Cutlery M48 Apocalypse Spear is the answer.  At ~ 44 inches long, the M48 is not overly cumbersome and the light-weight FRN (Fiberglass Reinforced Nylon) shaft also make this a very portable spear.  This spear features an extremely sharp Black Oxide-Coated 2Cr13  stainless steel blade and also comes with a Snap Sheath for safe and easy storing.  Get yours BEFORE the Apocalypse at www.knifecenter.com.
More from United Cutlery on the M48 Apocolypse……. Full Story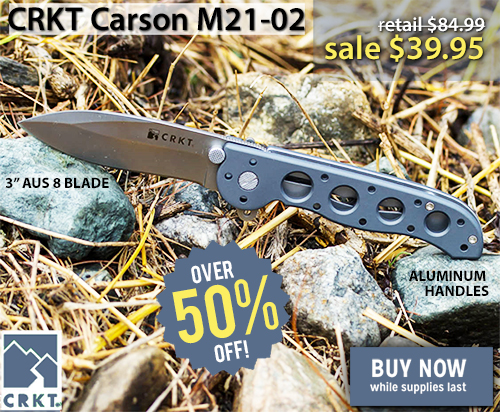 This week we're happy to bring you a knife from Kit Carson's aluminum-handled line at a greater than 50% discount.  The lightness of the aluminum handle is one of the first things you'll notice while handling this knife.  The second thing you'll probably notice is how smoothly and quickly it deploys with the patented "Carson flipper"  - this despite having almost zero blade play.    And then of course there's the blade itself – made of premium AUS8 steel in a non-reflective finish, the blade has a deep belly terminating in a spear point; in fact the design of the spear point blade is very similar to that of Japanese spears, which were designed with one purpose in mind – to go right in when thrust into anything.  You'll have a hard time finding an EDC that matches the quality, craftsmanship, and features of this knife, especially at the price at which we're offering it this weekend.  Get yours before they're all gone!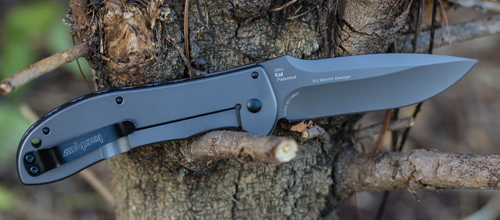 RJ Martin has a knack for functional blade shapes and comfortable, ergonomic handles. Many of his custom and limited production knives sell for $500 and up, so to get one of his designs at this price is remarkable. Kershaw, as well as Boker and some other manufacturers, is very adept at taking high end custom designs and turning them into production pieces. No corners were cut designing, engineering, and manufacturing the 3890 Scrambler. The assisted opening blade can only be opened with the flipper mechanism since it lacks conventional thumbstuds. The SpeedSafe mechanism is quick, strong, durable, and proven. It can be found on countless different Kershaw designs.
The best way to describe the Scrambler is that it is an extremely sleek looking and functioning knife. There's no jimping on the blade spine which I can live without, but some people might call it a crime that they left out this important part of ergonomics. However, the shape of the handle locks this knife into your hand just fine. The machining work on the backspacer, as well as the G10 handle with stainless steel bolsters, adds to the aesthetics of the knife making it a folder you will be proud to carry every day. The frame lock mechanism, ultra stout pocket clip, and coating on the steel parts of the knife add to the design's strength and wearability. This is a knife you should have in your collection and it can be found at www.knifecenter.com.
More about Kershaw Knives:  Full Story

Henckels Four Star German Kitchen Knife Sale!
Zwilling J.A. Henckels is probably the largest producer of German kitchen cutlery. Although they offer a cheaper line imported from China, The Knifecenter offers only their top quality items. The Four Star line is probably the most recognizable and popular and also the most imitated of their entire line. These never go on sale- but they are now! We were shocked when they told us to put the line on special, but here it is. You can select their Chef's knives, paring knives, block sets and just about the entire Four Star series. This opportunity doesn't come along that often, so you might want to take advantage while you can. – Here's a tip, though. If you price shop for Henckels- always look for the items with the two stick figure twins in the logo. If you see just one stick figure, those are imported from China. Ours all have the two figures. See all the sale Henckels at www.knifecenter.com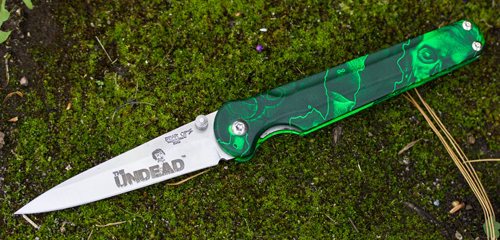 Stilettos are known for their fast action, thin profiles, and symmetrical spear point blades. Bear OPS has created a smaller sized Stiletto folder that will serve you as an excellent EDC utility knife. The best thing about this knife, besides the S30V blade of course, is the lightweight yet strong aluminum handles. They're shaped eerily similar and have the same anodized feeling as the Benchmade 940/943 and comes with a reasonably deep carry pocket clip. Take the Reaper Z handles or leave them, it's up to you. For my money they're something different in the collection so fine by me. This knife features a liner lock, smooth fast action, and flow-through design for easy cleaning. Proudly made in Alabama, this knife is available at www.knifecenter.com.
About Bear OPS, a Division of Bear & Son Cutlery:  Full Story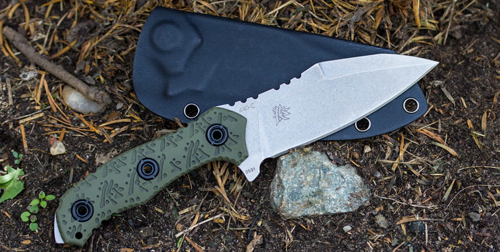 Very rarely do we get knives in the door that we have to double, then triple check the price to make sure we got it right. That's just the case with the new Boker Plus Colubris, an all-around fixed blade designed by DJ Urbanovsky. When you get this knife in your hand, it's a lot like the Ontario RAT folders, you just can't believe what you're getting for the price. True, the blade is made from 440C steel but the way Boker heat treats and finishes these blades, you end up with a great user steel that will hold an adequate edge. Other than the knock on the steel, we wouldn't change a single thing about the knife. The G10 handle is ergonomically contoured for a comfortable grip in multiple positions and the aesthetic dimpling/texturing provides good purchase. The modified Wharncliff blade is angled for deep, effective slicing and has enough belly for most of your utility work. I strongly feel a fixed blade knife is only as good as it's sheath, and the friction fit Kydex sheath you get with the Colubris is right on point. It perfectly fits the knife with little to no rattling sound, and comes with a multi-position Boker belt clip, which functions exactly the same as a Spyderco G-Clip. Check out this awesome new Boker Plus knife at www.knifecenter.com.
More about the Colubris from Boker:  Full Story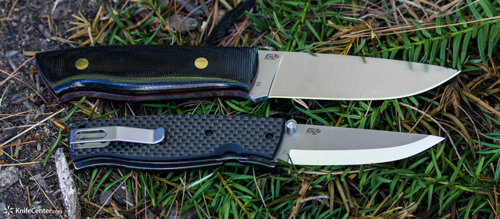 Finnish knives, commonly bunched all together as Puukko designs, are built solely with the user in mind. The knives are attractive, comfortable, sturdy, and best of all, sharp! EnZO designs, and most Puukkos for that matter, generally feature a Scandi grind, which is like a flat ground blade without the secondary bevel. The edge of the blade generally goes up about half way up the width of the blade, or higher, making for a sharper edge that is also easier to resharpen. EnZO knives are perfect for bushcrafting as well as everyday carry since the handles are perfectly sculpted to provide the best ergonomics possible for every hand size. EnZO knives are some of the highest quality designs we have in the Puukko category and best of all, they won't break the bank. Check out these awesome new knives from Finland at www.knifecenter.com.
A little more about Puukko Knives:  Full Story
Throwing darts is a great leisure activity because it's relatively easy to set up and play, there are a variety of games within the game you can play, and best of all you can have a beer while playing. Everything good about throwing darts also translates to the new zombie throwing knife and target sets from United Cutlery, except you may want to limit that beverage intake for safety sake. This product makes a game out of the art of throwing knives so you're not just putting holes in a piece of wood, you're actually aiming your throws and strategizing a winning formula. These amazingly cool sets come with a dozen throwing knives, specially designed target, game instruction book, and even a nylon carry case for the knives. If zombies or neon green aren't really your thing, then the On Target sets are just as cool with their yellow or red target boards. Start on your way to hours of enjoyment and entertainment with these throwing knife and target sets available at www.knifecenter.com.
More about United Cutlery:  Full Story