Leatherman Limited Edition 30th Anniversary Micra Multi-Tool
The Leatherman Micra is our most popular mini-tool with anglers, hobbyists and those who can appreciate the best spring-action scissors around. Personal care features that fit on your keychain are just part of what makes the Micra truly unique. Ten useful tools are packed into this tiny, lightweight Leatherman. This special 30th Anniversary edition Micra sports a black DLC coating, our 30th Anniversary crest, and Tim Leatherman's signature, making it a perfect gift choice for collectors or the DIY multi-tasker in your life.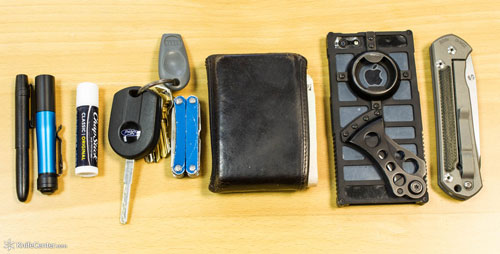 EDC is an acronym that's been gaining momentum in popularity the past couple years and it stands for Every Day Carry. It refers to those items you don't leave home without and always carry with you wherever you go. They can be be as simple as your keys and wallet or as complex as a bail-out-bag with hundreds of items. You can carry these items simply in your pockets or purse or can have a devoted bag/pack to hold them, depending on how much you carry. There is no magic formula for your EDC items, just a snapshot of what you need each and every day. Here's a what I've got in my pockets right now, much of which you can find at www.knifecenter.com.


We have thousands of products made in the USA. We try to find the very best American Made products that we can. We have a page of links to various products that are made in America. From American Made Folding Knives to American Made Mulititools, to American Made Kitchen Products and American Made Flashlights and much, much more.
Two great products for one great price! Check out this sweet combo pack from Leatherman-it includes a limited-edition orange Fuse multi-tool, and an awesome LED Lenser H5 headlamp. Perfect for camping, survival, or just when the power goes out, this set provides all the tools you need, and the light you need to use them.
The Fuse weighs in at just over 6 ounces, but is bristling with all the tools you could want-a 420HC main blade, needlenose pliers, wire cutters, Phillips and flat head screwdrivers, scissors, bottle opener, and more! Includes a nylon sheath.
The set also includes the LED Lenser H5 headlamp, which pumps out 25 lumens and uses advanced optics to allow you to focus the light-you can create a circular low beam for reading at night, or a bright beam to pierce the darkness at a distance.  Joggers may appreciate the red backlight for extra visibility. 3 AAA batteries included.
Check out this great set-for a great value-while it lasts at www.knifecenter.com!
The details from Leatherman: Full Story
Tim Leatherman is the father of the modern multi-tool and has become a household name in the tactical equipment field. Leatherman started the company in 1983 with the original Pocket Survival Tool and today has over 30 different models which are considered top of the line for multi-tools. The Rebar is the newest Leatherman model for 2012 and it utilizes the same platform as their extremely popular Super Tool 300. It has 17 different tools, a high quality nylon belt sheath, unprecidented 25 year warranty, and a conveniently compact design in which all the tools are accessed from the interior of the Rebar in the open position and do lock in place. If you're looking for a tool that can do practically everything which is comfortable and light enough to carry around all day, the Leatherman Rebar is a great choice for soldiers and civilians alike. See the Rebar and all the rest of Leatherman's products at www.knifecenter.com.
More about Leatherman: Full Story
Leatherman has always set the standard in multi-tools, and with the freshly arrived Wingman, they're setting it again. This awesome tool offers 14 functions housed in a lightweight, stainless-steel body, and features new spring-action jaws.
The Wingman boasts a 2.5″ partially serrated blade, which is able to be opened with one hand. Its interior tools (Phillips/flat screwdrivers, bottle opener, file and many more) operate smoothly, and lock into place with a solid "click". Its attached pocket clip ensures your Wingman will never leave your side! Come take a look at www.knifecenter.com!
Here's the skinny from Leatherman: Full Story
The Blade Show 2011. Full Story
Day One! Leatherman Tools announces 2 new tools. The Sidekick and Wingman that both are smallish and have a mild spring action. One hand operation allows you to get at the knife and scissors or saw. The Sidekick has a saw and the wingman has the scissors. They come with pocket clips. They will be available in September 2011. Inside tools don't lock. The carabiner is available on the Sidekick.
Ka Bar has a full line of- get this – Zombie Killers! Full Story

Leatherman MUT Duty-Specific Multi-Tools
Leatherman Tools does it again:
This is one dog that will hunt… and soldier, and police! This is the first multi-tool to be built ground-up to address the needs and safety of the tactical/shooter community. And, who would you want other than Leatherman to build such a tool? They build it well, with a number of variations, and they build it here in the US. We all know that a MUT brings together the best of different breeds and will always be a trusted and loyal friend, even in the most difficult of times.
Here is a bunch more information from Leatherman: Full Story

New Leatherman Squirt Multitools!
Leatherman is still doing the best they can to put everything you could possibly need into a multitool knife small enough to fit on your keychain. They still haven't managed to fit the kitchen sink yet, but the Squirt series is a big step in the right direction.
The newest additions to the Squirt family are the PS4 series and the ES4 series. The PS4 series has the pliers of the P4 series with the S4 scissors. Similarly, the ES4 series combines the wire strippers of the E4 series with the S4 scissors. Both multitools include all the tools you might need, including a clip point knife, flat and Phillips head screwdrivers, and a bottle opener.  They each come in three colors: Red, blue, and black.
See these knives at www.knifecenter.com
Specifications from the manufacturer: Full Story