We have the
new for 2014 Benchmade Knives and items
up on the site. There are some beauties! A full Carbon Fiber 940, some great hunting knives- just amazing stuff. Check it out at
www.knifecenter.com
Leatherman Limited Edition 30th Anniversary Micra Multi-Tool
The Leatherman Micra is our most popular mini-tool with anglers, hobbyists and those who can appreciate the best spring-action scissors around. Personal care features that fit on your keychain are just part of what makes the Micra truly unique. Ten useful tools are packed into this tiny, lightweight Leatherman. This special 30th Anniversary edition Micra sports a black DLC coating, our 30th Anniversary crest, and Tim Leatherman's signature, making it a perfect gift choice for collectors or the DIY multi-tasker in your life.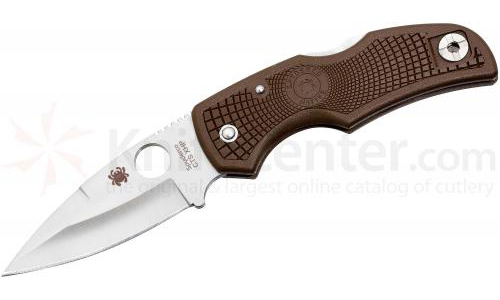 Spyderco Native with Carpenter  Steel Blade and Brown Handle
We think the Native is one of Spyderco's best designs. It is medium sized, has a great blade shape and the handle is thin so it's easy to carry. We thought you might want one with the great Carpenter CTS-XHP steel and so we got this model for you.  Not only that, but we are offering it at an initial discount of only $79.95! These blog posts stay up here, so don't blame us if, when you see this post, it's already back to our full discount price of $89.95. These are a Sprint Run meaning there are only but so many made. They will run out so grab one if you're interested!
Spyderco® describes this item as follows: Full Story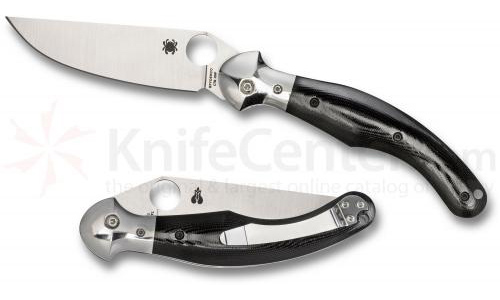 Spyderco Hungarian Design Folding Knife
Spyderco's ethnic series has amazed a lot of us through the last several years. They have taken designs – some ancient – and modernized them in their own inimitable fashion, into modern Spyderco models. Included among them are the Jot Singh Khalsa, Bob Lum Chinese Models, the Ed Schempp Navaja, and the Nilakka Folding Puukko among others. This model, however, is really exceptional. The eastern European flavor is reflected in the stylized handle which fits an average sized hand very well. The dual extensions on the highly polished bolster serve as a thumb rest on top and a guard on the inside of the handle. The materials seem really well thought out a with nicely polished and well formed G10 handle along with a top quality steel blade that is what Spyderco calls a full flat grind- meaning flat from the top of the blade to the top of the final bevel that goes to the cutting edge. Although all parts of the handle, bolster and pocket clip are highly polished, the blade is left with a satin finish. This is a great knife, made in Taiwan and presented at Spyderco's high level of quality. Collector's will want to have one of these so that, in years to come, they will be able to take this out and amaze others. The liner lock works very well and is buried just enough to avoid accidental release. These swing open easily, lock securely and close conveniently. We see this latest entry from Spyderco Knives as a real winner, even though the price is not low. You get what you pay for- at least in this case, and in our opinion.
Here is more information from Spyderco Knives: Full Story

Medford Knife and Tool – Amazing!
We've had Medford products for several weeks now and I haven't gotten around to a Blog post- because they have been coming and going out in a fast and furious fashion. These combat knives and folding knives are amazing- they are strong, well made and well designed and not inexpensive- and the public loves them. We ordered them back in January and they finally arrived in July, and this is the typical lead time on these items. They are absolutely worth the wait. The whole operation is a reflection of the creators, Greg and Amy Medford in Phoenix, AZ. These two are dynamic, high spirited, fun and creative individuals with a real passion for the product and the business. They have an amazing process for each knife that includes fully hand grinding each blade and fitting each knife together to the utmost perfection. The fit and finish on these workhorse big, honkin' knives is superb. The materials are great and the the packaging is super professional. We see a lot of products come through the Knifecenter, but the Medfords have really raised the bar in all these respects. Look for great things in the future with a quicker production cycle, but the knives will never be better than they are now. They may have automatic grinders in their production down the road, but now everything is ground by hand. You may regret not getting these early models.

A long-lasting friendship with some of the insiders at QTRM5TR Knives has allowed Knifecenter a very unique opportunity. QTRM5TR has just recently introduced it's "second season". This time, QTRM5TR has decided to pay homage to another pop culture favorite television show from the 80's. Set in Hawaii, and filling our heads with images of scantily clad beach bunnies and Ferrari's; the show has left a lasting impression with a lot of us males, aged 30-60.
At first discovery, the names seem strange, but once the overall theme is realized, it's quite amusing and certainly a unique way to draw a kinship with their customer base. The names of the knives hardly matter at all once it's in your hand. The angular, modern and industrial stylings of their knives are attractive and unique, but the surprisingly comfortable ergonomic-grip in the midst of all the angles and edges is remarkable.
The use of a new Carpenter Alloy in these knives is a great choice. We've received stellar reviews of the CTS XHP alloy and their newest air-hardened, high-carbon, chromium steel offering certainly won't disappoint either. CTS BD4P alloy is a high-performance blade steel offering a fine, uniform carbide structure yielding excellent edge retention and grinding/polishing characteristics.
All in-line QTRM5TR Knives come equipped with the ORB® pivot system and tri-spoke pivot assembly: These two features will continue to further separate this new American brand from its competition and allow them to yield more popularity in the years to come. The folders are so smooth and lock up is so solid that you'd think they were customs that were triple the price. Get them now. We bought the entire run of pre-production examples, no one else on earth has these knives for sale.
A Little Background About QTRM5TR Knives: Full Story


Rockstead- The Finest Knives in the World- and the Prettiest!
We are proud to offer some of the very finest knives produced anywhere. The Rockstead knives from Japan are so perfectly made with the finest of materials and fit and finish that they are prized by collectors around the world. Availability is limited, so please consider these carefully if they are within your budget. We will have a lot more information about these after the weekend, but we wanted to get them up on the site before we went home!
DPX Orange HEST 2.0 with Free Book
This is the best HEST 2.0 we have seen! DPX is the brainchild of Robert Pelton, an adventure author and the products are really first rate. The knives are made in Italy by Lionsteel with D2 tool steel blades and a great locking system with a safety feature built in. So, the design is great and the quality is superb. Then, with this model which is exclusively sold by KnifeCenter, you get an autographed copy of Pelton's book, "The Adventurist." This knife is limited in quantity. You can see them at www.knifecenter.com
Here is the rest of the description from DPX: Full Story
After the overwhelming success of our first run of Exclusive M390 Gunhammers, the KnifeCenter is extremely excited to see the new batch of these awesome tactical knives come in with the Torpedo style blade shapes. Available in either serrated or honed, spring-assisted or manual opening, you now have the choice between a tactical black DLC coated blade or an attractive Stonewashed finish. If you choose to go with a manual opening knife but are not familiar with the Maxx Glide Pivot System these knives utilize, you're in for a pleasant surprise. This ball bearing design is exclusive to knives by Darrel Ralph and it really does close the speed gap between assisted and manual knives. With little to no wrist action, the blade flies open using the thumb studs or flipper mechanism and locks up solidly with the overly-thick titanium lockbar. M390 Steel from Bohler is an excellent performance steel balancing corrosion resistance and extremely high hardness (62HRC) which  provides superb wear resistance during hard use cutting. You can check out these new M390 Gunhammer models exclusively at www.knifecenter.com.
More about Darrel Ralph: Full Story
Jason Brous, the mastermind behind Brous Blades, is one of the great young craftsman on the rise in our industry. His first successful design, the Silent Soldier, was and still is among the most popular true neck knives we carry. Soon after the Silent Soldier came out, a fixed blade with three distinct bevels was created called the Triple Threat. Now, just over a year later, we are pleased to see coming through our doors a very well done folding version of that wicked knife. The 3-1/2″ blade is made from D2 tool steel and is a paired with a 4-1/2″ well textured and contoured G10 handle. Speed, ergonomics, lockup, fit and finish are right on par with knives of this price point.
The Coroner is the large fixed blade model we just received in and it really is an awe-inspiring piece of work. Brous has a strong background in CNC-machine work and that's readily apparent with this knife. The 6-1/4″ spear point blade is a whopping 1/4″ thick piece of D2 tool steel but is not sharpened on both sides.  The chainsaw-like serrations on the blade spine are extremely well executed and designed to unleash devastating, non-lethal, impact strikes. The milled G10 handle is a little small for gloved hands but it locks the heavy knife in the hand extremely well. Besides the excellent milling work on the blade, the sheath is not far behind as the best part of this knife. The friction fit Kydex sheath is as slim and sleek as it is functional; one of the best executed Kydex sheaths I've ever seen. These are two great overbuilt knives that you can be sure not many other people will have, check them out at www.knifecenter.com.
More about Jason Brous: Full Story