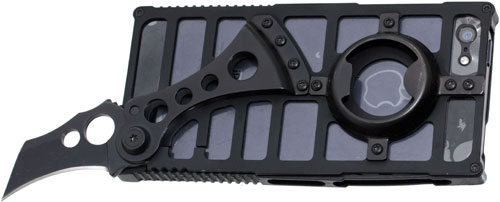 If you're looking for a conversation starter, something that will impress each and every person you show it to, this is it! True, many people will scoff at it or ask you what happens when you encounter a TSA agent with this in your pocket, but that's neither here nor there. It's the convenience of having a blade with you at all times, even if you forget your EDC knife, and ease of which you can remove the case with the torx bit it comes with that makes this an excellent product. All you have to do is pop out the four corner screws and viola, you're in business. I've had my TactiCall for a little over a month now and after you get used to the added weight, it really becomes a highly useful and functional tool. I was wary at first that the bottle opener would apply too much force to the back side of the phone and could break it, but that's definitely not the case, ha. The opener is strongly reinforced by the design of the case and it pops the tops off quickly and effectively the first time, every time. The knife comes as sharp as any karambit blade out there and locks up solidly right out of the packaging. The pivot is adjustable if any play develops using the same supplied torx tool as you use to remove the case, so you always have a properly functioning knife. This is a very useful product and does an excellent job protecting your iPhone 5, check it out at www.knifecenter.com.

The Mad Blacksmith, better known as Jared West, has a distinct style unlike any other. From his knife designs to his other far out products, you will find a cool new item you know you need but never thought would be a reality. The City Dweller Pen Lanyards are just that sort of item. The idea is to disguise the fact that you have a knife by attaching a lanyard with a 2-1/2″ piece resembling a pen. The execution is the key here and these well done products function exactly as designed. Tie the 550 paracord through the lanyard hole, clip it in the pocket and it'll be nearly impossible to tell you've got a knife on you at all. The Mad Blacksmith stands up for your rights to carry a knife without unwarranted attention or accusation. Check out these bold new lanyards at www.knifecenter.com.
More from Jared about the City Dweller:  Full Story

Medford Knife and Tool – Amazing!
We've had Medford products for several weeks now and I haven't gotten around to a Blog post- because they have been coming and going out in a fast and furious fashion. These combat knives and folding knives are amazing- they are strong, well made and well designed and not inexpensive- and the public loves them. We ordered them back in January and they finally arrived in July, and this is the typical lead time on these items. They are absolutely worth the wait. The whole operation is a reflection of the creators, Greg and Amy Medford in Phoenix, AZ. These two are dynamic, high spirited, fun and creative individuals with a real passion for the product and the business. They have an amazing process for each knife that includes fully hand grinding each blade and fitting each knife together to the utmost perfection. The fit and finish on these workhorse big, honkin' knives is superb. The materials are great and the the packaging is super professional. We see a lot of products come through the Knifecenter, but the Medfords have really raised the bar in all these respects. Look for great things in the future with a quicker production cycle, but the knives will never be better than they are now. They may have automatic grinders in their production down the road, but now everything is ground by hand. You may regret not getting these early models.

A long-lasting friendship with some of the insiders at QTRM5TR Knives has allowed Knifecenter a very unique opportunity. QTRM5TR has just recently introduced it's "second season". This time, QTRM5TR has decided to pay homage to another pop culture favorite television show from the 80's. Set in Hawaii, and filling our heads with images of scantily clad beach bunnies and Ferrari's; the show has left a lasting impression with a lot of us males, aged 30-60.
At first discovery, the names seem strange, but once the overall theme is realized, it's quite amusing and certainly a unique way to draw a kinship with their customer base. The names of the knives hardly matter at all once it's in your hand. The angular, modern and industrial stylings of their knives are attractive and unique, but the surprisingly comfortable ergonomic-grip in the midst of all the angles and edges is remarkable.
The use of a new Carpenter Alloy in these knives is a great choice. We've received stellar reviews of the CTS XHP alloy and their newest air-hardened, high-carbon, chromium steel offering certainly won't disappoint either. CTS BD4P alloy is a high-performance blade steel offering a fine, uniform carbide structure yielding excellent edge retention and grinding/polishing characteristics.
All in-line QTRM5TR Knives come equipped with the ORB® pivot system and tri-spoke pivot assembly: These two features will continue to further separate this new American brand from its competition and allow them to yield more popularity in the years to come. The folders are so smooth and lock up is so solid that you'd think they were customs that were triple the price. Get them now. We bought the entire run of pre-production examples, no one else on earth has these knives for sale.
A Little Background About QTRM5TR Knives: Full Story
The Knifecenter has known Fred Perrin since the mid 1990′s. In fact, we put up the first web site for him! Today, Fred has his own knife company and we are thrilled to be able to sell these great items. Fred Perrin always has the most innovative designs and great materials. Fred was originally inspired by the Schrade Sharpfinger model as a useful tool. He has kept his innovative edge (pun intended) through the years and the pocket knives and combat knives that he currently produces are really great. They are all made in France
Here is some information about Fred Perrin Full Story
Pohl Force Knives- New Tactical Knives from Deitmar Pohl
The Pohl Force combat knives have been very popular in Europe for some time. Dietmar Pohl has been a knife designer for some time and we have sold many that were made by Boker. This line of combat knives is manufactured by Lionsteel in Italy or in Taiwan. The Taiwan models use 440C steel for the blades and they are affordable. The Italian models use D2 for the blades and have a three dimensional texture for the G10 handles. These knives are really well made, both the Taiwanese and Italian models. Each is checked by Dietmar who also signs it's certificate. The packaging is amazing with the fixed blades coming in a zipper pouch and the folders in a nice case. These are all large knives with thick blades and will serve you well. He always includes things like a sticker, certificate and instructions.
Cold Steel Code4 Heavy Duty Folding Pocket Knives
Cold Steel Knives create the best and most reasonably priced knives for various applications. No one does a better job of it. They wanted to create an easy-to-carry heavy duty folding pocket knife for law enforcement and military that wouldn't break the bank. They have the production done in great factories and they use great materials and they create the absolute best designs. Like I said- nobody does it better! The Code4 series are flatter than the plastic handle models like the Voyagers or the G10 handle folding knives like the RECON series. They are super strong and feature a good stainless blade. We applaud Cold Steel for really doing it right! You can see the entire series which is now all available, at www.knifecenter.com
Here is some more information from Cold Steel: Full Story

Benchmark Stubby
This is an easy to buy small stubby knife. Only $12.95 and you get a decently made fixed blade that is small enough to carry around and has a bottle opener. Heck, you might call this a reasonably priced bottle opener with a knife attached!See them at www.knifecenter.com
More from the manufacturer: Full Story
Very Spyderco Vallotton and Starmate-esque, the new Boker Plus Squail is a large tactical folder with serious style. The designer, Charles Marlowe, is known for combining function with elegance in all his designs, whether they be tactical or utility in nature. The Squail features a large 4″ 440C blade that is beautifully stonewashed and has a nice-sized thumb hole for easy actuation. The handles are linen Micarta paired with matte finished titanium bolsters for a refined looking and feeling knife. The jimping on the spine is very sharp for excellent purchase and the liner lock, though not grooved like it is in the picture, does lock the knife up with no play whatsoever. This is another awesome piece from Boker Plus and their decision to go with production versions of custom knife designs is paying off with some really excellent products. Keep your eyes peeled for more new designs and check out this handsome new tactical knife at www.knifecenter.com.
More From the Designer: Full Story
Spyderco Orange Pingo Folding Knife
Spyderco has the Pingo models made for them in Italy. They arrive with the top quality Böhler-Uddeholm's premium N690Co stainless steel and an easy to open design. They're designed by Jens Anso and Jesper Voxnaes of Denmark and work great.
You can see this knife at www.knifecenter.com
Here is the description from Spyderco: Full Story