Leatherman Limited Edition 30th Anniversary Micra Multi-Tool
The Leatherman Micra is our most popular mini-tool with anglers, hobbyists and those who can appreciate the best spring-action scissors around. Personal care features that fit on your keychain are just part of what makes the Micra truly unique. Ten useful tools are packed into this tiny, lightweight Leatherman. This special 30th Anniversary edition Micra sports a black DLC coating, our 30th Anniversary crest, and Tim Leatherman's signature, making it a perfect gift choice for collectors or the DIY multi-tasker in your life.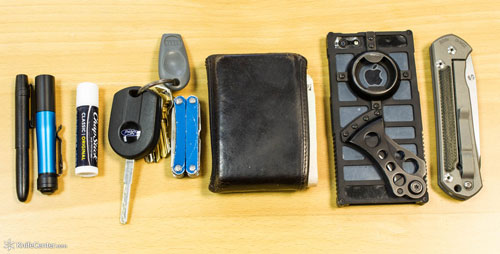 EDC is an acronym that's been gaining momentum in popularity the past couple years and it stands for Every Day Carry. It refers to those items you don't leave home without and always carry with you wherever you go. They can be be as simple as your keys and wallet or as complex as a bail-out-bag with hundreds of items. You can carry these items simply in your pockets or purse or can have a devoted bag/pack to hold them, depending on how much you carry. There is no magic formula for your EDC items, just a snapshot of what you need each and every day. Here's a what I've got in my pockets right now, much of which you can find at www.knifecenter.com.

The Utilikey from Swiss Tech has been one of the best gift giving deals we have ever offered. We have sold this multitool for many years and it never fails to fascinate our customers and solve all kinds of gift giving dilemmas. They're only $11.95 and Made in the USA and come in a nice tin – perfect for giving or wrapping. These great tools fit right on your key ring and can be accessed anytime by un-clamping the sides and have a small blade, screwdriver, bottle opener and more. Grab a few extra of these at www.knifecenter.com because you'll always find someone who'll love one!


We have thousands of products made in the USA. We try to find the very best American Made products that we can. We have a page of links to various products that are made in America. From American Made Folding Knives to American Made Mulititools, to American Made Kitchen Products and American Made Flashlights and much, much more.
Two great products for one great price! Check out this sweet combo pack from Leatherman-it includes a limited-edition orange Fuse multi-tool, and an awesome LED Lenser H5 headlamp. Perfect for camping, survival, or just when the power goes out, this set provides all the tools you need, and the light you need to use them.
The Fuse weighs in at just over 6 ounces, but is bristling with all the tools you could want-a 420HC main blade, needlenose pliers, wire cutters, Phillips and flat head screwdrivers, scissors, bottle opener, and more! Includes a nylon sheath.
The set also includes the LED Lenser H5 headlamp, which pumps out 25 lumens and uses advanced optics to allow you to focus the light-you can create a circular low beam for reading at night, or a bright beam to pierce the darkness at a distance.  Joggers may appreciate the red backlight for extra visibility. 3 AAA batteries included.
Check out this great set-for a great value-while it lasts at www.knifecenter.com!
The details from Leatherman: Full Story
Tim Leatherman is the father of the modern multi-tool and has become a household name in the tactical equipment field. Leatherman started the company in 1983 with the original Pocket Survival Tool and today has over 30 different models which are considered top of the line for multi-tools. The Rebar is the newest Leatherman model for 2012 and it utilizes the same platform as their extremely popular Super Tool 300. It has 17 different tools, a high quality nylon belt sheath, unprecidented 25 year warranty, and a conveniently compact design in which all the tools are accessed from the interior of the Rebar in the open position and do lock in place. If you're looking for a tool that can do practically everything which is comfortable and light enough to carry around all day, the Leatherman Rebar is a great choice for soldiers and civilians alike. See the Rebar and all the rest of Leatherman's products at www.knifecenter.com.
More about Leatherman: Full Story

Gerber Dime Micro Multi-Tool in Black
Gerber Knives have come up with another winner. Gerber produces some amazing multitools. The Gerber Dime Multitool is a small, spring action pliers based tool with loots of options and an amazing price. $16.95 gets you this well engineered and manufactured tool. They will be available in different colors soon. First, it closes up nice and compact with rounded edges so that, when you carry it, you don't get bothered with sharp corners. Then, it has a great tool selection with a flathead screwdriver, a small, double sided file, an interestingly shaped knife blade, a very nice springed scissors, wire cutter and a unique cutting edge made for opening clam packs! There is also a bottle opener on the end. Everything seems well made and this is an amazing deal at this price. You can see them at www.knifecenter.com
Here is the data from Gerber: Full Story
2011 Damascus Limited Edition Climber
Just in from Victorinox Swiss Army, we're thrilled to announce the new 2011 Damascus  Limited Edition Climber! Featuring a meticulously crafted Damascus steel main blade, this beauty of a knife is a must have for the Swiss Army Knife collector!
The Limited Edition Climber also features an array of other tools, including a small blade, corkscrew, cap lifter, flat head screwdriver, tweezers, toothpick, and scissors, among others. This knife comes in a window display giftbox, and is individually serial numbered-they're restricted to just 100 pieces available for sale in the United States. These might not last long, so grab one today at www.knifecenter.com!
More from Victorinox Swiss Army: Full Story
Leatherman has always set the standard in multi-tools, and with the freshly arrived Wingman, they're setting it again. This awesome tool offers 14 functions housed in a lightweight, stainless-steel body, and features new spring-action jaws.
The Wingman boasts a 2.5″ partially serrated blade, which is able to be opened with one hand. Its interior tools (Phillips/flat screwdrivers, bottle opener, file and many more) operate smoothly, and lock into place with a solid "click". Its attached pocket clip ensures your Wingman will never leave your side! Come take a look at www.knifecenter.com!
Here's the skinny from Leatherman: Full Story
PocketToolX Pocket Tools and Multi-Tools
Introducing a new brand to Knifecenter, we're proud to offer the amazingly useful USA-made PocketToolX line of multitools! Whether you need to maintain your bicycle, loosen a rusty bolt, or crack open a cold brew, these are the multi-tools for you! Even better, the PIRANHA and BREWZER tools are TSA-compliant*, so you won't have to worry about losing yours if you forget to take it out of your pocket before going to the airport.  Let's get to know them a little bit!
PIRANHA Pocket Tool-Measuring under 4″, this handy tool can always be at your side. Among the 10 functions, the PIRANHA sports an open SAE wrench, Phillips/flat driver bit, bottle opener, box ripper, and pry tool among others.
BREWZER Keychain Tool-Some things are very important, like being able to open a frosty cold beer at a moment's notice. The BREWZER keychain tool is there for you! It'll also open boxes, offers a flat head screwdriver, has a hex tool, and more!
MAKO Bike Tool-Offering 2 spoke wrenches, a box wrench, Phillips and Torx bits, and 2 Allen wrenches, this pocket tool has everything to keep your bike on the road, plus a bottle opener for the end of the ride! Go check 'em out at www.knifecenter.com!
More information from PocketToolX: Full Story