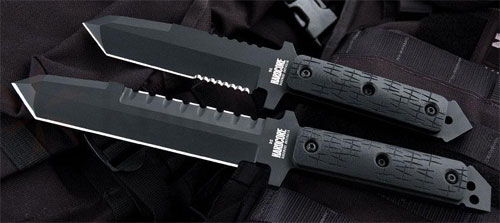 The tides of the fixed blade knife are a-changing and Hardcore Hardware Australia is riding that wave and doing it very well. These days people are flocking to the larger, bulkier knives that have a multitude of uses beyond cutting. They want to be able to chop, pry, split, saw, dig, hammer, break, etc. from a single tool that they always have at their side. Much like Mercworx, Robson RPW, and Medford Knives, these are meant for battlefield use and hard use at that. All blades and tactical axes are made from Teflon coated D2 tool steel and measure at least 6 mm thick. This gives you peace of mind that Hardcore Hardware knives can handle what needs to be done, even if not intended to do so. Fit and finish is right up there with Spartan Blades when it comes to fixed knives, they are just perfectly ground, honed, and assembled to give you a tool that will last years. Check out this newest bomb proof line of knives at www.knifecenter.com.
More from Hardcore Hardware Australia:  Full Story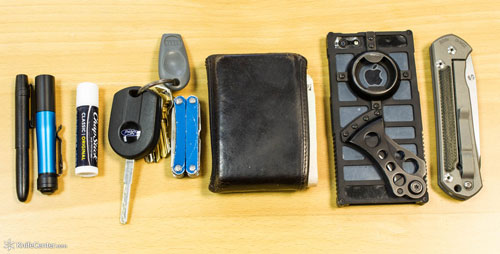 EDC is an acronym that's been gaining momentum in popularity the past couple years and it stands for Every Day Carry. It refers to those items you don't leave home without and always carry with you wherever you go. They can be be as simple as your keys and wallet or as complex as a bail-out-bag with hundreds of items. You can carry these items simply in your pockets or purse or can have a devoted bag/pack to hold them, depending on how much you carry. There is no magic formula for your EDC items, just a snapshot of what you need each and every day. Here's a what I've got in my pockets right now, much of which you can find at www.knifecenter.com.


We have thousands of products made in the USA. We try to find the very best American Made products that we can. We have a page of links to various products that are made in America. From American Made Folding Knives to American Made Mulititools, to American Made Kitchen Products and American Made Flashlights and much, much more.
SureFire Flashlights are widely considered top of the line in lighting products and as the old adage goes; you get what you pay for. Not anymore! For 2012, the KnifeCenter has lowered prices on all SureFire products across the board. From folders to fixed blades, ear-plugs to pens, and every flashlight in between, the Surefire line is now available at a reduced cost. Get one of their knives, which were recently discontinued, before they're gone for good. This change will be permanent to all items so don't fear but you may have some competition while we have them in stock. Now the new adage is: you get more than you pay for with Surefire products from www.knifecenter.com.
About SureFire: Full Story

New Allen Elishewitz Tactical Pens from Columbia River
Pens are definitely what is hot right now, and quite a few manufacturers are getting into the pen game. One that we had been looking forward to was Columbia River because we figured that they would collaborate with someone really cool to make their pen. We were right… they have just released a pen designed by Allen Elishewitz! This is a beautiful and comfortable writing implement that is also a self-defense tool designed to be used at multiple levels of threat and response.
See these pens at www.knifecenter.com
More Information from Columbia River: Full Story

US Army Brand Tactical Pens – Now at Reduced Prices!
US Army brand products have been a hit since they were released earlier this year. These new writing pens with a tactical form are well made and well designed and now the best priced pens here. They are available in either brown digital camo or green digital camo. You can see them both at www.knifecenter.com
Here is some more information about them: Full Story

New Benchmade Damasteel Tactical Pens!
Benchmade was integral in elevating the pen to a tactical tool. Now they are elevating the tactical pen to a work of art. This is not the first time damascus steel has been used in the shaft of a pen, but it is the first production tactical pen to be made available in this beautiful material. As with all Benchmade pens these feature the un-equaled performance of Fisher Space Pen refills. The perfect gift for the discerning, but prepared, father!
You can see them at www.knifecenter.com
More Information from Benchmade: Full Story

Smith and Wesson M & P Series Pens
One of last year's most popular new items was the Smith & Wesson Tactical Pen series, and we have struggled mightily to keep up with the demand. Now they have brought out their Military & Police (M & P) series of pens. The pen shaft features a knurled shaft for better grip, making it almost impossible to slip in your hand. These are still at the same low $22.95 price.
You can find the new pens at www.knifecenter.com
You can list all Smith and Wesson tactical pens at www.knifecenter.com
Here is the description from the item: Full Story

BaliYo Flip Pen by Spyderco (Black) Economy Model – $9.95
The Spyderco Knife Company never ceases to amaze us. The BaliYo pens have always been USA made and still a bargain at $23.95. This new edition is made in China and we can sell it at $9.95!! This is an amazing offering from Spyderco Knives. You can view the Black Economy BaliYo at www.knifecenter.com
Spyderco describes this item as follows: Full Story

Self Defense Writing Pens from Smith and Wesson and Schrade
Great and low priced writing pens in metal bodies with sharpened tips- from Smith and Wesson and Scrade. These are all similar items with the Smith and Wesson having a slightly different shape from the Schrade. They use a good refill and are well made and really reasonably priced.
We, at the KnifeCenter, feel that these tactical pens by Schrade and Smith & Wesson are a great value! They serve the same purpose as other tactical pens that are 3-4 times its price. They write very smoothly and can be used as a self-defense tool. Best of all, they look great and are very reasonably priced! See all our tactical pens at www.knifecenter.com
* Overall Length: 5.7″ (14.5 cm)
* CNC machined 6061 Airorated Aluminum
* German Hauser Parker Ball point pen refill
* Anodized
* Made in Taiwan