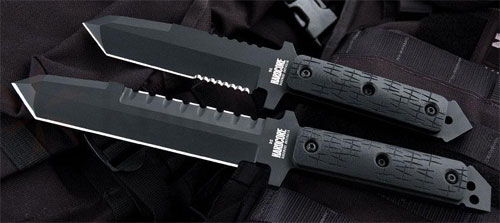 The tides of the fixed blade knife are a-changing and Hardcore Hardware Australia is riding that wave and doing it very well. These days people are flocking to the larger, bulkier knives that have a multitude of uses beyond cutting. They want to be able to chop, pry, split, saw, dig, hammer, break, etc. from a single tool that they always have at their side. Much like Mercworx, Robson RPW, and Medford Knives, these are meant for battlefield use and hard use at that. All blades and tactical axes are made from Teflon coated D2 tool steel and measure at least 6 mm thick. This gives you peace of mind that Hardcore Hardware knives can handle what needs to be done, even if not intended to do so. Fit and finish is right up there with Spartan Blades when it comes to fixed knives, they are just perfectly ground, honed, and assembled to give you a tool that will last years. Check out this newest bomb proof line of knives at www.knifecenter.com.
More from Hardcore Hardware Australia:  Full Story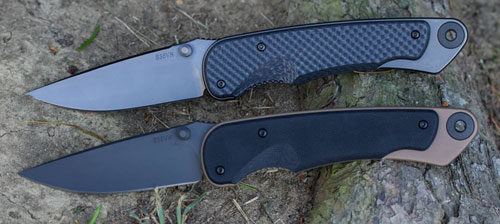 Here at the KnifeCenter, we strive to offer you the best edged tools available and we believe these Akribis folders fit that bill nicely. Spartan Blades is well known in the industry for their stout, well built fixed blade designs. The fit and finish on any Spartan Blade is very Chris Reeve-esque with great attention paid to the ergonomics and cutting angle of each knife. The Akribis is their first folding knife and we are very excited about this one. It features titanium handles, with a Rick Hinderer lock bar stabilizer, available in meteorite grey or flat dark earth and your choice of G10 or carbon fiber scales. The 3-1/2″ blade is made from S35VN stainless steel and also comes in your choice of a meteorite grey or black PVC blade coating. The opening action is buttery smooth and the loud click of the lock bar engaging is one sweet sound you'll definitely appreciate. This is a hard use, tactical folder that's as at-home in your jeans or khakis as it is on your LBE. There's no doubt you will be proud to show this knife off to your friends, check them all out at www.knifecenter.com.
More about Spartan Blades:  Full Story

A long-lasting friendship with some of the insiders at QTRM5TR Knives has allowed Knifecenter a very unique opportunity. QTRM5TR has just recently introduced it's "second season". This time, QTRM5TR has decided to pay homage to another pop culture favorite television show from the 80's. Set in Hawaii, and filling our heads with images of scantily clad beach bunnies and Ferrari's; the show has left a lasting impression with a lot of us males, aged 30-60.
At first discovery, the names seem strange, but once the overall theme is realized, it's quite amusing and certainly a unique way to draw a kinship with their customer base. The names of the knives hardly matter at all once it's in your hand. The angular, modern and industrial stylings of their knives are attractive and unique, but the surprisingly comfortable ergonomic-grip in the midst of all the angles and edges is remarkable.
The use of a new Carpenter Alloy in these knives is a great choice. We've received stellar reviews of the CTS XHP alloy and their newest air-hardened, high-carbon, chromium steel offering certainly won't disappoint either. CTS BD4P alloy is a high-performance blade steel offering a fine, uniform carbide structure yielding excellent edge retention and grinding/polishing characteristics.
All in-line QTRM5TR Knives come equipped with the ORB® pivot system and tri-spoke pivot assembly: These two features will continue to further separate this new American brand from its competition and allow them to yield more popularity in the years to come. The folders are so smooth and lock up is so solid that you'd think they were customs that were triple the price. Get them now. We bought the entire run of pre-production examples, no one else on earth has these knives for sale.
A Little Background About QTRM5TR Knives: Full Story
The Knifecenter has known Fred Perrin since the mid 1990′s. In fact, we put up the first web site for him! Today, Fred has his own knife company and we are thrilled to be able to sell these great items. Fred Perrin always has the most innovative designs and great materials. Fred was originally inspired by the Schrade Sharpfinger model as a useful tool. He has kept his innovative edge (pun intended) through the years and the pocket knives and combat knives that he currently produces are really great. They are all made in France
Here is some information about Fred Perrin Full Story
Krudo Knives Lots of NewStuff!

We've been selling Krudo Knives at the KnifeCenter for some years now, but we have recently expanded the selection greatly. Designed by martial arts expert Louis Krudo, these self defense tools are designed to help the user fend off and disable an attacker. Louis is a real knife-guy and a great character that we greatly admire. The design of his self defense knives is unlike anything else you have seen. While several of these SNAG tools are unsharpened, they're not limited to use as "trainers"-most of the Krudo "pain management techniques" utilize the unsharpened, textured hook to grab or apply pressure to an assailant.
Check out the SNAG tools, trainers, and SNAGettes today at www.knifecenter.com!
More from Krudo knives:
ASP-USA produces without a doubt the highest quality expandable batons we stock here at the KnifeCenter. New for 2013, they're expanding their inventory to include not just batons, pepper spray, handcuffs, and high quality carry cases but some serious EDC and keychain flashlights for the tactical professional.  If you've already got an ASP baton, accessorize it with the tactical Triad attachment which replaces the end cap with a 70 lumen LED flashlight that's tough as nails. Or if you're just looking for an everyday carry lighting option, they've got you covered with the compact Tungsten flashlights or a Triad model available in AA, CR123 or 18650 Lithium, all putting out over 200 lumens. However the coolest items to be released are the new Sapphire keychain LED models that come in a variety of colors with a USB attachment so it can be recharged with any computer. Check out all the new ASP products at www.knifecenter.com.
More about ASP-USA: Full Story


We have thousands of products made in the USA. We try to find the very best American Made products that we can. We have a page of links to various products that are made in America. From American Made Folding Knives to American Made Mulititools, to American Made Kitchen Products and American Made Flashlights and much, much more.
If you're looking for a smaller hawkbill style blade, what better platform could you ask to build off of than the famed Spyderco Delica. The Lil' Matriarch is the little brother of the new Matriarch 2 and the tiny brother to the Civilian, a specialized tactical design from the early '90s. The serrated S-Shaped VG-10 blade is not meant for utility tasks but is perfectly designed to act like a claw and rip through anything it encounters. Featuring the exact same handle as the Delica4, all the ergonomics and functions are the same but you get a much more useful knife in emergency life threatening situations. Sharp jimping on the blade spine makes for great control and the four way positional clip, which is parkerized not painted, gives you options. The Lil' Matriarch is only available in a serrated model but this is in no way a disadvantage as the serrations work ferociously during pull and draw cuts. Check this knife out at www.knifecenter.com.
More from Spyderco: Full Story
The design my be quirky and unfamiliar to most but in no way does that mean that it's an inferior tool. In the case of the new Zero Tolerance 0750 assisted folder, the unique blade and handle shape actually make it a superior knife for many different applications. Designed to be especially useful for draw cuts and in the reverse grip, the talon shaped S30V blade is an absolutely ferocious cutter. The reverse curved handle is surprisingly comfortable to use normally but it really shines in the reverse grip, locking into the hand very tightly. This makes this knife a superb last ditch tactical defense weapon for more powerful slash cuts and you can find it at www.knifecenter.com.
More about Zero Tolerance Knives: Full Story
Shadow Tech Knives is a new brand for us here at the KnifeCenter and we are excited to have them. They bring an entirely new design to the combat knife table with their Scorpion and Stinger models. Fit with cylindrical shaped blades and steep grinds, they were designed to be concealed self defense knives for tactical situations, perfect for stabbing. If those aren't quite your style, the push daggers with their multi-position carry clip can do all the same jobs and more. They pack a lot of blade into their compact designs and the Kydex sheaths attach easily to any belt. See these new knives from Shadow Tech at www.knifecenter.com.
More from Shadow Tech Knives: Full Story