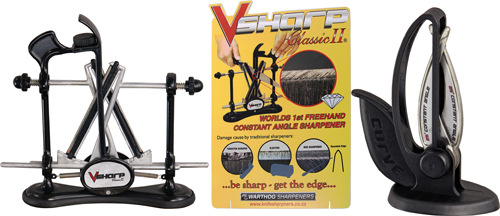 Pull-through sharpeners are by far the easiest to use of any sharpener type. All you need to do is set it up and pull your blade through for fast, simple, and effective results. The Warthog Sharpeners V-Sharp Classic II is a new, adjustable angle design with multiple diamond sharpening rods you can use with all your different knives. The Curve is a compact, easy to use, highly portable model that always provides the right amount of pressure to the edge when you pull it through. What sets these apart from every other pull-through sharpener on the market is that these include a blade guide for precisely lining up the edge with the sharpening rods. Warthog Sharpeners are designed to be used by anyone to quickly achieve a functional edge, no matter your sharpening experience. You can find these excellent new sharpening products at www.knifecenter.com.
More about Warthog Sharpeners:  Full Story
Manual pocket sharpeners have met their match with the new Guided Field Sharpener from Work Sharp. Previously limited to a hand held belt sharpening system, Work Sharp has branched out this year to add a variety of products to quickly get a great edge on your tools. The new field sharpener includes two diamond plates (one coarse, one fine) which are held in place by a pair of strong magnets but can easily be removed for cleaning. The large ceramic rod allows one to touch up not only knives but it has a groove cut in for fish hooks that can be accessed by rotating the red knob on the end. Another feature you don't see on many hand held sharpeners is the leather strop opposite the ceramic rods. Stropping a readily sharp blade polishes up the edge by straightening out the burr which not only makes for a sharper edge but also a more durable one. The Guided Field Sharpener is a very easy to use tool (set up for both 20° and 25° edge angless) and can sharpen almost anything you throw on it. Check out this awesome new sharpener at www.knifecenter.com.
More from Work Sharp:   Full Story


We have thousands of products made in the USA. We try to find the very best American Made products that we can. We have a page of links to various products that are made in America. From American Made Folding Knives to American Made Mulititools, to American Made Kitchen Products and American Made Flashlights and much, much more.

Akansas Ceramic Sharpening Superstick
Simple, economical and effective! This ceramic rod can help keep all your knives razor sharp. Use it like a kitchen steel or work the final bevel on the ceramic surface for a smooth finish. These are made in Taiwan and are about 1″ in diameter and 16″ long including the handle.

Spyderco C308F Ceramic Golden Stone Sharpener, Fine
Spyderco Knives started out as a sharpening company and then started making knives. Originally, these sharpening items were all ceramic. This new design is amazing. You can get 2 different angles as well as a flat surface and both sides are elliptical. You can see these now at www.knifecenter.com
Here is a more detailed explanation of this product from Spyderco: Full Story
The Blade Show 2011. Full Story

Bear Grylls products from Gerber Knives
Gerber Knives has delivered some of the products with the Bear Grylls brand to the KnifeCenter. These are interesting in design and function. See the various reviews for more information as to their quality.

Kyocera Ceramic Knife Sharpener!
If you own ceramic material kitchen knives, then this is the sharpener for you. We have never recommended end users sharpening their own ceramic knives before, we always encouraged them to send them back to the manufacturer for maintenance. Kyocera is a foremost producer of ceramic material products, and when they decided to make a sharpener we were very excited. This sharpener uses diamonds, runs on batteries, is very safe, and is quite easy to use. If you own ceramic knives, this is the sharpener for you.
See this item at www.knifecenter.com
More information from Kyocera: Full Story

Green River Leather American Made Razor Strops!
We have wanted to support a small American made strop company for several years now, and were quite excited to discover the fine folks at Green River Leather. They offer strops in cowhide, horsehide, and combination. Each type of leather offers two different "grits" depending on the side of the strop used. These are as beautiful as they are well made and affordable!
See more from Green River Leather: Full Story

DMT Sharpening Products On Special
We mentioned these last week in the specials email, but wanted to remind you about them – they are that great a deal. We have sets of four sharpeners in different grits to give your knife the perfect hone, and sets of two different size sharpeners to keep in different places around the house or car. Get a set before we run out!