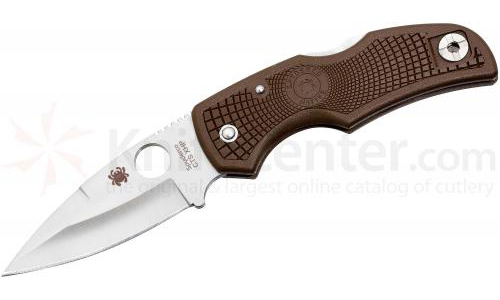 Spyderco Native with Carpenter  Steel Blade and Brown Handle
We think the Native is one of Spyderco's best designs. It is medium sized, has a great blade shape and the handle is thin so it's easy to carry. We thought you might want one with the great Carpenter CTS-XHP steel and so we got this model for you.  Not only that, but we are offering it at an initial discount of only $79.95! These blog posts stay up here, so don't blame us if, when you see this post, it's already back to our full discount price of $89.95. These are a Sprint Run meaning there are only but so many made. They will run out so grab one if you're interested!
Spyderco® describes this item as follows: Full Story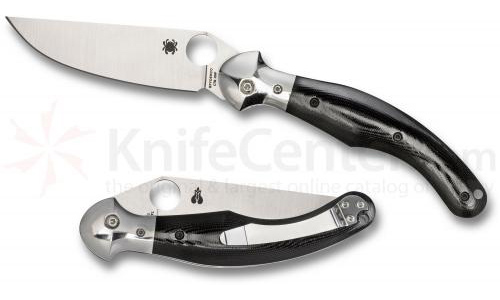 Spyderco Hungarian Design Folding Knife
Spyderco's ethnic series has amazed a lot of us through the last several years. They have taken designs – some ancient – and modernized them in their own inimitable fashion, into modern Spyderco models. Included among them are the Jot Singh Khalsa, Bob Lum Chinese Models, the Ed Schempp Navaja, and the Nilakka Folding Puukko among others. This model, however, is really exceptional. The eastern European flavor is reflected in the stylized handle which fits an average sized hand very well. The dual extensions on the highly polished bolster serve as a thumb rest on top and a guard on the inside of the handle. The materials seem really well thought out a with nicely polished and well formed G10 handle along with a top quality steel blade that is what Spyderco calls a full flat grind- meaning flat from the top of the blade to the top of the final bevel that goes to the cutting edge. Although all parts of the handle, bolster and pocket clip are highly polished, the blade is left with a satin finish. This is a great knife, made in Taiwan and presented at Spyderco's high level of quality. Collector's will want to have one of these so that, in years to come, they will be able to take this out and amaze others. The liner lock works very well and is buried just enough to avoid accidental release. These swing open easily, lock securely and close conveniently. We see this latest entry from Spyderco Knives as a real winner, even though the price is not low. You get what you pay for- at least in this case, and in our opinion.
Here is more information from Spyderco Knives: Full Story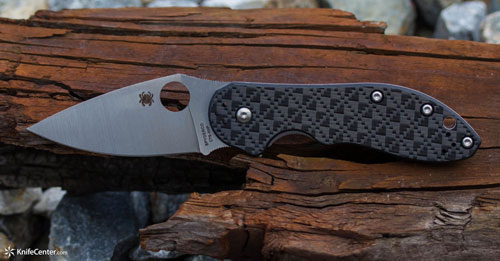 With two new flippers in two successive years, Spyderco must be trying to change their Trademark Hole or something fishy is going on. Flippers keep gaining popularity with knife knuts because they're easier and are in some cases faster to open. The addition of an assist mechanism or ball bearing system gives you the peace of mind that the blade will open quickly and do so completely, every time. The Domino is just this kind of knife with buttery smooth bearings, making it very fun to play with. In use, it's like any other Spyderco - just made to cut things! The CTS XHP steel is among the best in performance on the market due a high hardness and edge holding capability. The best thing about it though, is something you cannot see; the ease at which it can be resharpened. Hard steels like D2 and ZDP perform very well until they get dull. That's when you either have to spend an hour working on the edge or send it out to get professionally sharpened. Not so with XHP. It's fine particle metallurgy and high chromium content makes sharpening easier while also boosting its corrosion resistance. The Chris Reeve Integral frame lock (with replaceable lock bar insert), four-position pocket clip, and carbon fiber laminate handle are just other parts of this very well manufactured product. Check out the new Spyderco flipper at www.knifecenter.com.
More from Spyderco about the Domino:  Full Story

Spyderco Brad Southard Flipper
Spyderco Knives creates a great new knife that works as an every day carry for everybody as well as a special tool for people who need a great knife in their every day work. This knife has a lot of "bells and whistles." It's lightweight, has a slim profile, opens easily and locks solidly. This is a first for Spyderco. It probably won't be the last flipper opening knife that Spyderco Knives offers. The Southard designed blade is a long belly – that's it and this makes for a really useful tool. The top of the blade has jimping near the handle which is great for control and then another ramp further out for when you are choked up on the knife for a more controlled and precise cutting. This pocketknife has a framelock system with a titanium side to the handle. A piece of that titanium alloy actually flexes over to lock the blade in the open position. The pocket clip sits on that side and is polished steel. The Southard flipper from Spyderco is a medium sized folding knife and you can see them at www.knifecenter.com.
Here is more info from Spyderco Knives:
Full Story

Just In! All three Enuff knives feature skeletonized full-tang construction for strength and light weight. We may sell tghrough the first shipment, but we'll get more. Available in your choice of a clip point, leaf shaped or sheepfoot blade. The blades are ground from VG-10 stainless steel, a workhorse material that offers a superior balance of cutting performance, corrosion resistance, edge retention, and ease of sharpening. The clip point and leaf-shaped blades are both plain edged and full-flat ground to yield exceptional edge geometry for precision cutting chores and point utility. You can see these at www.knifecenter.com
More on these: Full Story


We have thousands of products made in the USA. We try to find the very best American Made products that we can. We have a page of links to various products that are made in America. From American Made Folding Knives to American Made Mulititools, to American Made Kitchen Products and American Made Flashlights and much, much more.
'tis the season for savings and here are some of the best deals of the year from one of our favorite manufacturers. 26 newly discontinued Spydercos are on sale at close out prices while their supplies last. It's your time to save some cash on a wide variety of excellent designs that we will be sad to see go. Check them out at www.knifecenter.com.
Some of the Knives on Sale: Full Story
Slim, sleek, long, and natural are the first things that come to mind when handling the new Spyderco Ulize. Very similar in looks, size, and shape to one of the original Spyderco models, the C07 Police, this Ulrich Hennicke design is more than fit for duty. The Ulize was specifically designed for use by the German police as a functional utility tool as well as devastating cutter with its 4.12″ re-curved VG-10 blade. The handle melds into the hand extremely well and puts the blade in an excellent cutting position in multiple grips. Proceeds of this knife will benefit officers killed in the line of action and the four-position clip, backlock, and trademark round-hole make this pocket knife completely ambidextrous and great for any user. Check out this new large tactical folder from Spyderco at www.knifecenter.com.
More from Spyderco: Full Story
The latest addition to the Spyderco line is the folding Puukko design by Pekka Tuominen, the Nilakka, and what a cool knife this is. Based off the successful Spydero FB28WDP Puukko and adapted for the folding knife enthusiast, the Nilakka is unlike any other knife in your collection. The squared off G10 handle is robust, comfortable in the hand and will not rip up your pockets. The knife buries deeply, opens smoothly and locks up tightly – as with all Spydercos. What makes the Nilakka unique is the zero grind it incorporates all the way down the blade to the cutting edge. There is not a separate bevel on the edge, which makes resharpening the knife more difficult but this kind of grind is unparalleled in slicing performance. You can find this unique folding knife at www.knifecenter.com.
More from Spyderco: Full Story
The Spyderco Caparral, like the Sage models before it, is another knife series that will introduce a new model to the family each year. Now in stock at the KnifeCenter, the Chaparral 2 features artfully designed milled Titanium handle scales and CTS-XHP blade steel.  Made by Carpenter, XHP is touted as a high hardness 440C stainless or a corrosion resistant D2 tool steel. The ergonomics are superb on all Chaparral models as is the smooth action and deep carry wire clip, which is reversible for the leftys. The best thing about the Chaparral by far is the thin profile it provides while carrying it. At 5/16″ thick and 6-3/8″ overall, it's a perfect hard use gentleman's folder that really disappears in the pocket. Check it out now at www.knifecenter.com.
More From Spyderco: Full Story