Feb
7
Posted February 7, 2014 by Daniel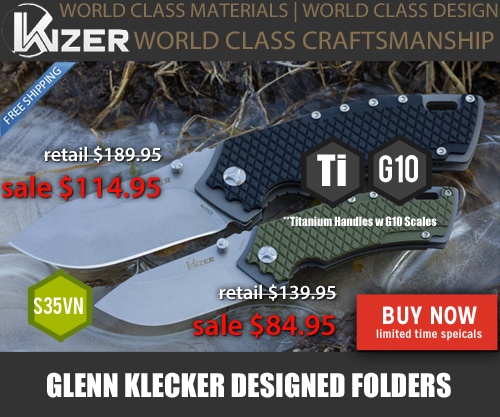 This Klecker design is very well made with the finest materials. You can't get this kind of quality for your dollar anywhere else. Titanium frame with textured green G-10 front and back handles. Lanyard slot. 6AL4V titanium pocket clip. Designed by Glenn Klecker.
Feb
6
Posted February 6, 2014 by josh

Buck's latest 2014 offerings include a couple of really great folders – the Mini SpitFire and the Rush.  Knifecenter offers these two sure-to-be winners in several colors so take your pick!
The Mini-SpitFire is the not-so baby -brother to the classic Buck SpitFire.  This more compact version features a 2 3/4  inch 420C Steel blade (1/2 inch smaller than the full-size Spitfire) and light-weight anodized aluminum handles.  The blade is super sharp  and the thumb hole  allows for very easy one-hand opening (the thumb hole on the new minis are actually a bit wider than the full size SpitFire allowing for even easier opening).  The Mini SpitFire's  lockback blade is also very secure and easy to engage.  These very affordable 100% USA made folders are available at KnifeCenter.com  - get'em while they last!
The Buck Rush is appropriately named  - if  you're in a rush and need super-fast blade deployment, the Buck Rush is sure to fit the bill.  Its lightening-fast assist mechanism provides for one of the quickest and smoothest deployments I've seen.  I really like the added safety latch that sits directly below the blade flipper – this  should prevent any accidental openings while in your pocket.  The skeletonized aluminum handles, thin profile,secure belt clip, and ambidextrous thumb studs make this a very easy to carry pocketknife.  This small folder is also very light light at  just over 2oz.  As with the Mini Spitfire, the Rush is completely USA made  - these are sure to sell thru fast so grab one HERE at KnifeCenter.
More from Buck on the Mini SpitFire and the Rush:
Jan
29
Posted January 29, 2014 by Howard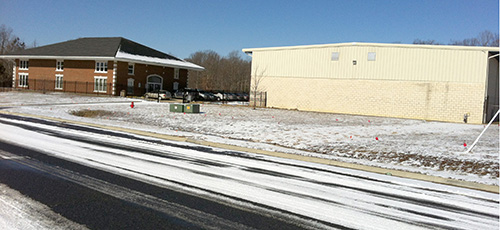 We are loving our new location in Massaponix, Virginia! We are just south of Fredericksburg and right off of Rt 1. We have a larger warehouse and office area to better serve our customers. We apologize if your latest order was slightly delayed, but we should be all caught up within a few more days. We will have a lot more merchandise than ever before and wonderful people waiting to serve you.
Here is our new information:
KnifeCenter of the Internet
5201 Lad land Dr
Fredericksburg, VA 22407
800 338 6799
Jan
13
Posted January 13, 2014 by Daniel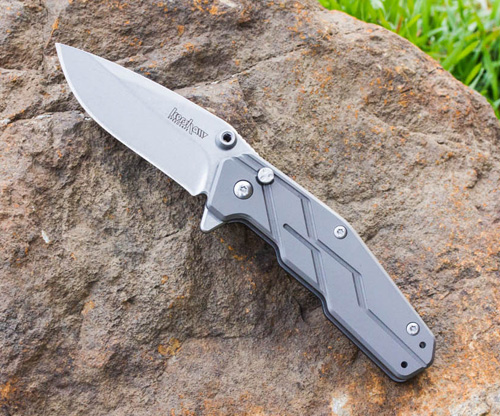 What can we say about this new folder from Kershaw except what an awesome deal it is. Here Kershaw has reproduced in a very reasonably-priced knife all the outstanding qualities you'd expect to find in more expensive knives from brands that shall remain unnamed (but we're sure you can figure it out just by taking a look at the blade and handle design). Here are just a few great things about this knife:
Titanium handles – solid, tough construction with machined grooves that will ensure a great grip for a lifetime
8Cr13MoV blade – a respectable, if not outstanding, steel that is known for its strength and ability to hold an edge
Push-button assisted open – All the quality in the world wouldn't matter if you can't get it open when you need to…the Speed-Safe® push-button mechanism will allow you to do just that quickly and easily
Flipper – another way to open the knife in case you choose not to use the Speed-Safe button.
Push-button lock – locks the knife in the open position until you are ready to close it for storage
This is an awesome all-around EDC from Kershaw that we expect to sell for many years, but for now our stock is limited – so hurry and get yours while they last!
Dec
30
Posted December 30, 2013 by Daniel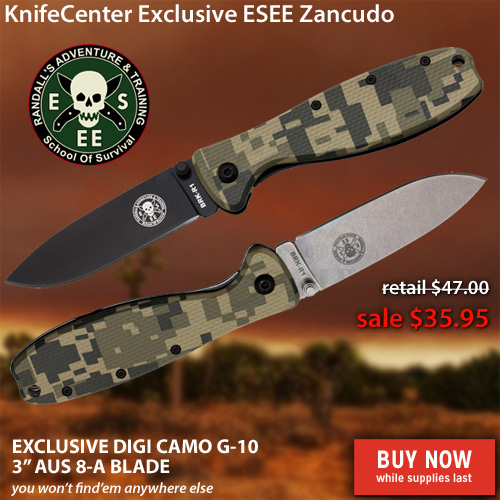 The ESEE Zancudo was designed by the survival experts over at ESEE Knives, Mike Perrin and Jeff Randal, and was produced by Blue Ridge Knives. It's an amazingly slim, well built folder that you won't have a problem carrying and using every day.
Dec
24
Posted December 24, 2013 by Howard
The KnifeCenter is having the biggest sale we have ever offered. We are relocating our entire operation to the beautiful hills of Spotsylvania County Virginia and are -having a once in a lifetime sale of EVERYTHING! (except price protected items-sorry!). It will all be at 20% off our normal price. This sale will not be repeated. We can't include Benchmade, Chris Reeve and some others, but there are over 6000 items on sale! We'll be offering it through December 30th but it only applies to orders that are entirely in stock and immediately shippable, so don't miss your favorite items.
Dec
24
Posted December 24, 2013 by Howard
We will be working a half day on New Years Eve and are closed on January 1, 2013 We'll be back in full swing on Thursday, January 2.
We want to wish all of our customers and shoppers a happy and healthy holiday season. Here at the KnifeCenter, we have been working long hours trying to play Santa's elves and not the Grinch this Christmas so everyone can get their toys in time. The hard work has paid off, we believe, and there are very few problem packages this year.
The web site has been going through some really significant upgrades and we hope it is still serving you well. We appreciate your feedback and we will use it to improve the site.
Thanks again: The team at The KnifeCenter of the InterNet
Dec
22
Posted December 22, 2013 by Howard
Leatherman Limited Edition 30th Anniversary Micra Multi-Tool
The Leatherman Micra is our most popular mini-tool with anglers, hobbyists and those who can appreciate the best spring-action scissors around. Personal care features that fit on your keychain are just part of what makes the Micra truly unique. Ten useful tools are packed into this tiny, lightweight Leatherman. This special 30th Anniversary edition Micra sports a black DLC coating, our 30th Anniversary crest, and Tim Leatherman's signature, making it a perfect gift choice for collectors or the DIY multi-tasker in your life.
Nov
26
Posted November 26, 2013 by Howard

We have the greatest selection of great holiday gifts you will find anywhere!
Shop on our holiday page or all over our web site for great selection and deals.
Nov
25
Posted November 25, 2013 by Howard
We wish all of the American public a happy Thanksgiving and everyone a great holiday season!

The KnifeCenter will be sending out some really great email deals with thousands of discounted products. Sign up now, if you haven't already. We'll be closed on Thanksgiving day so that our employees can enjoy the day with their families, but the emails will go out and you can order from your computer as much as you like- we encourage it!
We love our industry, business, customers and products. This time of year is really busy, but we will all work as hard as it takes to get your packages to you safely and on time. We will ship packages out as you request through the Monday before Christmas and we'll be back at work the day after Christmas. Keep checking in with us for new specials and bargains for you and your family and friends and please, stay safe this season and remember: life is short and you can't have too many knives!