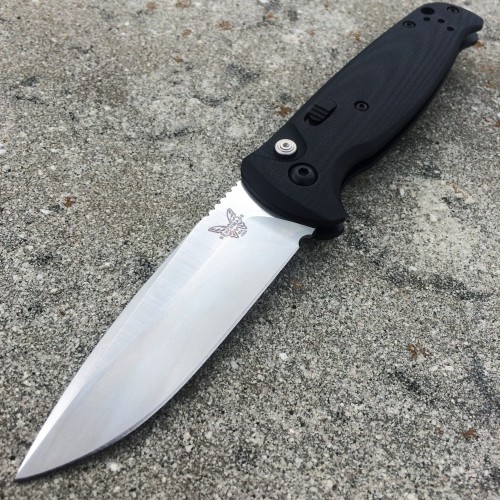 The 4300 CLA (Composite Lite Auto) by Benchmade is an extremely lightweight automatic folder weighing in at only 3.47 oz. Depress the button on the side of the handle and the blade fires into the open, locked position quicker than a Klay Thompson jumpshot.
The blade is made from 154CM stainless steel blade. This is an American-made premium grade stainless steel originally developed for tough industrial applications and known for its best all-around qualities. It offers great corrosion resistance with good toughness and edge quality. The drop-point blade has a slow convex-curved drop in the point which characterizes a drop-point blade. This blade format lowers the point for control but adds strength to the tip. It is a very popular blade shape and is a great all-around blade format.
See more about the BM4300 here, and check out our entire inventory at KnifeCenter.com!