While sharing some overlap with survival knives, hunting knives, even bushcraft and hiking knives, the Camp Knife is something else. Something that appeals to the self-reliant, and indeed to our inner child that just loves the feeling you get when picking up a large blade!
What is a Camp Knife?
A Camp Knife is different from a camping knife. Plenty of knives of all sizes and styles are great to take camping. However, "Camp Knives" tend to be larger and useful at jobs around the campsite or base camp, specifically wood processing for a fire, prepping food, or even clearing a site at which to camp or shelter-building.
We tend to break down camp knives into three genres based on size and intended purpose
Brutes: These knives tend to the smaller side of the Camp Knife genre, but are usually overbuilt and thick enough to help with splitting wood. These tend to have a lot of crossover into the survival knife genre.
Choppers: Larger and capable of chopping and splitting wood, these can often take the place of a dedicated hatchet or machete.
Foodies: Usually more agile than the Brutes, these knives may be able to pull off some light chopping but are more focused on being able to help with the precise cuts and slices needed for prepping a meal. These tend to have a lot of crossover into the hunting knife genre.
What is the Best Camp Knife?
It is important to assess your needs when picking the right Camp Knife for you. Will you be doing any travel while carrying your gear but still want a bombproof option? The smaller size of a Brute might suit you. Will you need to do a lot of wood harvesting or processing? A chopper might be more your style. What about if you are staying at a more developed site such as at a national park? Then it is highly likely that food prep will be among your primary cutting needs. Below we'll lay out some budget and premium options in each genre to get you started.
Budget (sorta) Brute: Becker Knife & Tool BK2 Campanion
The poster boy for the "sharpened prybar" school of survival knife design makes a great camp knife. The Becker BK2, made in the USA by KA-BAR, is thick enough to be nearly unstoppable at "batonning" – the act of using another stick or mallet to strike the spine of the knife and drive it through a thicker piece of wood to split it. Somewhat an advanced technique, in some instances it can be safer than swinging an axe or hatchet around, especially in a close-quarters campsite.
Like nearly all Becker knives, it is made from 1095CV carbon steel for high toughness and ease of sharpening. A powder coating protects the blade from corrosion. The bolt-on handle scales are sculpted for an extremely secure and comfortable grip. Optional Micarta scales are available separately if you prefer them to the injection molded stock handles.
Becker BK2 Specs
Overall Length: 10.5″
Blade Length: 5.25"
Blade Steel: 1095 Cro-Van, 56-58HRC
Handle Material: Zytel
Weight: 16.00 oz.
Sheath Material: Heavy-Duty Polyester
Knife Made in USA; Sheath Made in China
Premium Brute: ESEE Knives Expat CL-1 Cleaver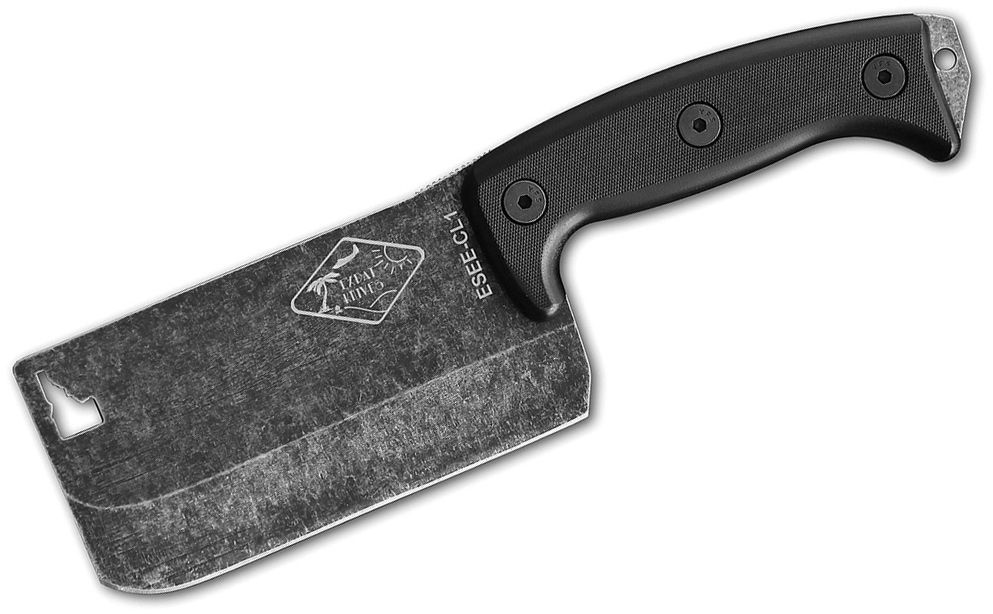 ESEE is another brand well-respected for their hard use outdoor knives. The Expat CL-1 Cleaver might be our favorite "Camp Knife" in the lineup. Despite being inspired by kitchen-style meat cleavers, the CL-1 a bit too thick for useful food prep duty. Instead, this is a knife that can chop, hack, and split wood all while putting a big grin on your face.
Construction is 1095 carbon steel, and the cleaver shape gives it a forward weight balance for carrying plenty of force through your chops. The G10 handles are borrowed from ESEE's Junglas, a larger chopper in their lineup. They are comfortable and offer multiple grip options; choke up for finer control over the edge or choke back for more leverage when swinging.
ESEE Expat Cleaver Specs
Overall Length: 11.0″
Cutting Edge length: 6.0″
Blade Width: 1.50″
Maximum Thickness: 0.188″
Weight: 10.8 ounces (Knife Only)
1095 Carbon Steel, 55-57HRC
Removable G10 Handle Slabs
Black Powder Coat Finish
Includes: Leather Drop Sheath
Made in the USA
Budget Chopper: Kershaw Camp 10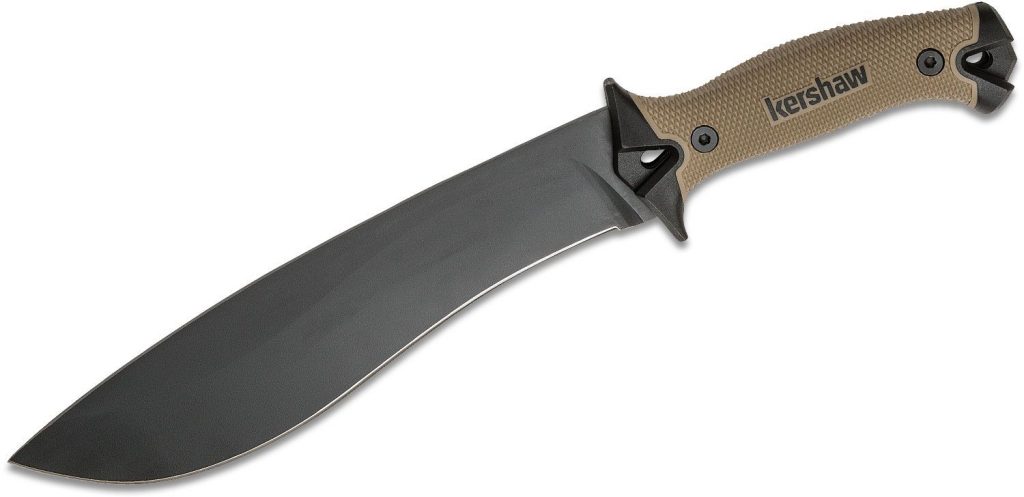 For affordable choppers, Kershaw's Camp 10 is hard to beat. It is just large enough to be effective without being unwieldy, and the weight-forward design combined with tough carbon steel makes it a capable companion. It also features a highly refined handle shape with excellent ergonomics and a rubberized grip for shock absorption. It even features a forward lanyard hole allowing for extremely safe chopping.
Kershaw Camp 10 Specs
Blade Length: 10.0″ (25.4 cm)
Handle Length: 6.0″ (15.2 cm)
Overall Length: 16.0″ (40.6 cm)
Blade Steel: 65Mn Carbon Steel
Blade Finish: Black Powder Coat
Handle Material: Rubber Overmold
Sheath Material: GRN
Weight: 1 lb. 2.3 oz. (521 g)
Weight with Sheath: 1 lb. 8.0 oz. (681 g)
Made in China
Premium Chopper: TOPS Knives El Chete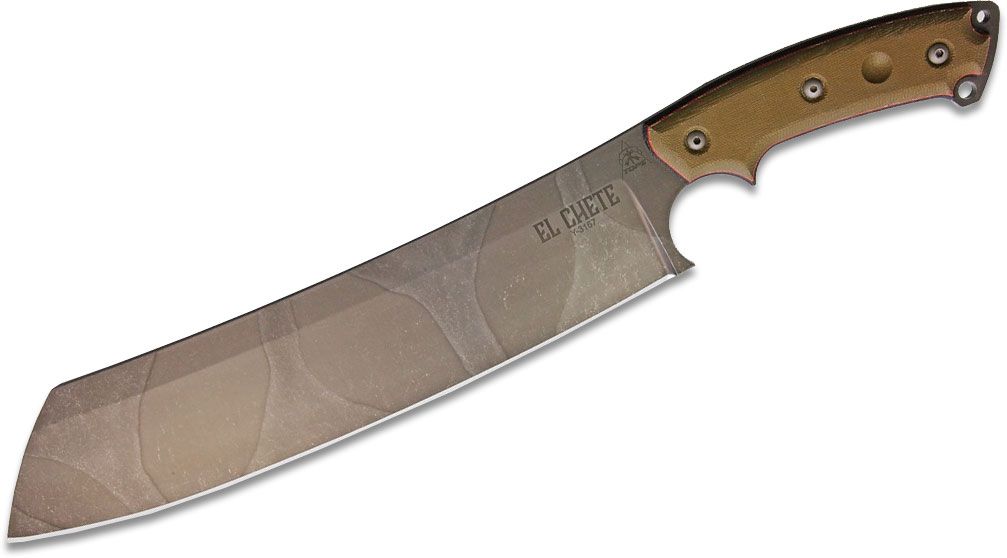 For the mother of all choppers, it is hard to deny the El Chete from TOPS Knives. It truly is a force to be reckoned with! This tough slab of carbon steel can hit with the force of a hurricane, throwing chunks of wood aplenty as you hack away! A bit too heavy to be a machete substitute (it would probably leave you tired after a while) it is more of a stand-in for a small forest axe in a lot of situations.
TOPS El Chete Specs
Blade Length: 12.0″
Overall Length: 17.50″
Blade Material: 1095 Carbon Steel
Blade Thickness: 0.25″
Blade Hardness: 56-58HRC
Blade Style: Reverse Tanto
Handle Material: Green Canvas
Sheath Material: Kydex
Weight: 29.5 oz.
Made in the USA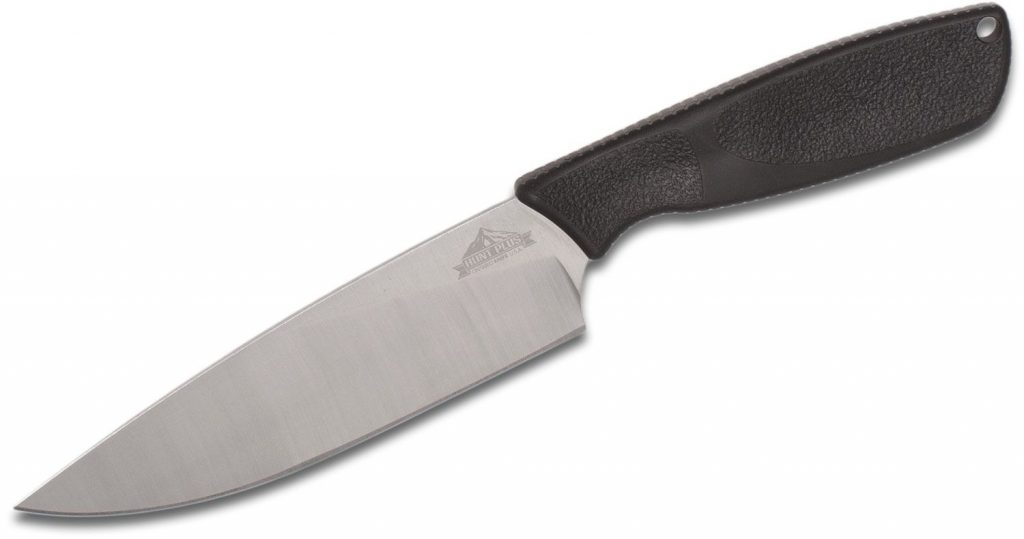 This shape of this knife actually has strong links to the fur trapping era in North America, echoing the "trade knife" style that was prevalent among frontiersmen for their versatility. Reminiscent of a small chef knife, they could rely on them to skin and slice game, be useful while camping, and even for a little bit of self-defense.
Ontario's take on this knife blends this shape with modern construction. A rubberized handle completely envelopes the tang of the 6-inch stainless steel blade. It is thick enough to be able to split wood but ground finely enough that it can slice meat easily, chop vegetables and potatoes, even mince fresh herbs on a cutting board easily enough.
They have kept the nylon sheath very simple – just enough to protect your blade. Combined with the choice of budget-friendly 420HC steel, Ontario has pulled off a rare feat by creating an affordable but high-quality knife without resorting to overseas labor. That's right, this knife is made in the USA!
Ontario Hunt Plus Camp Knife Specs
Blade Length: 6″
Cutting Edge: 6″
Handle Length: 5.17″
Overall Length: 11″
Blade Thickness: 0.18″
Blade Material: 420HC Stainless Steel
Blade Hardness: 55-57 HRC
Blade Style: Drop Point
Blade Grind: Hollow
Blade Finish: Satin
Handle Thickness: 0.68″
Handle Material: Injection Molded Synthetic Rubber
Sheath: Black Nylon
Weight: 7 oz.
Made in the USA
Premium Foodie: White River Knives Camp Cleaver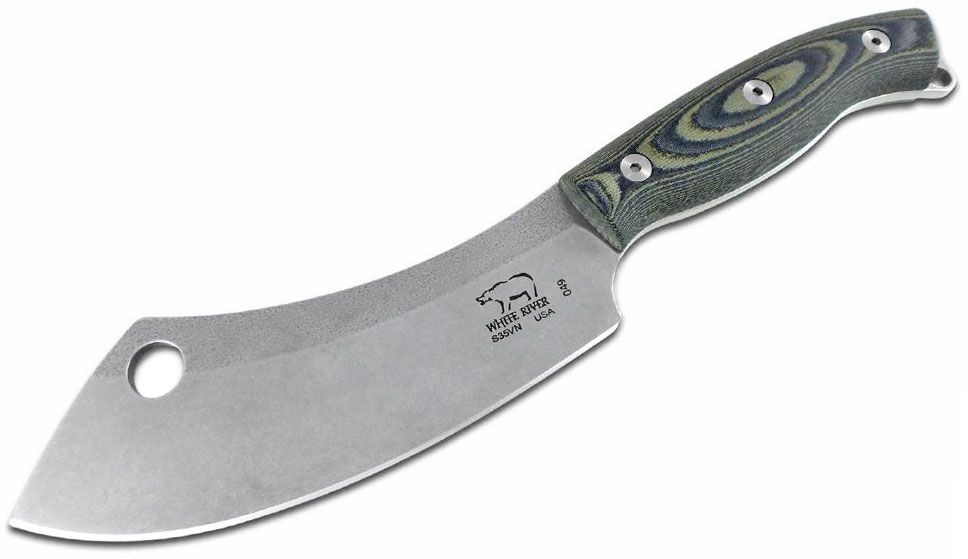 For a more premium camp/kitchen crossover, check out White River's Camp Cleaver. It features S35VN steel for premium edge retention and a compact Micarta handle. The sweeping shape of the blade lends itself perfectly to efficient slices, whether through a heap of potatoes and onions for a campfire hash or when butchering the latest trophy from a hunt. It has great manners on a cutting board but is still designed to do other camp tasks as well – it can split, whittle, and even do a little light chopping. With a leather sheath and premium USA construction, this is a knife that should not be overlooked.
White River Camp Cleaver Specs
Blade Length: 5.50″
Handle Length: 4.75″
Overall Length: 10.25″
Blade Material: CPM-S35VN Stainless Steel
Blade Thickness: 0.158″
Blade Hardness: 58-60HRC
Blade Style: Modified Cleaver
Blade Finish: Stonewash
Handle Material: Black Burlap Micarta
Sheath Material: Leather
Weight: 9.3 oz.
Made in the USA
---
Want to see more Camp Knives? Check out our video below, and check out our entire selection of Outdoor & Survival products here.