These are some of the best new knives to hit our shelves this week. Read on and let's take a look!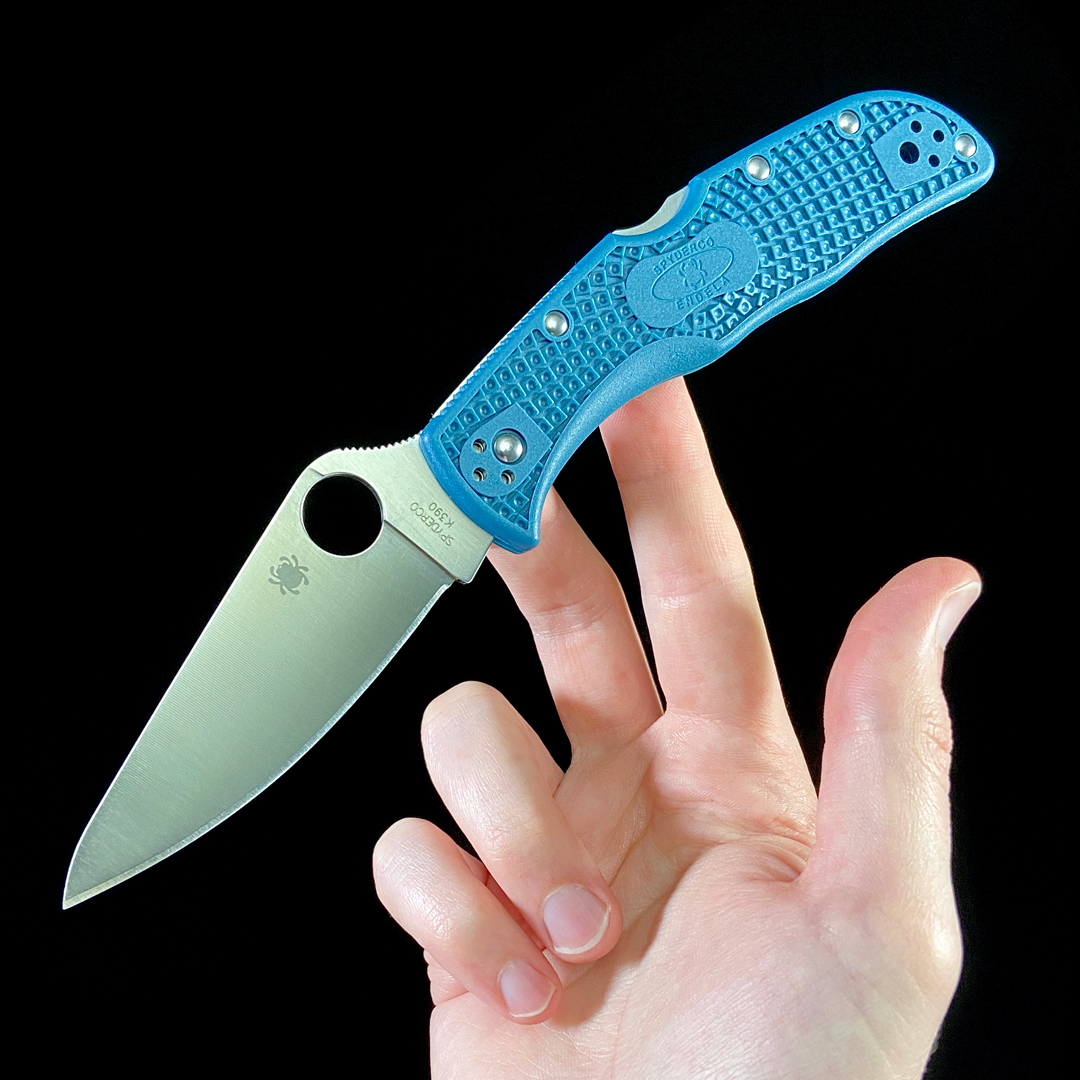 The Endela is the latest Seki City, Japan-made Spyderco to get the K390 super-steel treatment. K390 is an impressive new tool steel, a non-stainless powder-metallurgy alloy that boasts a unique combination of high toughness and high edge retention. Some have described it as "M4 on steroids," and our anecdotal testing here at the KnifeCenter seems to bear that out. If you don't mind the inevitable patina that comes from using a carbon steel, K390 will impress you.
As the name suggests, the Endela is part Delica, part Endura—a mid-sized knife that feels just right. It's quite new to the lineup, so this K390 version is the first variant to hit the market! So, if you've been waiting for an upgrade from the standard VG-10 version to try out the design, now's your chance while we still have some in stock!
Blade Length: 3.41″ (87 mm)
Cutting Edge: 2.99″ (76 mm)
Closed Length: 4.69″ (119 mm)
Overall Length: 8.10″ (206 mm)
Blade Material: Bohler K390 Tool Steel
Blade Thickness: 0.118″ (3.0 mm)
Blade Style: Drop Point
Blade Grind: Full Flat
Blade Finish: Satin
Handle Material: Blue FRN
Liner Material: Stainless Steel
Locking Mechanism: Lockback
Pocket Clip: Black Stainless Steel (Tip-Up/Down, Right/Left Carry)
Weight: 3.1 oz. (88 g)
Made in Japan
---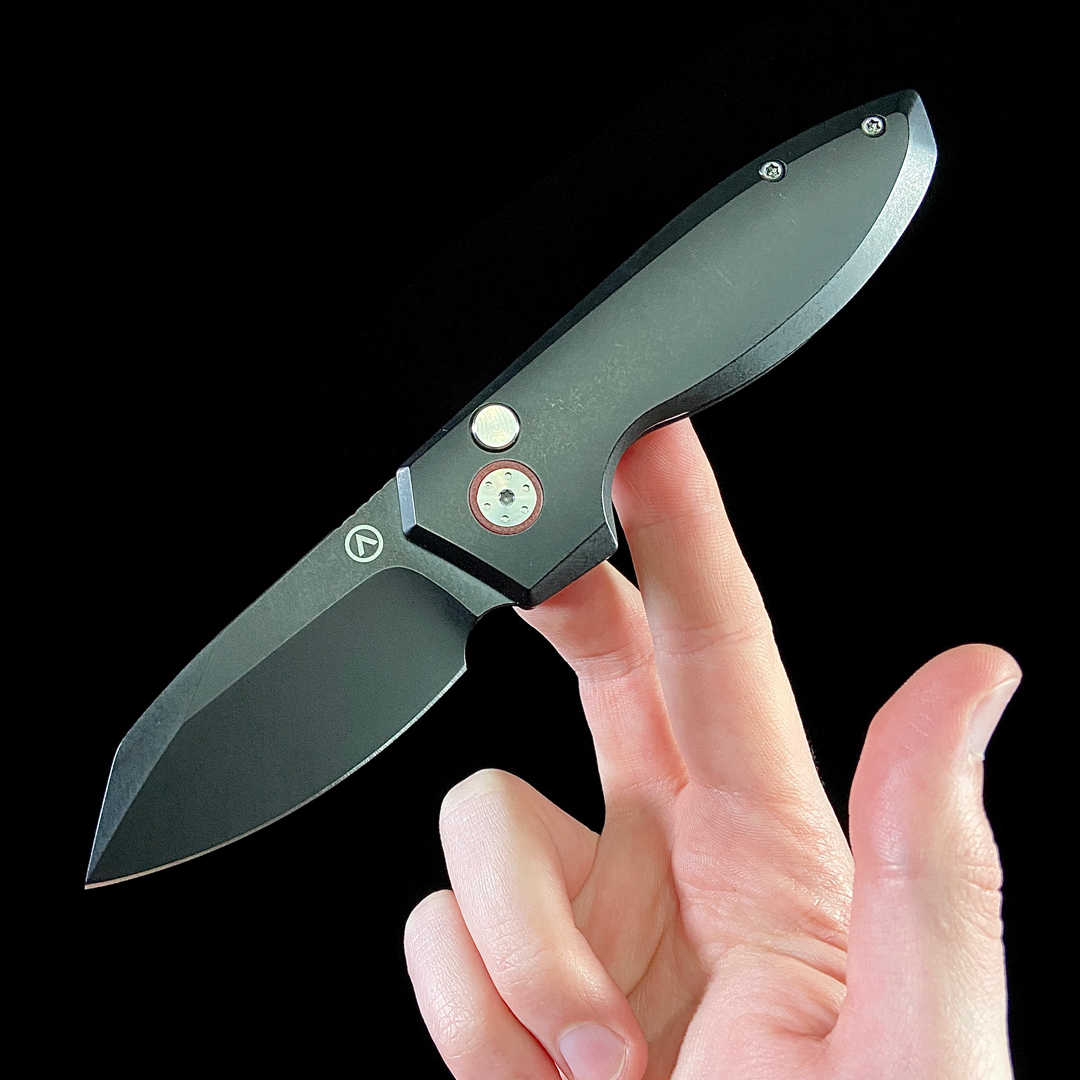 Well, Alliance Designs have finally done it. They've made an all-black knife practically dark enough to disappear into the studio background here at the KnifeCenter! The Mini Slim Pickins takes their original in-house design and scales it down in size to make an even better EDC. This KnifeCenter-exclusive "KnightRider" edition has a tumbled black PVD coating on the titanium handle and Elmax blade, with a red G10 pivot collar and backspacer for a slick retro-futuristic look.
And sure, the colorway sure is eye-catching, but the real star of the show is the button lock flipper system, which allows for practically frictionless opening and closing action. Words don't do it justice, but the sound of it snapping into place and swinging back into the handle lends an extra layer of satisfaction to the experience. Guess you'll just have to grab one for yourself to check it out!
Blade Length: 2.80″
Cutting Edge: 2.55″
Closed Length: 4.25″
Overall Length: 7.05″
Blade Material: Elmax Stainless Steel
Blade Thickness: 0.141″
Blade Style: Drop Point
Blade Grind: Hollow
Blade Finish: Black PVD
Handle Material: Black PVD Titanium
Handle Thickness: 0.538″
Locking Mechanism: Button Lock
Pivot Assembly: Caged Ceramic Bearings
Pocket Clip: Titanium (Tip-Up, Right Carry)
Weight: 3.95 oz.
Designer: Eden Ho
Ceramic Detent
Red G10 Pivot Collars and Backspacer
Made in China
---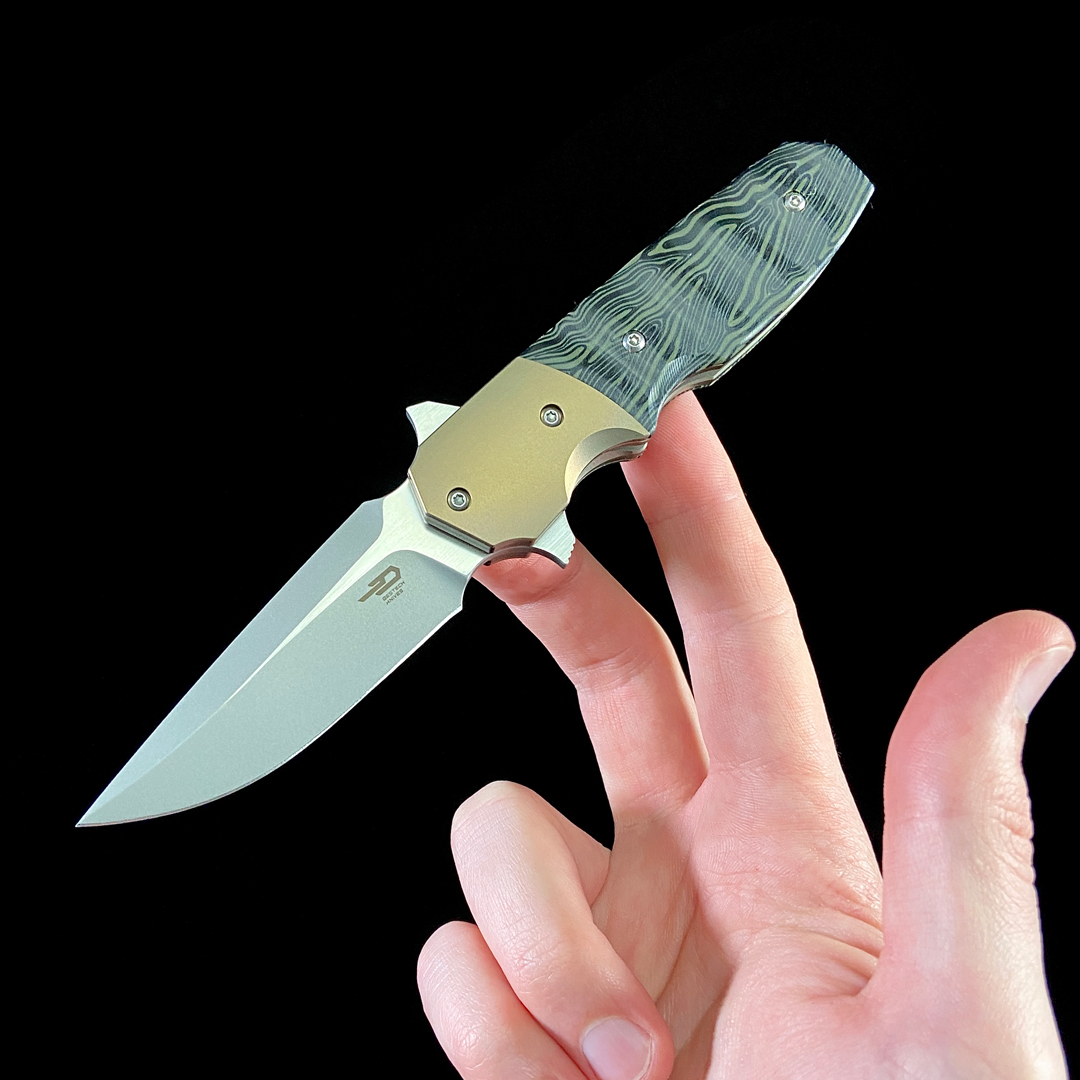 The Bestech Freefall is a compact adaptation of Jason Clark's custom model of the same name. Sporting S35VN steel, the drop point blade is a practical take on the classic dagger style, with dual guards for two deployment methods: conventional flipper, and wave-like pocket opener for even faster deployment.
This knife has a lot of style, but not at the expense of usability. There are four eclectic variants in stock now, with marbled G10 or carbon fiber scales and high-contrast two-toned blades.
Blade Length: 2.76″ (70 mm)
Closed Length: 3.70″ (94 mm)
Overall Length: 6.46″ (164 mm)
Blade Material: S35VN Stainless Steel
Blade Thickness: 0.125″ (3.2 mm)
Blade Hardness: 59-61HRC
Blade Style: Drop Point
Blade Finish: Two-Tone
Handle Material: Green/Black G10 with Bronze Titanium Bolsters
Liner Material: Titanium
Locking Mechanism: Liner Lock
Pivot Assembly: Ceramic Ball-Bearing
Pocket Clip: Titanium (Tip-Up, Right Carry)
Weight: 2.82 oz. (80 g)
Titanium Backspacer
Made in China
---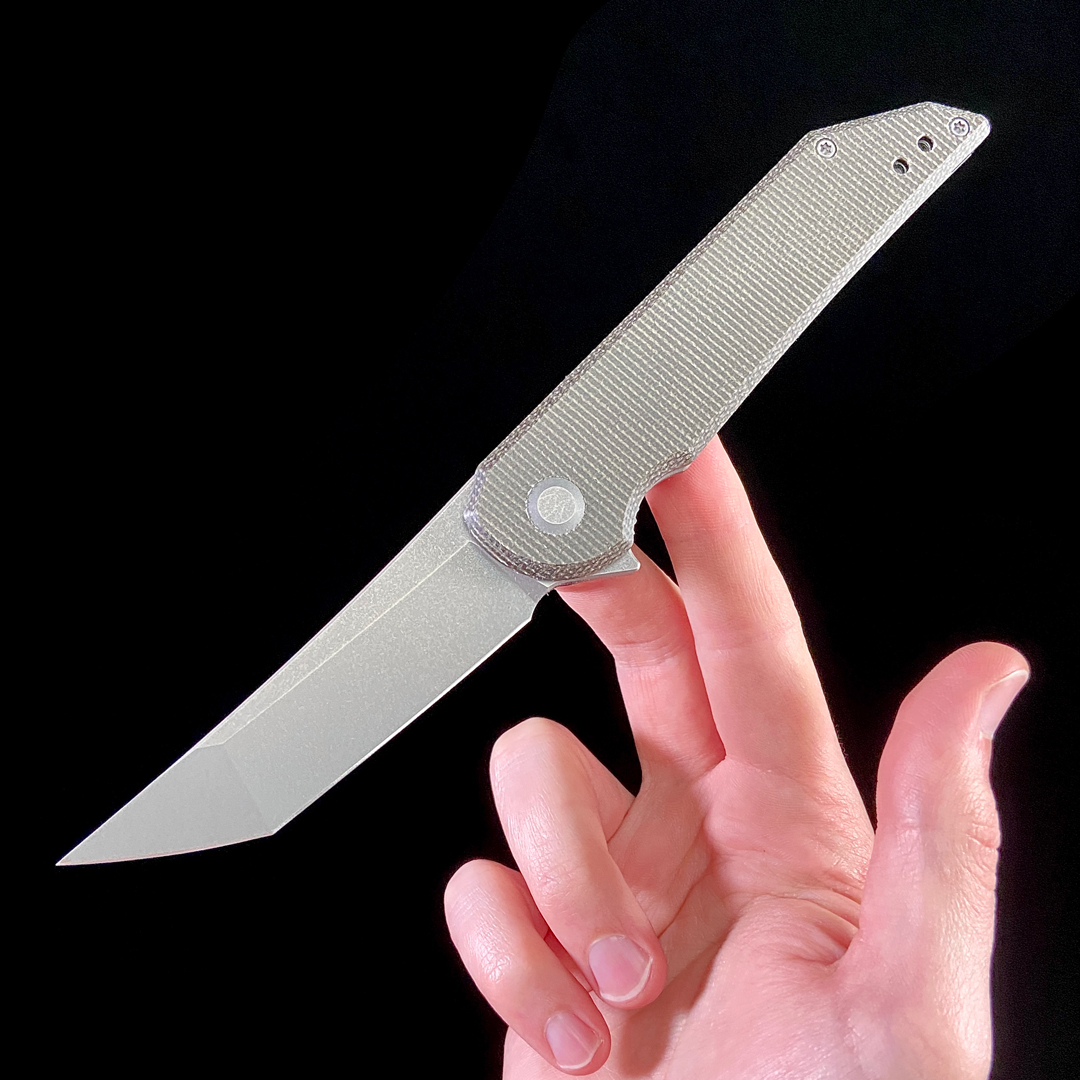 It's no exaggeration to say that Jake Hoback's custom Kwaibacks are some of the most coveted knives he's ever made. The all-new Radford takes the bones of that legendary Kwaiback design and shaves it down to be leaner, lighter, and smaller than ever. These made-in-the-USA flippers feature 20CV blade steel, a titanium frame lock, and the Hoback Roller Detent for impeccable action.
Blade Length: 3.25″
Cutting Edge: 3.25″
Closed Length: 4.675″
Overall Length: 8.00″
Blade Material: CPM-20CV Stainless Steel
Blade Thickness: 0.15625″
Blade Style: Trailing Point Tanto
Blade Grind: Flat
Blade Finish: Stonewash
Handle Material: Natural Canvas Micarta with Stonewashed Titanium Lock
Handle Thickness: 0.514″
Locking Mechanism: Frame Lock
Pivot Assembly: Pivot Thrust Bearings
Pocket Clip: Titanium (Tip-Up, Right/Left Carry)
Weight: 3.81 oz.
Designer: Jake Hoback
Made in the USA
---