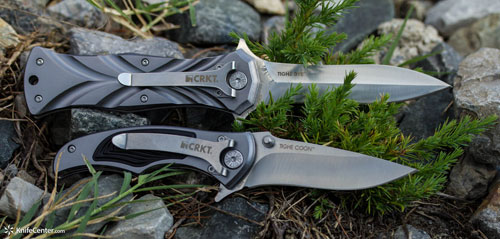 CRKT has been pumping out the Brian Tighe designs hard and fast recently, and for good reason. Each and every model he comes up with is refreshingly different and once you get one in the hand, is hard to put down. The two newest to arrives through the KnifeCenter doors are the Tighe Coon and Tighe Dye folders. They both have flipper mechanisms, gray aluminum handles, button locks, and reasonably deep carry pocket clips. However, apart from these material similarities, they really are quite different designs. The Dye model is a single edged version of an Italian Stiletto, but the handle provides a much more stout feeling for more demanding cutting tasks. The Tighe Coon knife is ultra smooth opening with a slightly recurved drop point blade for better slicing performance. Both knives feature mirror polished AUS-8 blades and are built like tanks. Check out these Tighet new knives at www.knifecenter.com.
More about the Designer Brian Tighe: 
Brian Tighe is a Canadian "Renaissance man": tool and die maker, photographer and extraordinary custom knifemaker and CRKT knife designer. He says, "I started making knives because I always carried one and had a passion for them. When I was first introduced to custom knives, I knew I could make them as well, got hooked and never looked back. I knew from my experience how to cut metal, what tools were needed and how to achieve the top fit and finish. I test my knives by carrying one every day, and I use it for everything I need to do around the house and work. I also get a lot of feedback from customers who use my knives to make their living." Pat Covert of American Handgunner has said, "Brian Tighe has risen from the rank and file of edged weapons artisans to the rarefied air of the top 10 elite. His sense of design is extraordinary, his pride of workmanship exemplary. These are qualities that have propelled Tighe to the top." His custom workshop is in Ridgeville, Ontario.