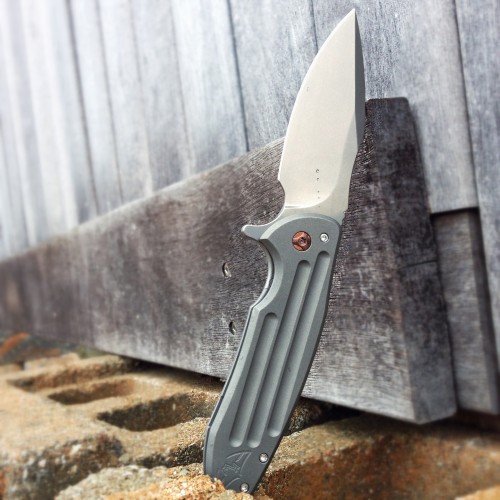 This is the Fortis Flipper by Ferrum Forge Knife Works.
Specifically, this is the Model A version of the Flipper; the second, Model B, will feature the same design with more curved, organic milling compared to this one's parallel grooves. Both feature the same high quality materials and machining of Ferrum's custom models.
The three-and-three-quarter inch blade is made from Duratech 20CV steel with a swedged, drop-point shape. I really love the finish on this blade; it's an interesting combination of matte stonewashing with an additional layer of shine. It's a very cool effect.
There is a small but effective amount of jimping on the spine along with a wide space above the jimping, which complements the finger choil nicely when choking up on the blade.
The titanium handle is simple and attractive. Big fan of the Model A milled grooves. The frame-lock feels very strong and the knife deploys and closes with a satisfying certainty on the steel thrust cage bearings. It features a pocket clip and a pair of attractively machined standoffs.
Overall, the Fortis Flipper is incredibly solid in both looks and build. It should be a quality buy for knife lovers looking for an exceedingly capable mid-tech offering.
See more great products at KnifeCenter.com.