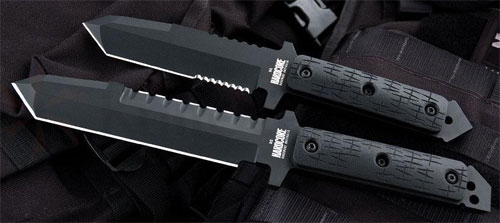 The tides of the fixed blade knife are a-changing and Hardcore Hardware Australia is riding that wave and doing it very well. These days people are flocking to the larger, bulkier knives that have a multitude of uses beyond cutting. They want to be able to chop, pry, split, saw, dig, hammer, break, etc. from a single tool that they always have at their side. Much like Mercworx, Robson RPW, and Medford Knives, these are meant for battlefield use and hard use at that. All blades and tactical axes are made from Teflon coated D2 tool steel and measure at least 6 mm thick. This gives you peace of mind that Hardcore Hardware knives can handle what needs to be done, even if not intended to do so. Fit and finish is right up there with Spartan Blades when it comes to fixed knives, they are just perfectly ground, honed, and assembled to give you a tool that will last years. Check out this newest bomb proof line of knives at www.knifecenter.com.
More from Hardcore Hardware Australia: 
At Hardcore Hardware Australia our primary function is to design, develop and construct mission specific tactical tools for Military, Law Enforcement, Fire, Search & Rescue personnel.
Hardcore Hardware Australia utilizes the latest in modern software, materials and construction techniques to build some of the most Hardcore tools on the planet. We do this to aid you in the performance of your duties.
We would like to thank those brave men and women of the Australian & New Zealand Defence Forces together with their coalition partners for ensuring the preservation of our freedom. We are proud to support you.
Hardcore Hardware Australia offers a specialized development service for government agencies wanting a 'custom product' tailored to user specific requirements. If we do not currently carry what you need, we can design, develop and construct it for you. For more information on this service, contact us today.