Today, we're going to be taking a look at the ArtisanCutlery Kinetic-Tool. This thing is a unique hybrid between a butterfly knife, an automatic knife, and a multi-tool. Let's check it out!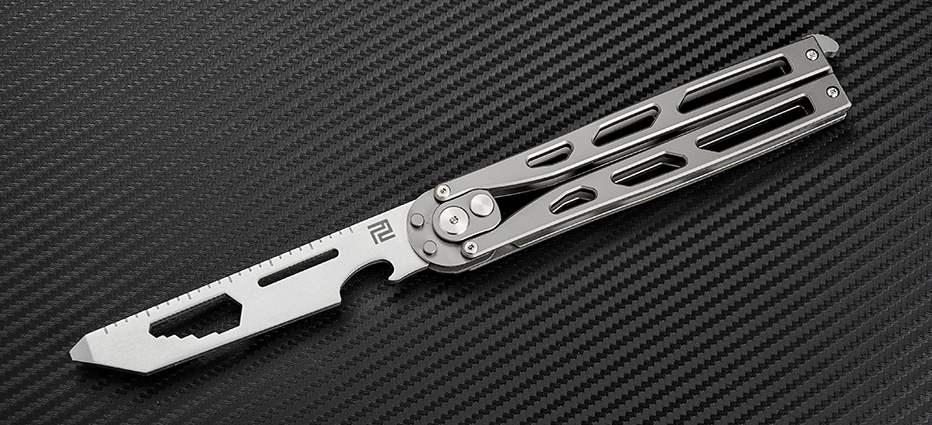 The Kinetic-Tool is a combination of three different genres. Looking at it, you'd think it was just a butterfly knife – but when you open it, it's actually a multi-tool. The blade on the Kinetic-Tool is 440C with a stonewashed finish, and it comes with a bottle opener, a couple of hex wrenches, a screwdriver on the tip, and you can even use the whole thing as a pry tool. It also features a 3" ruler on the spine.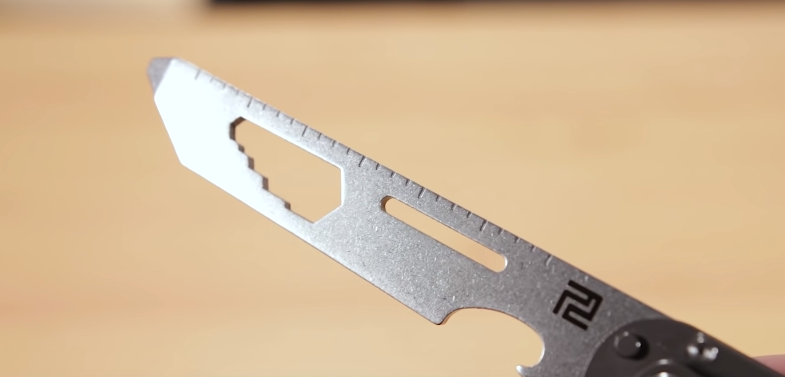 That's not all – in addition to a butterfly knife and a multi-tool, it's actually an automatic. This is the first hybrid butterfly knife/automatic that we've ever seen, and it took us completely by surprise. We just love it. This is certainly going to make an impression when you pull it out at a party, whether you're doing tricks, using it to open your beverage, or flipping that switch to pop the blade right open.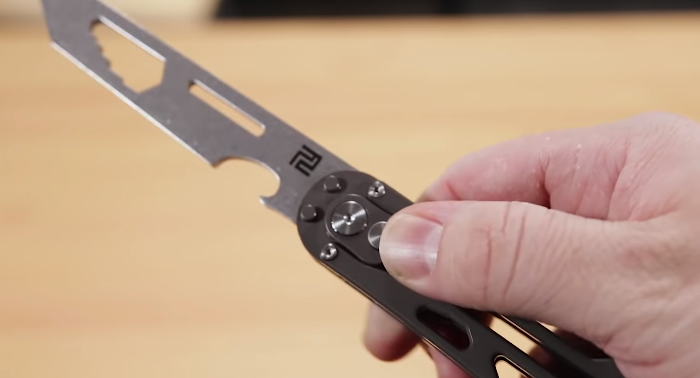 There are a couple of other neat little tricks involved here. This is a single action automatic, you do have to manually close it. If you open the knife by using it as a balisong first, the spring is actually still loaded, so you can close it automatically if you do it that way.
There is a range of handle materials you can get. We've got stainless steel skeletonized handles and we've got G10 scale versions, both in a flat textured variation as well as a contoured variation. Each of those variations can be had in either black or OD green.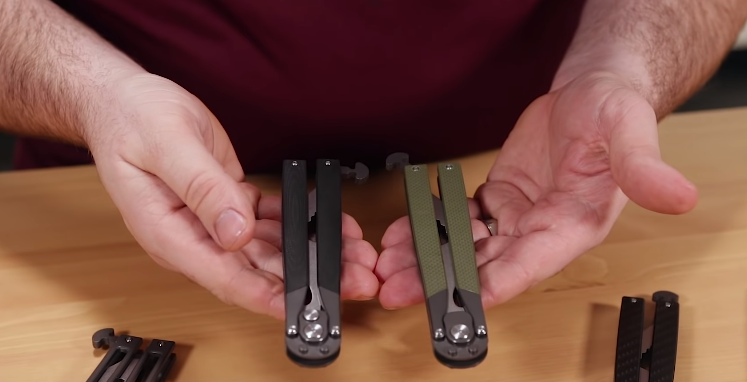 Moving up the totem pole, we've got a carbon fiber scale version, and at the top of the heap is a skeletonized titanium handle version. Now, you might think with all these extra things going on inside here that it's not going to flip well. While it might not beat the best in the business, it is quite smooth and very usable. Another great thing about these knives is that they make great trainer knives. While most training knives are only usable as trainers, the addition of these extra tools here is certainly going to broaden the number of people who are going to be interested in these knives. Even if you're not into balisongs, this is just a really cool item that's going to turn heads when you use it.
Overall, the ArtisanCutlery Kinetic-Tool is just a really cool gadget that we're really excited about at KnifeCenter. Let us know what you think in the comments below!
EDIT: Hi, guys! We had some great questions in the comments, so we wanted to address a few more facts about the Kinect-Tool to help flesh out this review. Here we go:
–  The tolerances are good. They're not going to challenge the best in the business, certainly, but they are quite good.
–  There's only a minor amount of wiggle in the handle, and that's if you're really pulling and trying to feel for some play. I'd say the quality is in line with other balisongs in this price range.
–  The balance on this tool is definitely floaty. Graham, our most experienced bali flipper, has confirmed. He's a fan.
–  The titanium model definitely has the best balance of the bunch, so that would be our recommendation if you're looking to buy one.
–  The handles feature washers and the blade pivot assembly is ceramic bearings. The handles swing freely and smoothly, but some models did need a little breaking in.
–  They're made in China. The titanium models do come with a limited lifetime warranty that covers any defects in materials, manufacture, or assembly as long as the original purchaser owns the knife. The coverage ends if the knife of the original purchaser is sold or otherwise transferred to someone else, or if it's modified in any way. We're reaching out to ArtisanCutlery about the G10 and stainless models to clarify the warranty. We'll update this blog with new info as it rolls in!
We'll be adding more information as questions come in, so feel free to leave us more comments. Cheers!