Benchmade just unveiled their brand new 2021 knives, and we've got the scoop. In addition to combat knives, EDC knives, and hunting knives, Benchmade also doubled-down on new versions of some of their most popular designs, with significant material and aesthetic upgrades. Read on to take a closer look.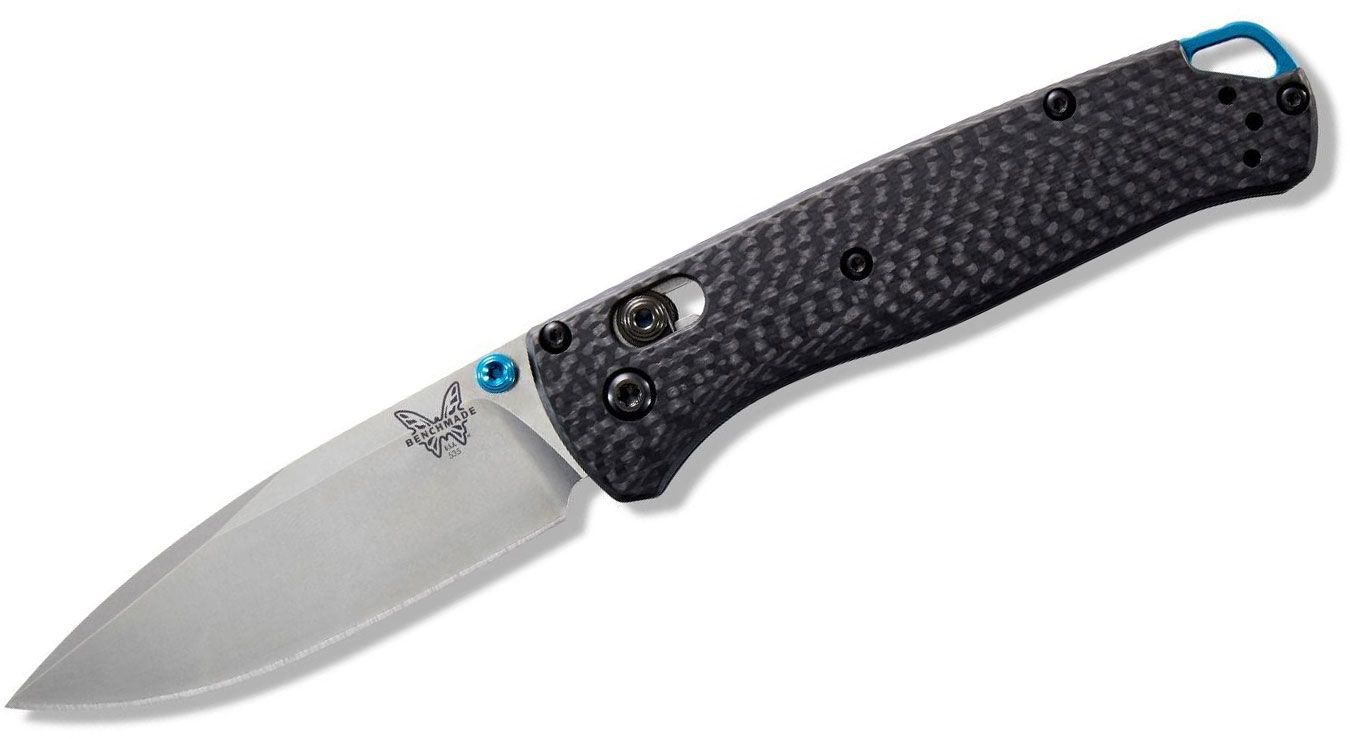 First up, the Bugout family will be adding a few new members this year. The 535-3 sets a new high water-mark for the Bugout, with a luxurious contoured carbon fiber handle, aluminum backspacer, and stonewashed S90V blade. It's really the perfect material combination for the design, upgrading the strength, feel, and cutting performance without sacrificing the ultralight DNA that made the original Bugout such a hit.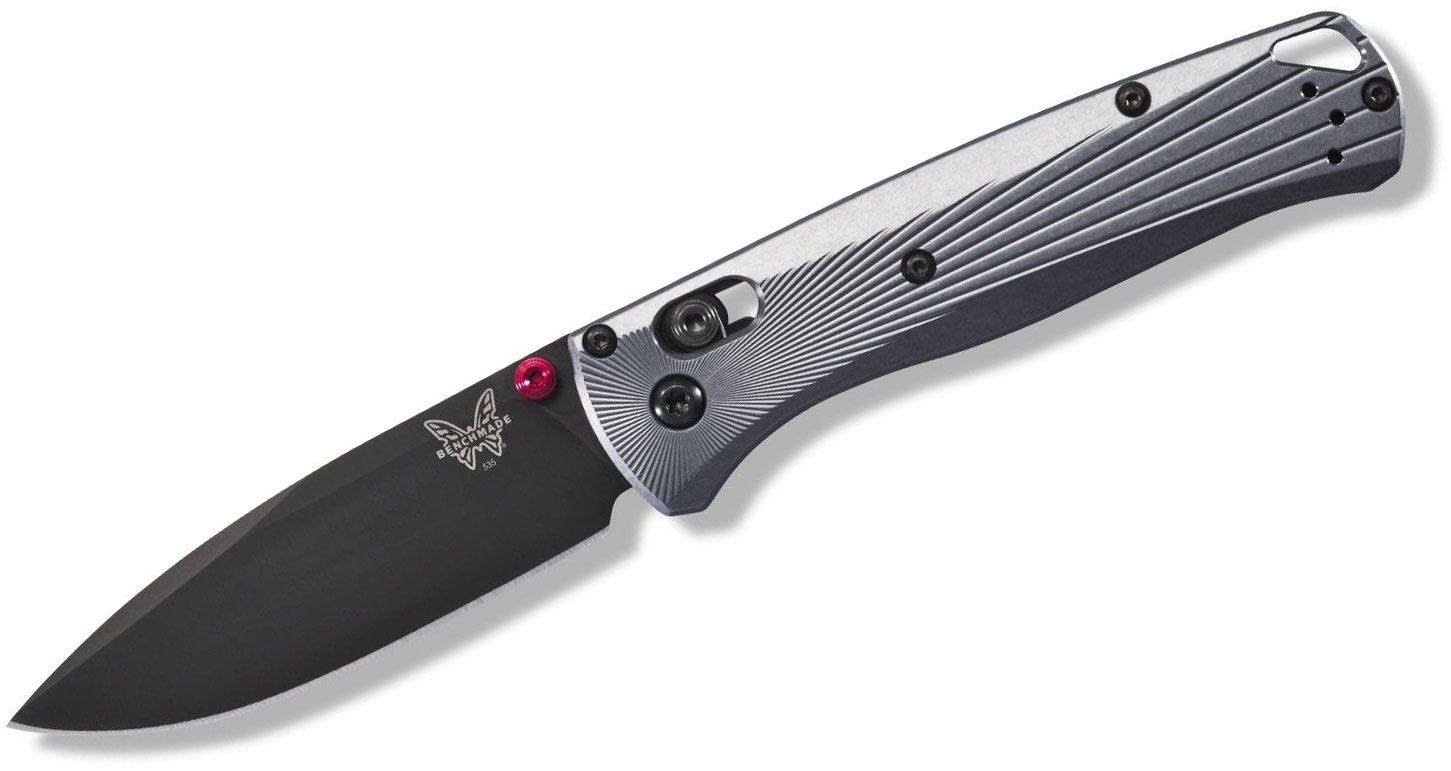 Also new is the 535BK-4 Bugout: a flashy configuration with a milled titanium handle, black hardware, and a black DLC-coated M390 blade. The "sunburst" pattern really pops, and the broad bevels on the handle give the handle a little extra comfort, too. Even though the solid aluminum adds a little weight, the knife still only weighs 2.5 ounces — hardly a boat anchor in the pocket!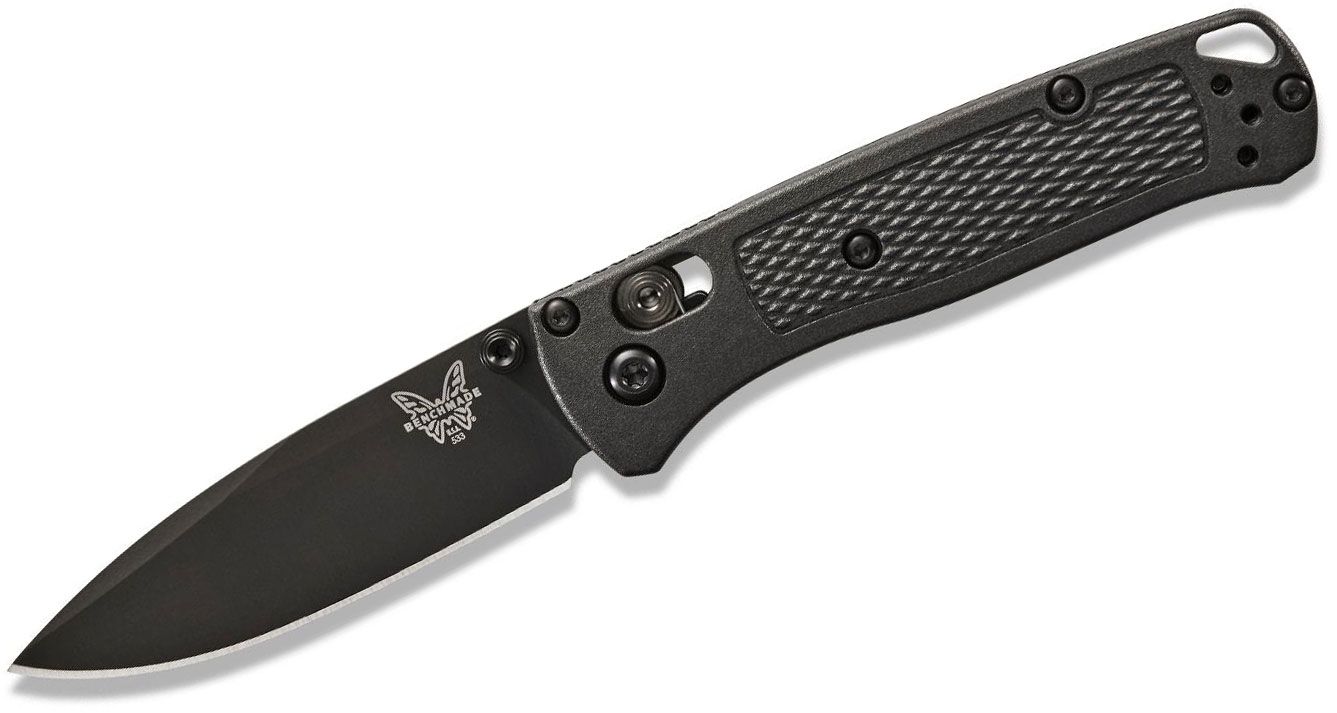 The Mini Bugout sees one new addition, too. Like the full-size Benchmade Bugout before it, the Mini will soon be available with upgraded CF-Elite scales, which is an advanced plastic material reinforced with carbon fiber. Not only is it stronger/stiffer than the standard fiberglass-reinforced scales, it's also lighter! If you've been on the fence about the Mini Bugout in the past, the new CF-Elite is worth trying out. It's almost unbelievably light and strong — you have to feel it to believe it.
---
The Benchmade Adamas has a well-deserved reputation for being bulletproof. Battle-tested and proven, the Adamas is a tank of knife, with a chunky handle big enough to fill the largest tactical gloves, and an overbuilt blade that laughs off rough work.
This year, Benchmade is revisiting the Adamas design. The ergonomics have been tweaked slightly, with subtle contours and chamfers that should make the knife even more accomodating and easy to operate. The blade steel also sees a nice upgrade, from D2 to CPM-CruWear: an outstanding tool steel with a killer combination of toughness, edge retention, and ease of sharpening.
The biggest news, however, is the surprise addition of a new Mini Adamas, which tempers the overbuilt original just enough to be more EDC-friendly. With 3.25 inches of blade, it's not exactly what I'd call "mini," but it's definitely a meaningful step down from the hulk-like dimensions of the original. And like the redesigned full-sized Adamas, the all-new Mini version also features CPM-CruWear steel. Available in two attractive colorways, the Mini Adamas sets out to exceed your high expectations.
---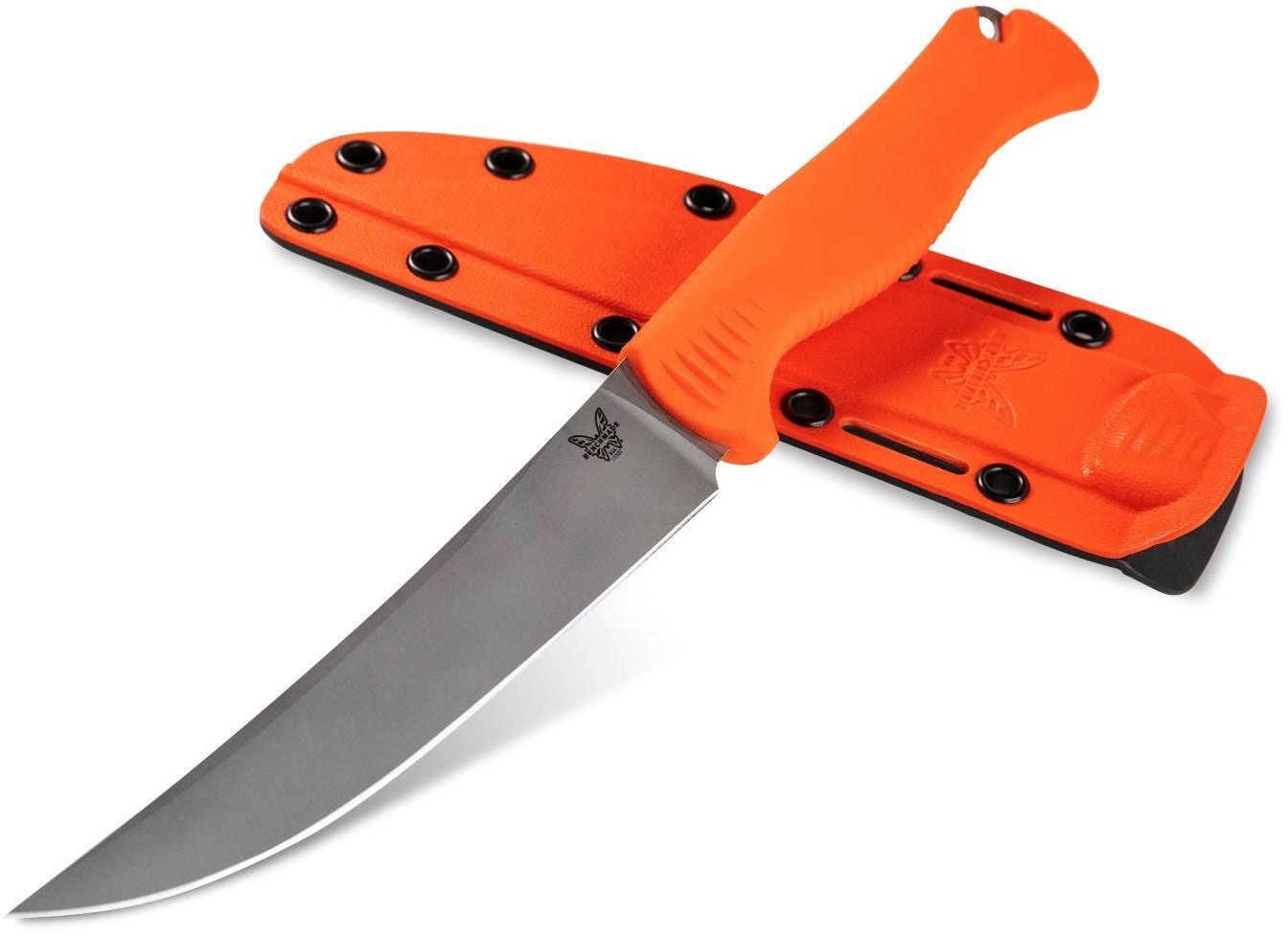 With a name like "Meatcrafter," you can guess that this fixed blade is more camp kitchen knife than survival knife. The 6" CPM-154 blade is optimized for super-smooth slicing performance, with Benchmade's SelectEdge geometry for an extra-keen edge. It's thin enough to have a little flex in it without feeling "bendy" like a dedicated fillet knife — the perfect thing for processing proteins!
Orange santoprene handles ensure a good grip and high visibility, and the boltaron sheath secures the blade with a satisfying "click." Built for the hunt, yet at home in the kitchen, the Meatcrafter is the perfect addition to Benchmade's hunting knife lineup.
---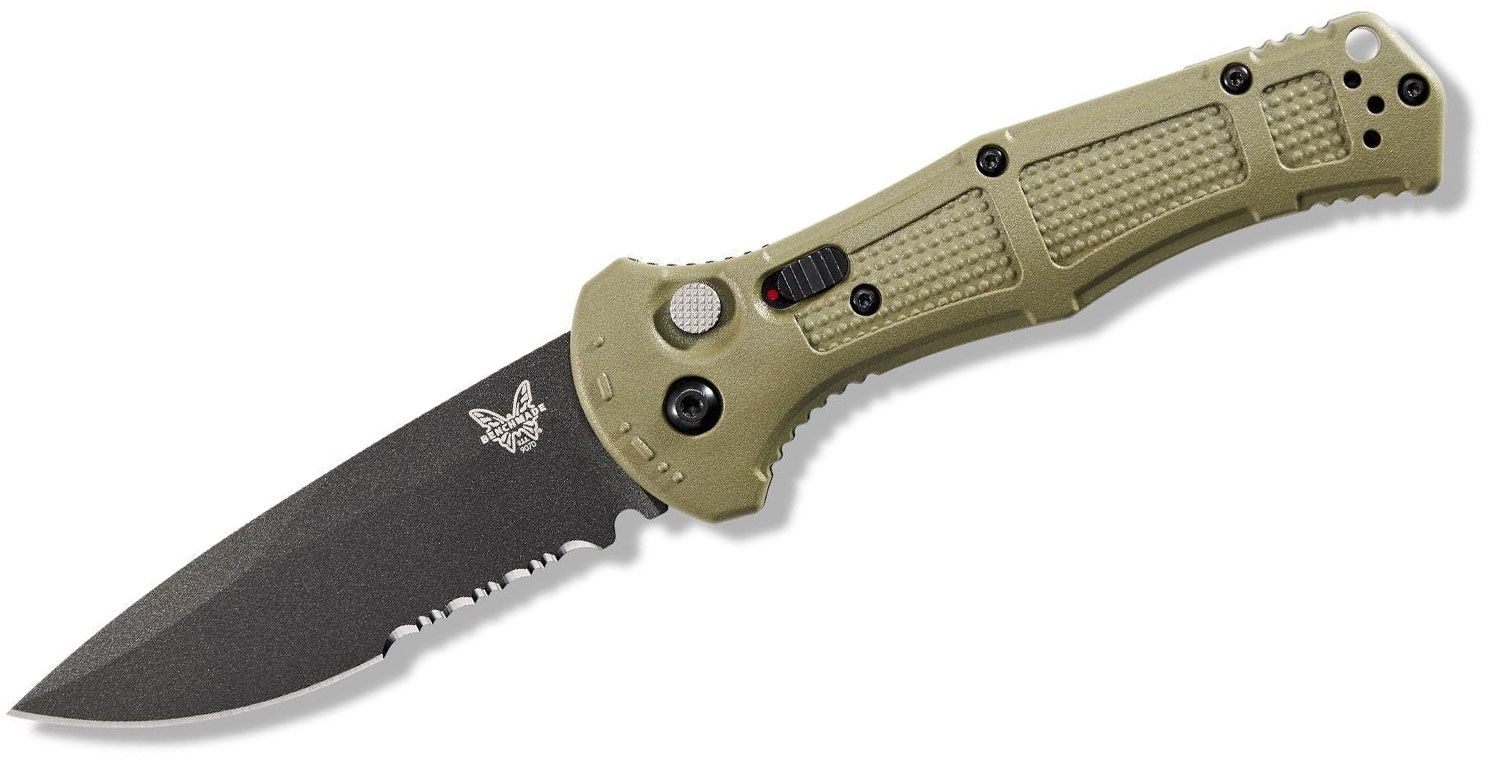 The all-new Claymore is a push-button automatic knife that carries light and fires hard. With just over three-and-a-half inches of blade, it's reasonably sized for everyday carry, but plenty big enough for tactical duty as well. The prominent finger guards on the handle should help you keep a secure grip in a thrusting cut, and the sliding safety complies with military standards for automatic knives.
Like the Adamas, the Claymore also receives a new (to Benchmade) blade steel, in this case CPM-D2. The "CPM" designation indicates that it is made with a powder-metallurgy process, which ensures fine, even distribution of the alloying elements within the steel, resulting in a final product with significant improvements in toughness and edge retention over traditionally smelted D2.
---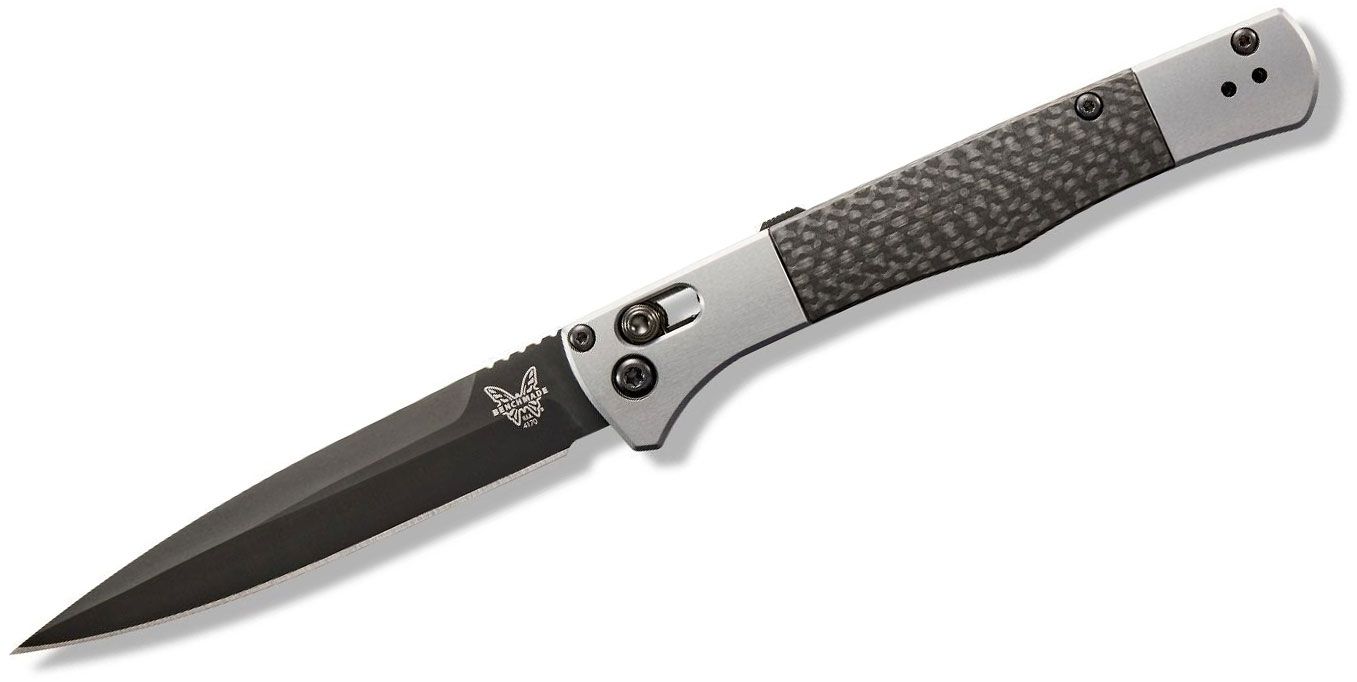 The Benchmade Fact is straight to the point: a long, lean stiletto design with almost 4-inches of blade made from super-premium S90V steel. Originally only available as a manual knife, this upcoming auto version delivers that authentic stiletto experience, with snappy automatic deployment that can be actuated from the left side just as easily as it is from the right. Surprisingly light (3.11 oz.) and easy to carry, this new Fact is worth waiting for.
---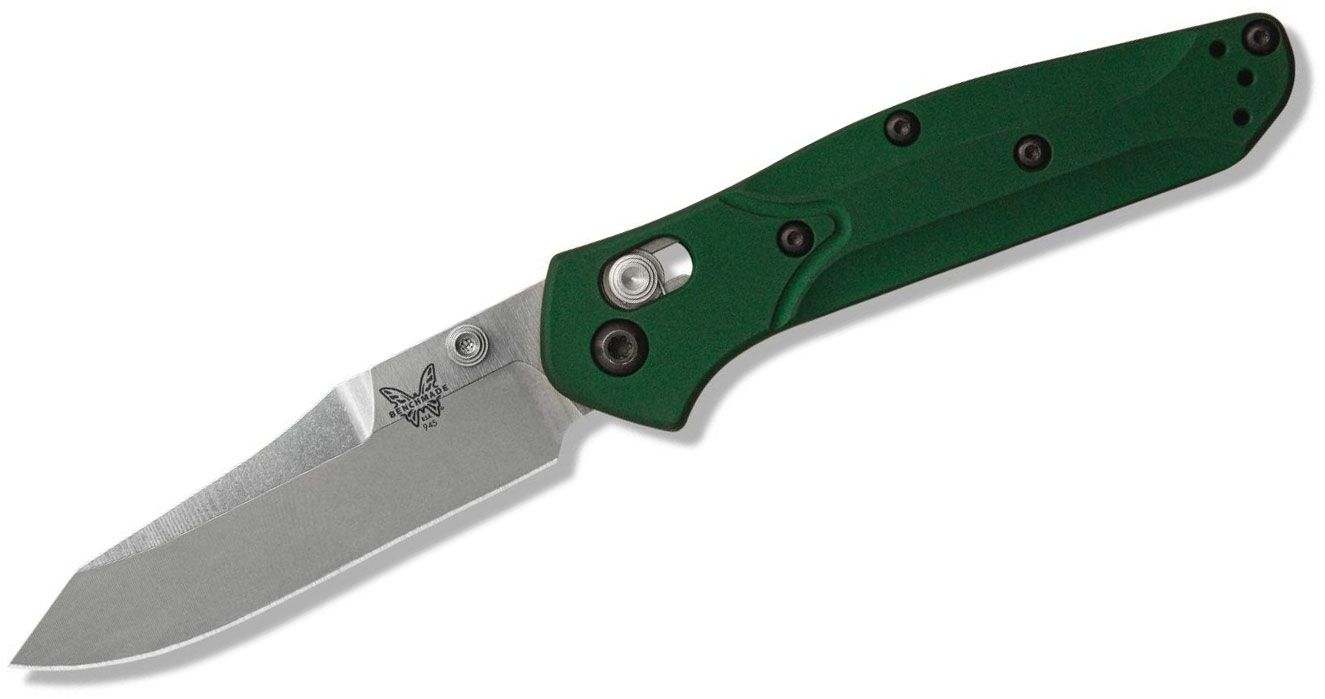 As soon as Benchmade announced the first Mini Osborne, we had a feeling this was coming. Few knives are as iconic as the original 940 Osborne. I think it's safe to say that it's still Benchmade's flagship model, even after all these years — it's an intoxicating mix of dress knife and work knife, with an inimitable personality all its own. I think some of its enduring appeal comes from its unique colorway; with green aluminum handles and a purple backspacer, it doesn't look like any other knife on the market.
The latest 945 Mini Osborne faithfully recreates the look of the original, with the exception of purple standoffs instead of a backspacer. With a 2.9 inches of blade and that iconic reverse tanto shape, it's the same 940 you know and love, just smaller!