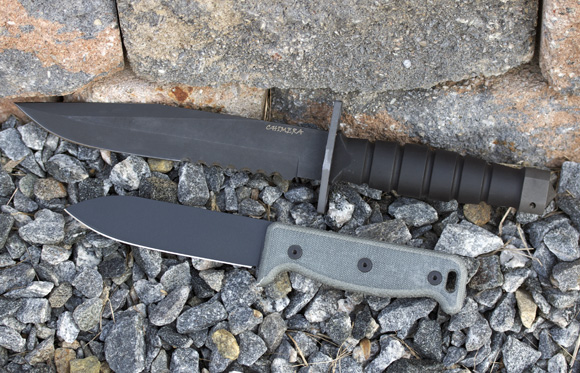 Ontario Knife Company has a long history of making high quality tactical knives and tools, including fighting knives and machetes that have seen combat in WWII, Korea, Vietnam, the Gulf War, and through to the present conflicts facing the United States. OKC's tactical products are designed to provide maximum function in dangerous situations while providing excellent value for your money.
The Chimera is a tactical fighting knife with a comfortable round Kraton handle, skull crusher butt end, and a 1095 sharply serrated blade. Comes with a combination Kraton and Polypropylene sheath and is proudly made in the USA.
The Blackbird SK-5 blade is crafted from 154CM. This steel is American made, known for its superior toughness, edge-retaining ability, sharpness and corrosion resistance. The SK-5's blade is 0.13 inch thick and features a full-taper grind.