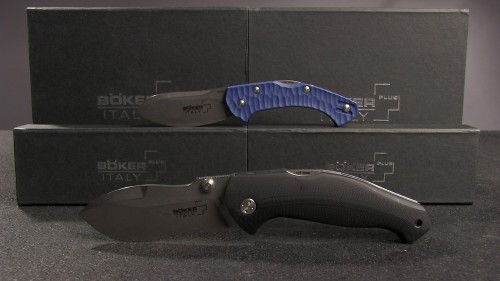 In this week's Spotlight Series, we're looking at a pair of affordable and well-crafted Italian-made EDCs: This is the Boker Plus Mojo and the Boker Plus Zero.
Designed by Danish knifemaker Jen Anso, the Mojo and the Zero are part of new series of premium Boker Plus products made completely in Italy through their partners at Fox Knives.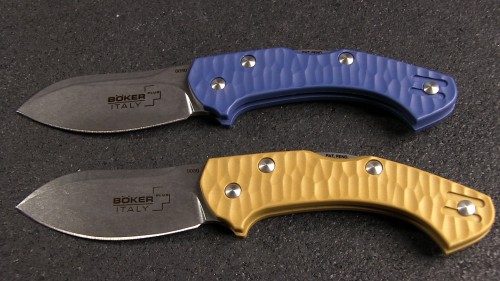 The Zero's three-inch stonewashed blade is made from N690 stainless steel with a drop point shape. The spine is meaty enough to grip easily, which is good because there are not thumb studs or other features to speak of. It's an attractive design that really flows and curves well from blade to handle.
The lock-back design feels a little like anachronism these days between the sheer number of liner locks and side locks on the market, but it's no less effective or sturdy of an option, especially for everyday use.
The handle itself is made from textured FRN scales in a very, very slim design, which results in a incredibly compact knife that weighs under two ounces. It has a comfortable hand-feel, though it might get lost in larger hands. It also comes with a reversible pocket clip for tip up carry.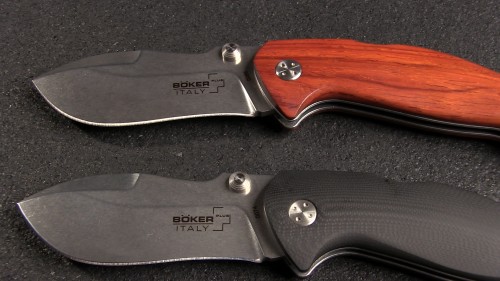 The Mojo, on the other hand, flaunts its larger size with a handle that really fills the palm well. It comes in either a G10 scale or cocobolo wood version with the same lock-back design as the Zero. No pocket clip on this model, though it does come with a lanyard loop and a leather Boker Plus belt case.
The blade is the same corrosion-resistant N690 as the Zero, but with a great deal more belly, dual thumbstuds and a bit of jimping on the spine. Very unique, very cool looking.
Overall, the Boker Plus Mojo and Zero is provide knife fans with great options at accessible prices, which is a important factor in today's increasingly-expensive Every-day carry market.
Thanks for checking out KnifeCenter's Spotlight Series. Check back every Tuesday for a new entry.