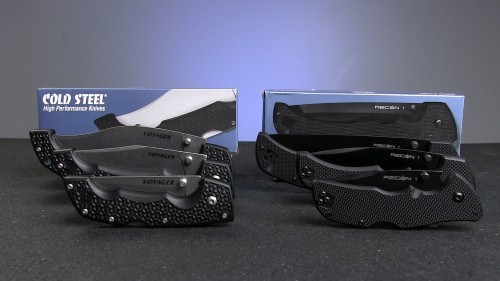 This week on Spotlight Series we're looking at an exciting update for two mainstays of the folding knife market: this is the Cold Steel Voyager and Recon 1.
Both have stood out over the years for their affordable price point, the variety blade shapes and range of sizes – from compact to (in my opinion) slightly excessive – that allows buyers to choose the version that best suits their lifestyle; and now that their new models feature USA-made Carpenter steel, there is just one more reason to love them.
The Voyager series features Carpenter CTS BD1 alloy steel blades, which offer a surprising level of edge retention because of their high carbon content. The Griv-Ex handles are textured and comfortable – I especially like the way my fingers sit on the curved heel of the large version. The Tri-Ad locking mechanism feels extremely solid, as always.
The Recon 1 remains very popular with police, military, and first responder crews and now comes with Carpenter CTS XHP alloy steel blades, making a good thing even better. The handles are super ergonomic and tactile G10 scales and it has the same Tri-Ad lock as the Voyager. Out of the two I'm partial to the Recon for its G10 and slightly slimmer profile.
Overall, the new Cold Steel Voyager and Recon 1 models are a great update on an established line of products.
Check out more about the new Cold Steel's here, and see all of our great products at KnifeCenter.com! Have a great day.