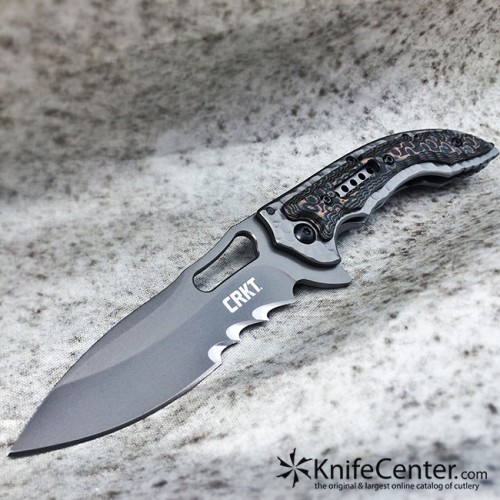 This week we're looking at a prehistoric blade with new-age features and stylings: this is the Fossil by Columbia River Knife & Tool.
This particular knife is actually the compact version of the full-sized Fossil. Both feature the same Flavio Ikoma design, with the full-size version offering a slightly beefed up handle and blade.
The gray combo blade has a hollow grind and drop point shape with Veff serrations and is made from 8Cr13MoV steel. There is also a satin finish version of both models. It's deployed via the flipper feature or the thumb-hole cutout.
The handle is made from hammered stainless steel with a G10 overlay on either side and a frame-lock design. There's also a pocket clip for tip-up carry. The sheer number of features don't detract from the overall hand feel, however. The balance of style and comfort is really the Fossil's greatest strength.
The IKBS ball bearing system allows for silky smooth deployment and the knife opens and closes confidently with the frame-lock design.
Overall, the CRKT Fossil excels in style without skimping on functionality, a winning combination for any every-day folder.
See more about the Fossil here, and check out our complete inventory at KnifeCenter.com!
Also see the full video review of the Fossil here.