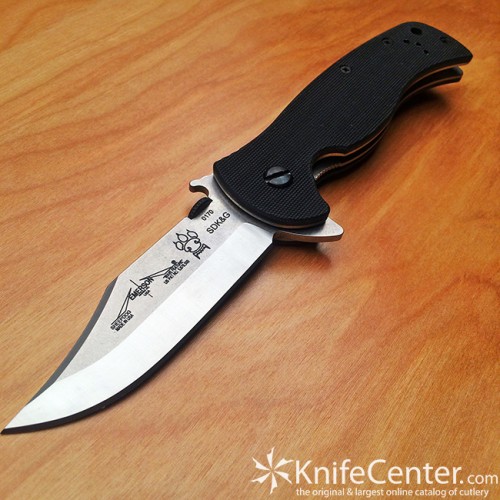 This week on Spotlight Series we're looking at an exceptional new offering from a titan of the tactical knife industry: this is the Sheepdog Rangemaster by Emerson Knives.
The first thing that has to be mentioned about this knife is, of course, the new flipper feature and bearing system, both of which are firsts for an Emerson design. The flipper addition was made at the specific request of military and tactical icon Lt. Colonel David Grossman, who first approached Emerson about designing the Sheepdog.
With so many firsts, it's truly amazing how well the knife performs. Between the thumb button, the wave feature, and now the substantial flipper on the back, deployment has never been easier. The blade moves crazy smooth on the bearing system, opening and closing with satisfying certainty.
The blade itself is 3-and-a-half inches long and made from CPM-154 stainless steel with a flat grind. This particular model has a bowie style blade; there is also a spear point version.
The handle boasts a liner-lock design and extremely textured blade G-10 scales for great grip under any conditions. There is a lanyard loop as well as a reversible pocket clip for tip-up carry.
Overall, the Emerson Sheepdog Rangemaster is a fantastic flipper. It's not often that a company gets a new design right on the first try, but this is knife is a pleasant exception.
See more about the knife here, and see our entire inventory at KnifeCenter.com!