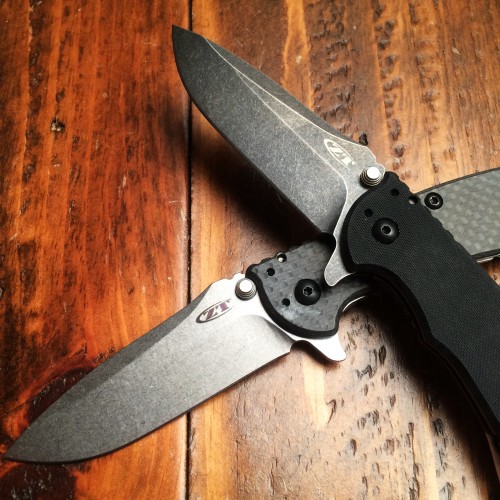 This week on Spotlight Series we're looking at a custom/production partnership that's hard to beat these days. This is the Zero Tolerance Rick Hinderer collaboration series.
First up, we have the 0560, which is based on Hinderer's drool-worthy XM-18. The three-and-three-quarters inch stonewashed blade is made from powdered ELMAX steel, which is known for its fantastic edge retention and toughness.
It's the largest of the models we're going to look at, but it doesn't feel clunky at all, thanks to easy deployment via the KVT bearing system and a solid frame lock design. The handle is a 3-D machined G10 scale on the front side and an identical titanium back handle. A lanyard loop and four-position-carry pocket add a great level of versatility to the blade.
The 0562 plays it straighter with a simple, textured G10 scale and clocks in about a half an inch shorter overall than the 0560. It utilizes the same steel, KVT bearing system and frame lock design, though only a two-position pocket clip on this model. I found that the 0562 required a bit more effort to initiate deployment, while closing the blade felt easier without the slight jimping on the frame lock, but that's purely a matter of preference.
Finally, we have the 0566, which combines many of the features from the first two knives into an even more compact package. It has the same steel, blade shape, and the 0560's 4-position clip, while also adding a carbon fiber scale and a ridiculously SpeedSafe assisted opening. It's probably my favorite of the bunch.
Overall, it's hard to go wrong with a ZT/Hinderer collaboration product: great design, fantastic materials and construction. In fact, the 562 and 566 models now have new versions available made from Bohler M390 steel, giving buyers even more great options.
Thanks for checking out KnifeCenter's Spotlight Series. See more ZT/Hinderer products here, and check out our extensive inventory at KnifeCenter.com!