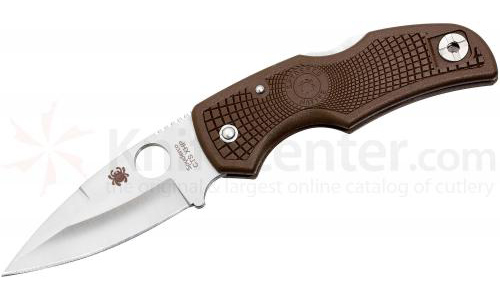 Spyderco Native with Carpenter  Steel Blade and Brown Handle
We think the Native is one of Spyderco's best designs. It is medium sized, has a great blade shape and the handle is thin so it's easy to carry. We thought you might want one with the great Carpenter CTS-XHP steel and so we got this model for you.  Not only that, but we are offering it at an initial discount of only $79.95! These blog posts stay up here, so don't blame us if, when you see this post, it's already back to our full discount price of $89.95. These are a Sprint Run meaning there are only but so many made. They will run out so grab one if you're interested!
Spyderco® describes this item as follows:
Engineered for the human hand, the Native's ergonomic design maximizes cutting ability while minimizing discomfort and fatigue. This Spyderco model is all about combining performance and comfort. Since the portion of the knife most in contact with the user is the handle, that became key while the model was in initial development on the drawing table. We've created a handle pattern with two separate finger choils. The first choil (where the blade and handle meet) allow positioning the index finger closer to the knife's sharpened edge for control over the cutting surface. Behind the first choil, the second positions the hand farther back on the folder for dexterous cutting while pushing the blade away from you. Bi-Directional Texturing molded into the FRN handle form varying levels of steps minimizing forward or backward sliding. Carved out of the locking lever is a David Boye Dent insuring the lock remains safely engaged even when gripping the handle forcefully. A section of non-sharpened serrations line the blade's spine yield an additional slip resistant point for the thumb. The blade itself is hollow-ground CTS-XHP steel with a weight reducing swedge ground from the spine. A black steel tip-up clip can be placed ambidextrously on both sides of the handle via a barrel-shaped screw that doubles as a lanyard.
Made in Golden, Colorado U.S.A. Earth.
Specifications
* Length Overall: 7″ (178 mm)
* Length Closed: 3 15/16″ (100 mm)
* Hole Diameter: 15/32″ (12 mm)
* Blade Length: 3 1/8″
* Cutting Edge: 2 5/8″ (67 mm)
* Blade Thickness: 1/8″(3 mm)
* Blade Steel: CTS-XHP
* Weight: 2.65 oz. (75.2 g)
* Handle Material: Earth Brown FRN (fiber reinforced Nylon)