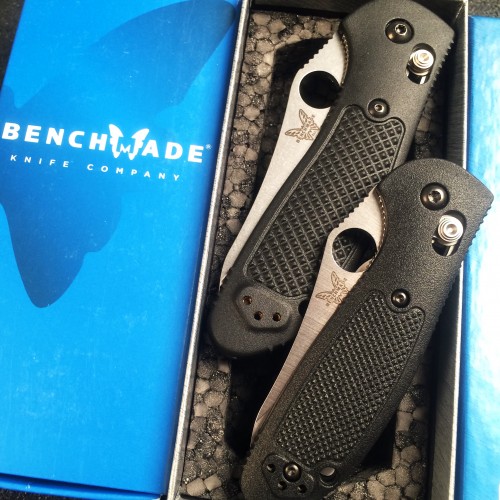 This week's Steal is a line of extremely functional every-day-carry knives: this is the Benchmade Griptilian.
I have wanted to feature the knife since its strong second-place showing in our Ultimate EDC competition last month – which you can check out here if you missed it the first time. There was a lot of support for the knife and it has quickly become one of my favorite knives in the warehouse.
While there are many different iterations of the Griptilian line – from different blade shapes to color schemes to deployment mechanisms – the basic functionality and design remains the same, making each model an equally great option.
At the heart of this innate functionality is the AXIS locking mechanism, which allows the knife to be used equally well with either hand and provides a number of options in terms of deployment and closing the blade. The lightweight and textured Noryl GTX handle gives the user great grip and a reversible pocket clip for tip up carry.
The blade is made from 154CM stainless steel. This particular model is a hollow-ground modified Sheepsfoot, but there are also drop point and tanto versions available.
Deployment is via either a thumbhole or dual thumbstud feature; both work equally well, though I tend to prefer the thumbhole option.
Overall, the Benchmade Griptilian is a fantastic and functional option to start, or add to, you every-day-carry collection.
Check out more about the Grip here, and see our entire inventory at KnifeCenter.com!