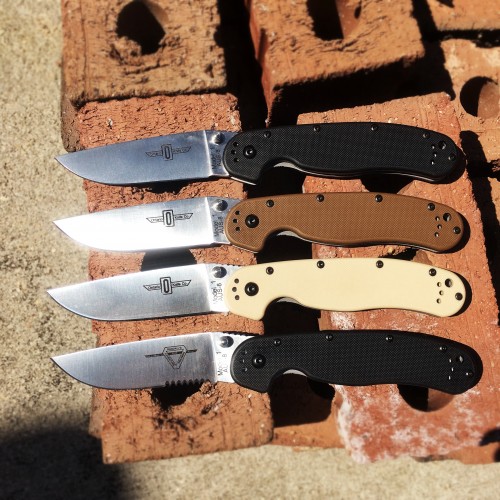 This week's Steal of the Week is a collection of knives that offer their owners a ton of functionality at an affordable price: this is the RAT Model 1 and Model 2 series by Ontario Knife Company.
The three-point-six inch blade is made from AUS-8 steel in either a plain or combo blade style with a black or satin finish. A lot of options with this knife. The blade is deployed via the dual thumb-studs and opens smoothly. There is also a small, sharp bit of jimping on the spine.
The Nylon 6 handle utilizes a liner-lock and has a flow-through design. This is where the knife really shines. The scales add a bit of texture and the whole handle feels extremely ergonomic and functional. It also features a lanyard loop and 4-way clip position, as well as a number of color schemes, giving the user a refreshing level of personalization at a great price point.
The Model 2 version of the knife boasts the same great hand-feel and customization as the Model 1, while reducing its overall size by 20%.
Overall, there's a lot to be said for a knife that simply allows you to work the way you work best. The Ontario Knife Company RAT Model 1 and Model 2 do just that, and at a great price.
Check out the full video review here, and see our entire inventory at KnifeCenter.com!