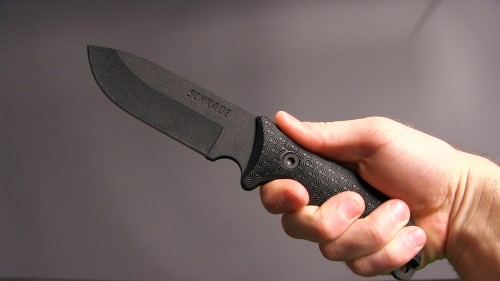 This week we're looking at an extremely durable collection of outdoor survival knives: this is the Schrade Frontier Survival Knife.
All models – the SCHF36, 37, 38 – are made from the same quarter-inch thick, black powder coated 1095 high carbon steel – the only variation being the five, six, and seven-inch blade lengths, respectively. The powder coating helps the blade resist corrosion, and the blade comes extremely sharp out of the box.
The textured black TPE overlays provide all-weather grip and comfort, and features jimping on both the spine and the underside. The 36 and 37 models also offer a micarta version of the handle. Both feel very comfortable in hand and offer a variety of grip options.
All the knives feature a black nylon sheath with a Velcro loop, making it easily attachable to your belt or pack. The sheath also has a pouch containing a ferro rod, striker, and sharpening stone, making it an great all-in-one survival package.
Overall, the Frontier Survival Knives have a lot to offer outdoor enthusiasts of all types. They have been very, very popular for the last few months, and I don't expect that to change anytime soon.
Thanks for checking out our Steal of the Week. See more about the Frontier here, or browse our entire inventory at Knifecenter.com!