Benchmade is one of the most widely recognized knife brands in the business – just one look at that distinctive butterfly logo tells you you're holding a top notch blade. Benchmade has a unique origin story. Les De Asis, the owner and founder, originally wanted to create a high quality version of the cheap butterfly knife he played with as a kid. Once that design was created after working with gifted knife maker Victor Anselmo, he took his prototype to a local gun shop – whose owner immediately wanted 100 more. Thus, Bali-Song, Inc. was born, and that eventually led to the company we now know as Benchmade Knives.
Benchmade says that they have one ultimate goal: make the best knives in the world. We've always been wowed by their wide array of distinguished knife designs – I mean, have you ever held a Griptilian? It's downright sexy. Choosing only five of their top knives is pretty tough, but luckily we did the work so you don't have to. Buckle up and get ready to scroll through the best knives Benchmade has to offer. From the designs to the materials to the aesthetics, these five Benchmade knives easily reach the caliber expected of such a great knife company.
Benchmade Griptilian Folding Knife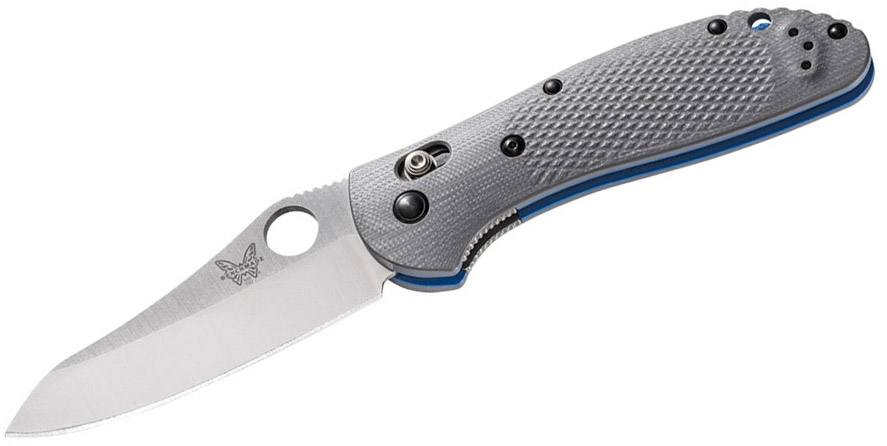 What other knife can you kick off a Benchmade list with other than the famous Griptilian folder? Like many of Benchmade's knives, the Griptilian features Benchmade's patented AXIS lock, which is a 100% ambidextrous design that functions due to a riding, hardened steel bar that is machined into the steel liners. Not only is it strong, but it is also safe to use, as you can operate the blade without your fingers crossing into the path of the edge. The Grip's designer, Mel Pardue, brought his passion for functionality to this design. The driving force behind Pardue's collaborations with Benchmade is that less is more, and the focus has always been function over form. There are more iterations of the Griptilian than any other knife Benchmade offers. Our favorite is this upgraded design with G10 handles and premium CPM-20CV steel.