D2 tool steel is widely considered to be one of the best steels for utility knives because of its affordability and edge retention, which is why so many great EDC knives rock a D2 steel blade with pride. This quality steel rides the line between a carbon steel and a stainless steel, a perk that makes it a popular choice for everyday carry knives that you'll actually put to work on the regular.
There are two schools of thought when it comes to everyday pocket knives: any knife that you carry every day can be an EDC (no matter the cost) or it's better to have an EDC that's less expensive that you can abuse daily without guilt. For those out there that want to shill out less than fifty bucks for a pocket knife, but you want good performance steel – you're in luck. KnifeCenter has pulled together the five best sub-$50 pocket knives with D2 blades.
The knife import game is changing. Imported knives are steadily improving in quality, and their affordable price points make these great designs more accessible to knife enthusiasts everywhere. Why not celebrate the fact that people of all backgrounds can enjoy the utility that comes with carrying a razor sharp knife?
Ontario RAT Model 2 Folding Knife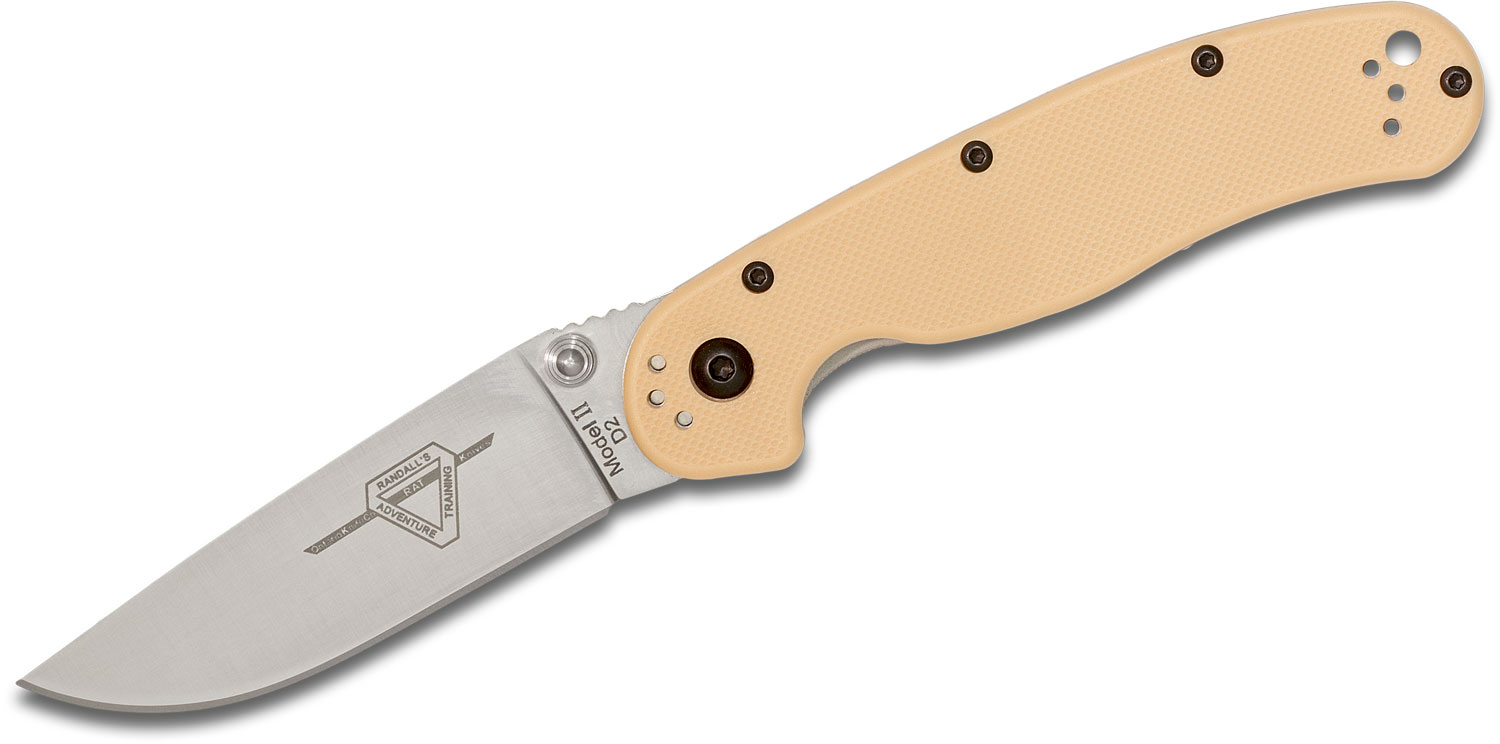 The scaled-down version of Ontario's popular Rat 1 is an EDC folder that can withstand some serious abuse. The hunters and survivalists out there should pay extra attention to this knife – it is made for you. Jeff Randall's knife design combines heavy-duty cutting power with a lightweight, slim build that rests comfortably in your pocket. The drop point blade profile is perfect for utility tasks, and the liner lock offers rock-solid lockup and slick deployment. While it is nylon and materials obviously play a role in the low cost, the light weight, great grip, and corrosion-resistance are perks that makes this knife worth every penny.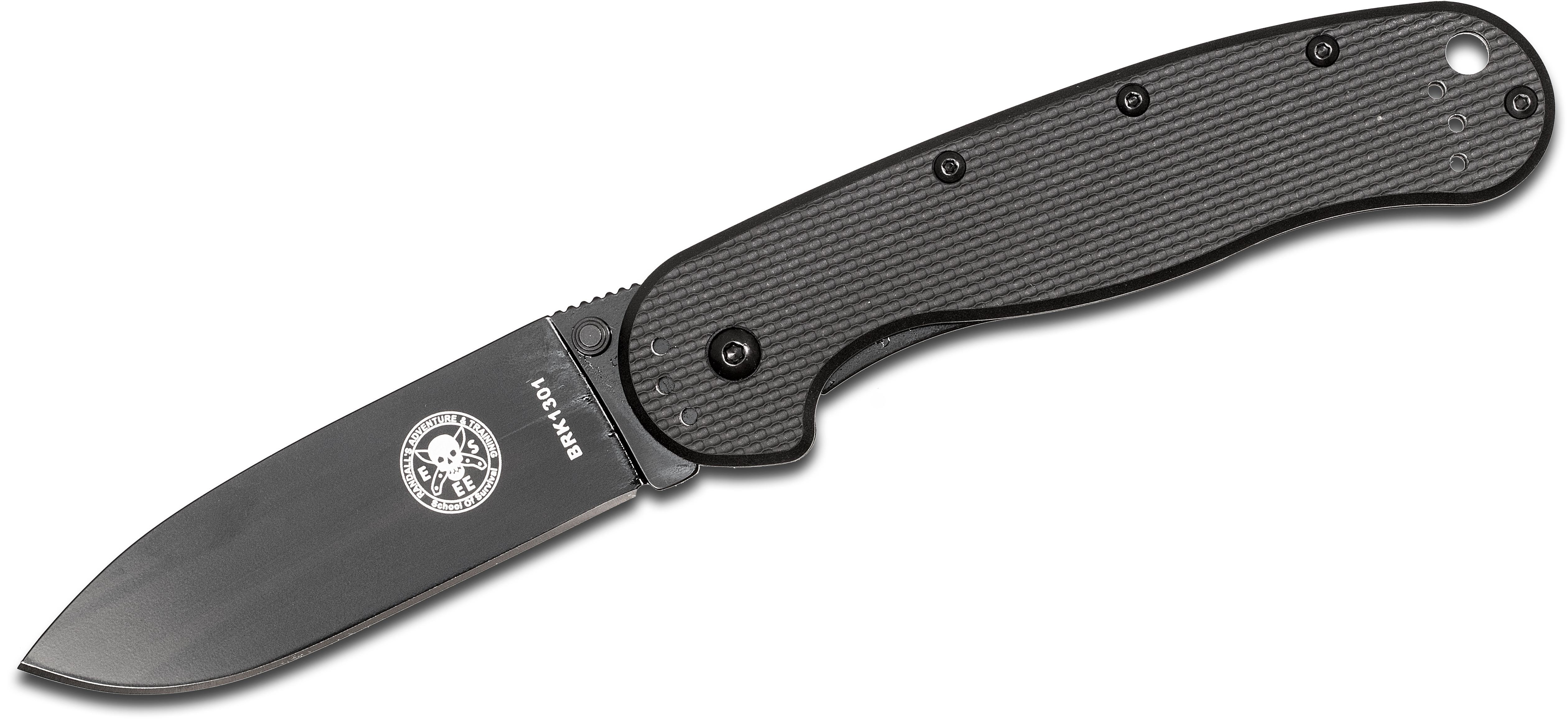 Another EDC that doubles as a hardcore survival knife, the ESEE-designed Avispa,  is a great alternative if you're not a fan of the RAT's liner lock. With its steel frame lock and reversible pocket clip, the Avispa definitely makes the most of its stainless handle. A big complaint we regularly see in the knife industry is that left-handed knife users typically only have expensive EDC options, so we love the fact that the Avispa offers ambidextrous thumb studs and a four-position clip on an affordable knife, catering to an oft-neglected audience. Without that extra handle scale, the Avispa achieves a slimmer build than the RAT, which rounds out a great folding knife design courtesy of Jeff Randall and Mike Perrin.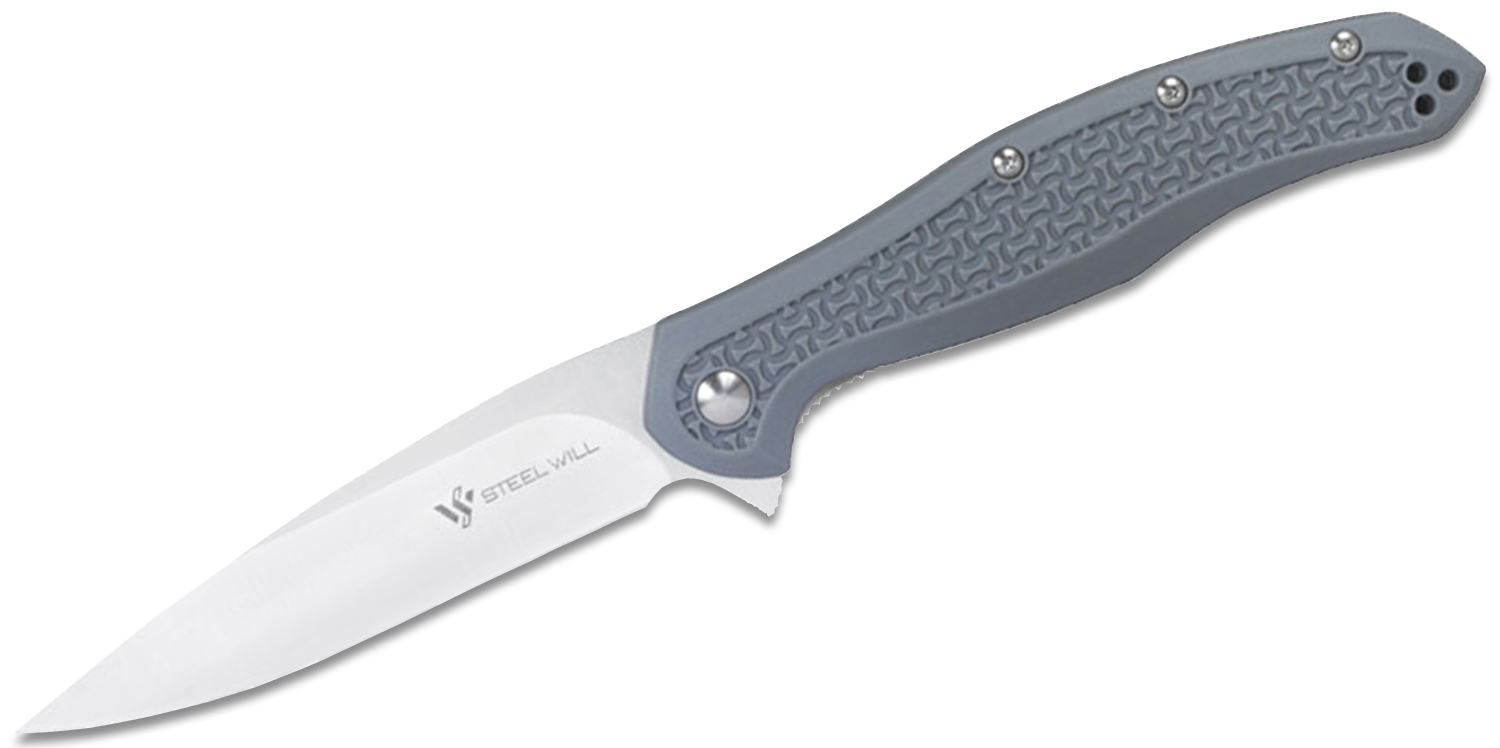 The Intrigue is easily one of the most distinguished D2 knives less than fifty dollars on the market these days. Gentleman's knives are typically pretty pricey, which makes this elegant knife a great alternative if you're unwilling to pay mid-tech prices. Despite its light build and compact profile, you're still getting the benefit of a full-sized blade.  This model comes with some flashy blue standoffs, a touch that definitely puts the overall design well above its price point. We hate to make it all about the cost, but that's just one of the biggest benefits of the brand – they work to achieve the highest level of performance and craftsmanship without emptying your wallet.
Bestech Knives Swordfish Flipper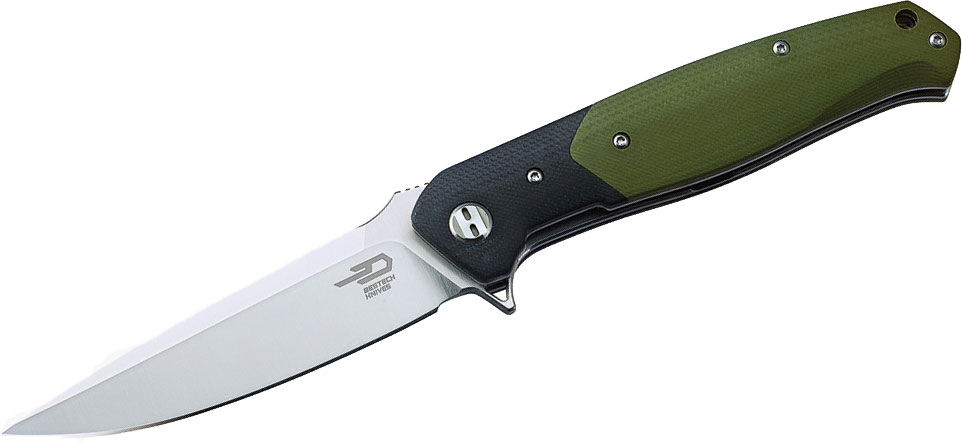 Yes, you've caught us – Bestech's Swordfish flipper isn't actually sub-$50…it comes in a couple of bucks over, but it still deserves to make the list. Why? Bestech offers a slew of fantastic knives that all come in around the $50 mark – yes, there's an actual selection. This isn't just a one-off design made with sub-par materials that you have to snatch up if you're a Bestech fan. You have plenty of options to choose from: the Warwolf, the Scimitar flipper, the Kendo models, the Lion and Grampus flippers, and so many more. The Swordfish folding knife also offers up green and black G10 handle scales, something we haven't seen on this list so far. If you're able to scrounge up a few additional dollars for a pocket knife that easily rivals some of the $100+ knives out there, the Swordfish is definitely a viable option.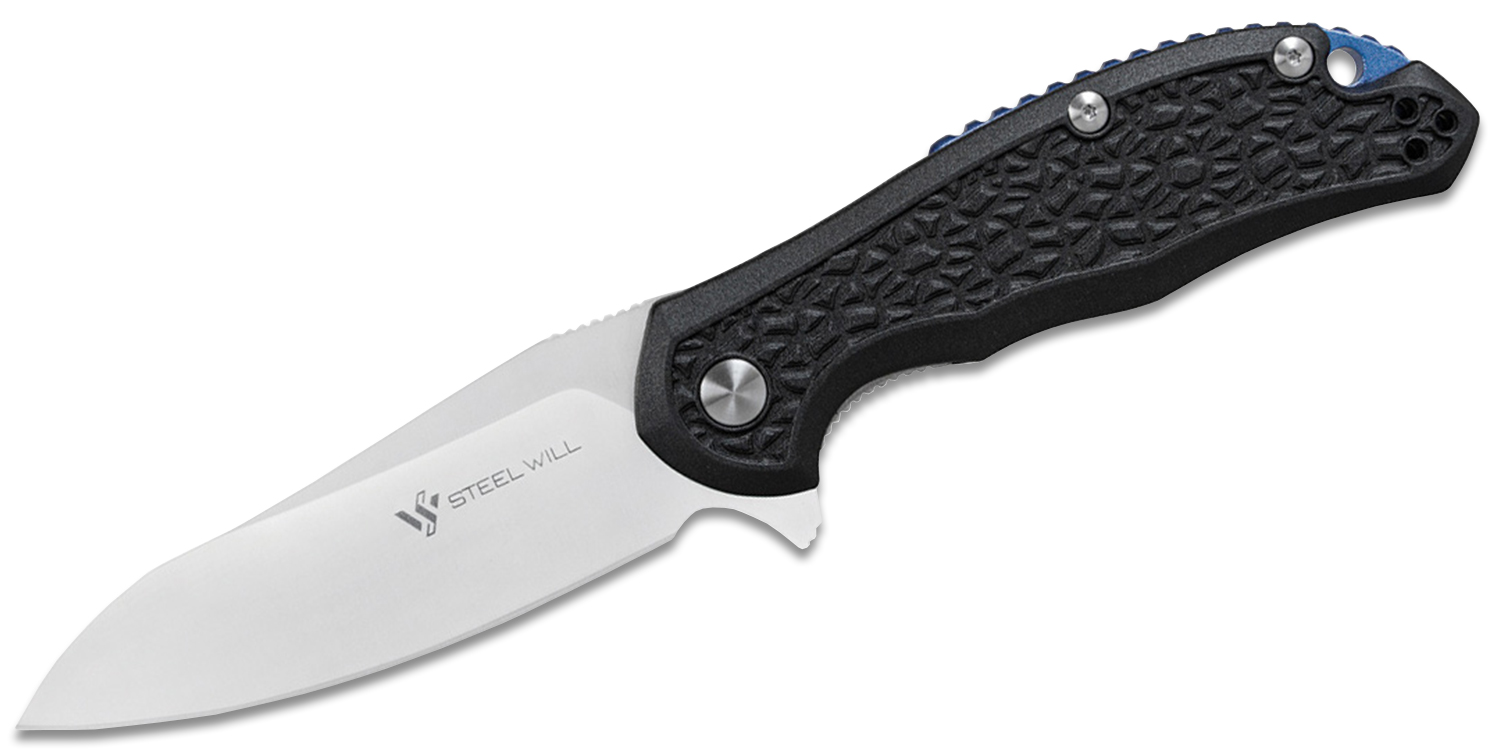 We meant it when we said Steel Will is one of the best brands for value-priced EDC knives. If you hold this folding knife and try to guess the price, we're pretty sure you'd guess high. The overall design is a practice in subtlety: light jimping that isn't too aggressive but enough to avoid slippage, a modified Sheepsfoot-style blade with a slight belly, and a textured handle that's still comfortable to hold without gloves. Hands of all sizes will be able to get a good grip on the Modus, but it still has a small form factor that makes it a great EDC pocket knife for those who barely want to feel a knife in their pocket.
We never said making this list was going to be easy, so of course – we have a couple of honorable mentions. These may not have a place in the top five best D2 pocket knives, but it doesn't make them any less ready to be champion EDCs. These two runner-ups are a couple of bucks above the fifty-dollar limit, but still deserve a second glance.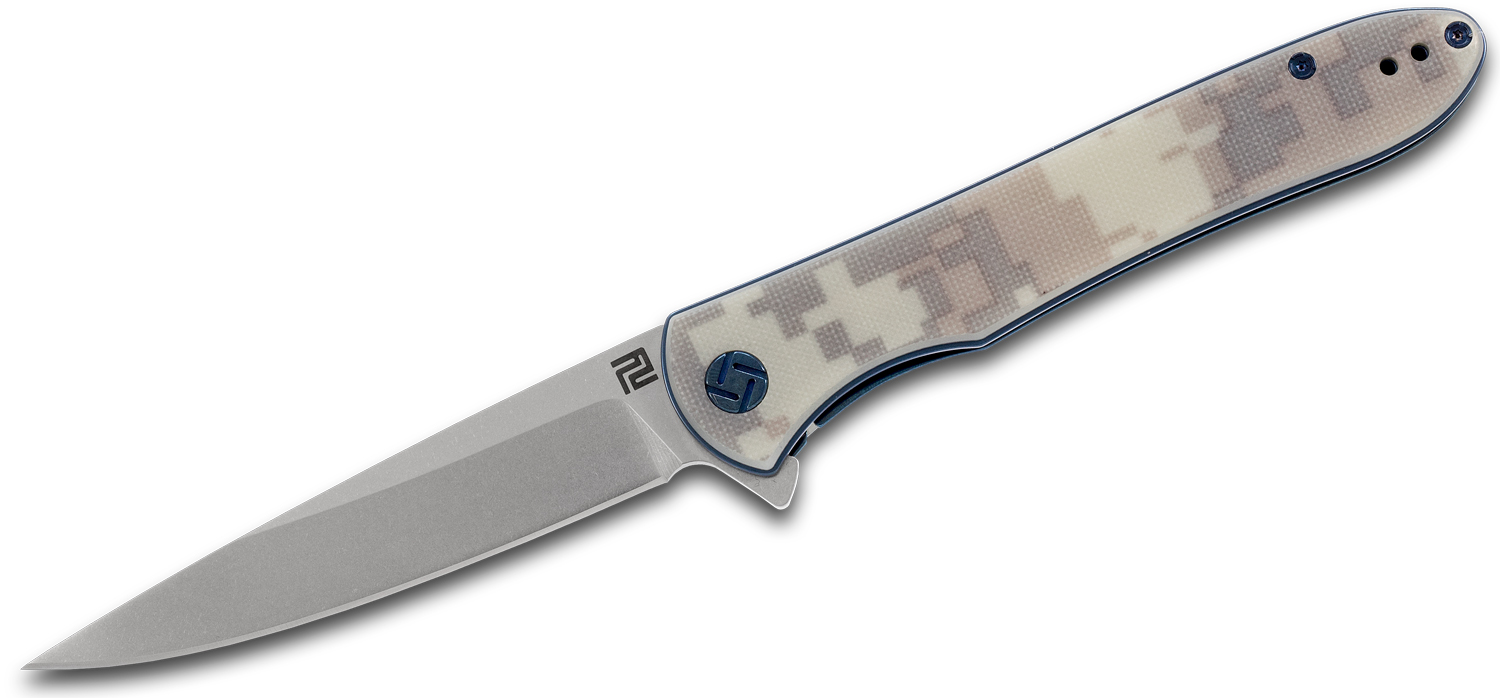 For those out there that prefer a larger, full-size flipper – enter the ArtisanCutlery Shark. Despite its size, its slender handle and blade profile give it a distinctly streamlined look that sits well in your pocket. Again, for a few extra dollars you score G10 scales and a rugged stonewash finish that complements the textured camo quite nicely. ArtisanCutlery is another knife brand that's working hard to offer knives that perform well above their price point. Their Classic, Waistline, Virginia, and Tradition models are perfect examples of affordable EDCs that won't ruin your bank account.
Bestech Knives Scimitar Flipper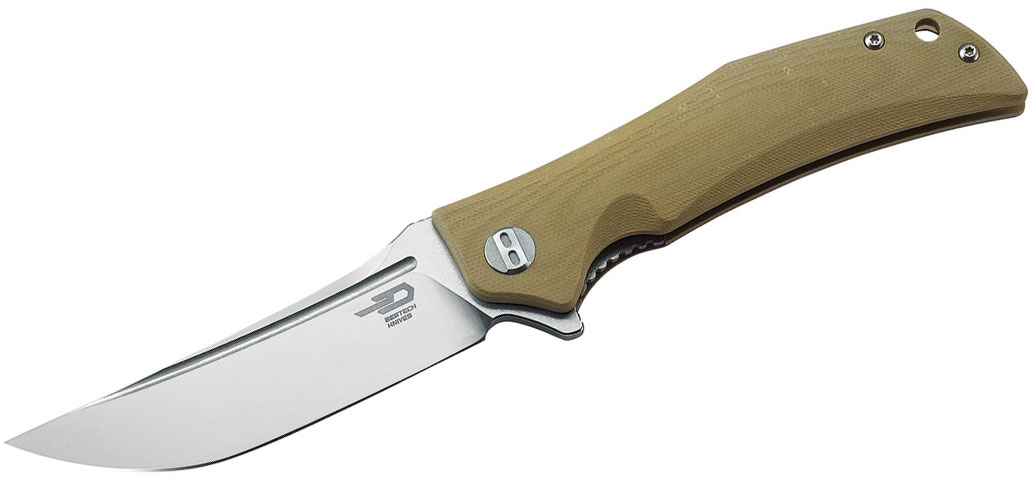 Just like the Swordfish, the G10 sales on Bestech's Scimitar flipper make you feel like you're holding a knife worth more than fifty-two bucks. Thanks to its ceramic ball bearings, the action is buttery smooth and the lockup is remarkably tight. You could argue that the Scimitar is a better EDC knife than the Swordfish based on its deep-carry pocket clip and lighter weight, but we prefer the ergonomics of the Swordfish for regular use. Not to discredit the tan G10 scales on this folder – they're comfortable, they just don't fill the palm quite the same way. Plus, we're suckers for two-tone color schemes – so the Swordfish's G10 scales beat out the plain tan on this model. That being said, this is a great EDC knife and its high performance flipping action is worth trying.
As the original and best online cutlery retailer, KnifeCenter has seen it all – we handle three-dollar keychain knives and high-end custom knives, and we know how important it is for everyone to have a utility knife made with tough steel that won't exceed their paycheck. What do you think of our picks for the best sub-$50 knives featuring D2 steel? What other steel would you like to lock down for that much? Let us know over on our Facebook, Twitter, and Instagram!