Modern steel technology has grown leaps and bounds in the last couple of decades and it's changed the way we experience our knives. Today we can achieve long-lasting edge retention that was unheard of just a generation ago. Remember your grandfather's old pocket knife that was sharpened down to just a sliver of a blade? Well, if his old knife was made with one of these steels there would still be a lot of usable blade left because he wouldn't have needed to sharpen it so often. The best part of this new crop of steels is that a lot of the best options have been coming down in price, making high-performance even more attainable. We've rounded up eight knives with eight supersteels and all of them can be had for less than 150 bucks. Sometimes even far less!
The Steels and the Deals
While there are differences between all these steels, in practical uses on these folders what you can expect is a knife that will stay sharp for a long time. You won't have to break out the sharpener so often to keep them useful!
S35VN: Cold Steel Code 4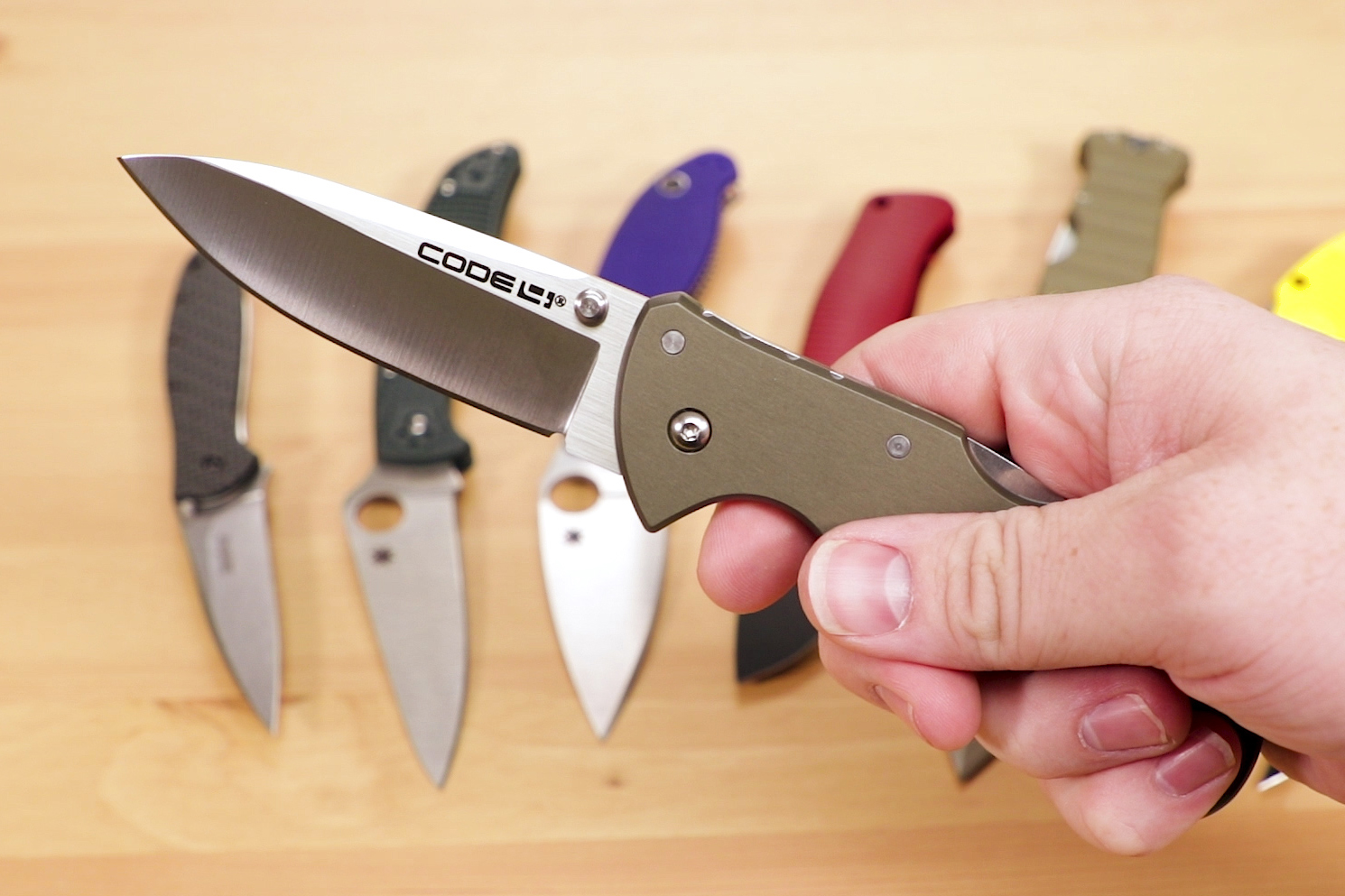 The first steel we're going to look at is S35VN, and one of the best deals on this steel comes in the form of the Cold Steel Code 4. S35VN is the successor to S30V, the first modern steel developed specifically for cutlery. It kick-started the particle metallurgy revolution in knife steels. This new way of manufacturing allows the steel to be more uniform on the molecular level, which is where all of these steels get their performance.
The Code 4 in S35VN can be had with a couple of different blade options including drop point, clip point, and tanto. It also features slim handle construction made with aluminum, along with Cold Steel's famous Tri-Ad lock which provides a lot of security. Combine that with prominent finger grooves and this makes a great knife for law enforcement or for anyone who needs that same level of durability and performance.
CPM-154: Kershaw Leek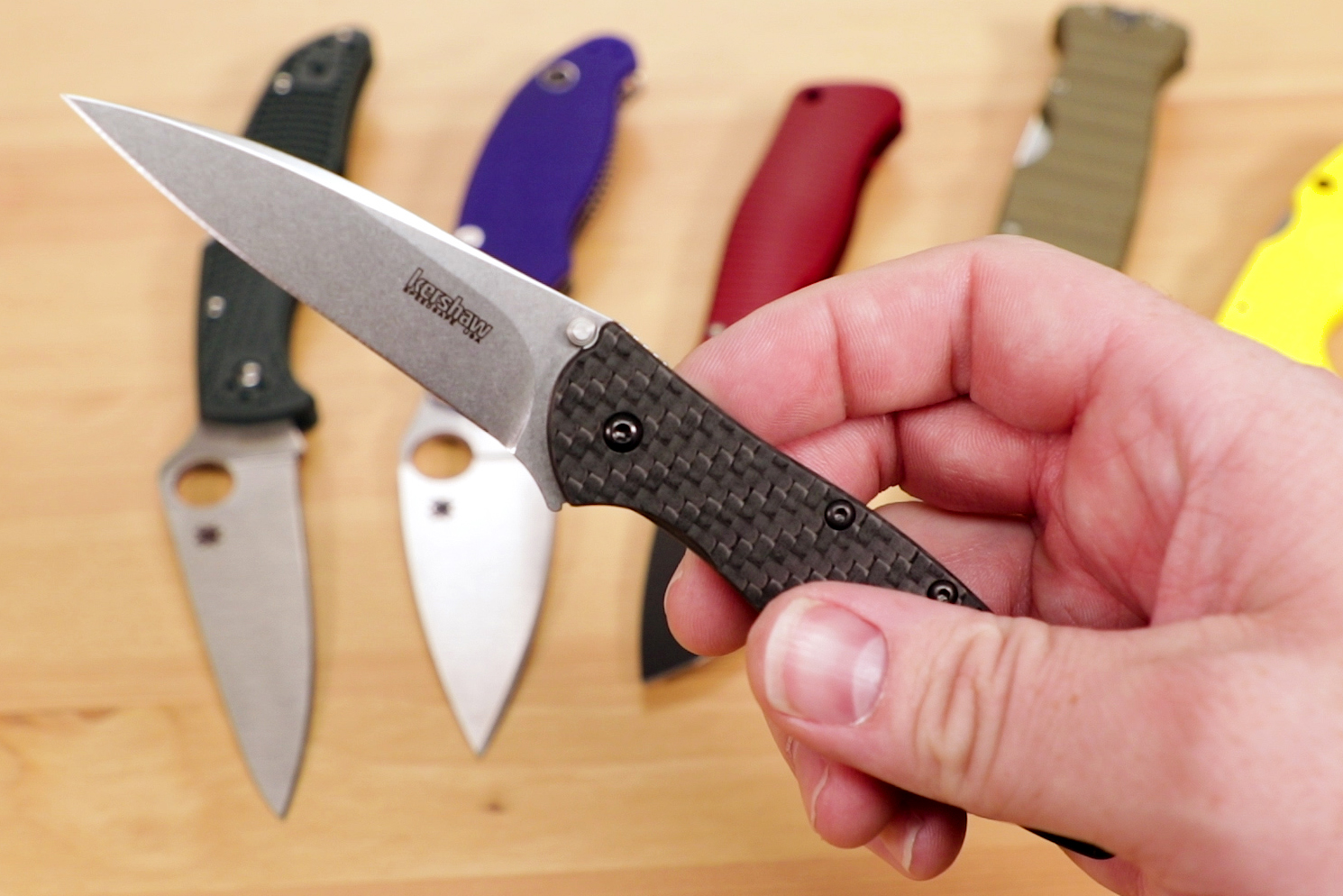 CPM-154 is one of the most well-rounded steels out there today. You can find it on everything from heavy fixed blades down to smaller pocket knives just like this Kershaw Leek which also sports fancy carbon fiber scales. It is a nice slim carry with an assisted opening mechanism and would make a great EDC gentleman's knife or executive knife.
CPM-154 is not to be confused with 154CM. Elementally they're the same but CPM-154 is made with the particle metallurgy process and in that process, the steel has gained a lot in terms of edge retention and especially the toughness. 
ZDP-189: Spyderco Endura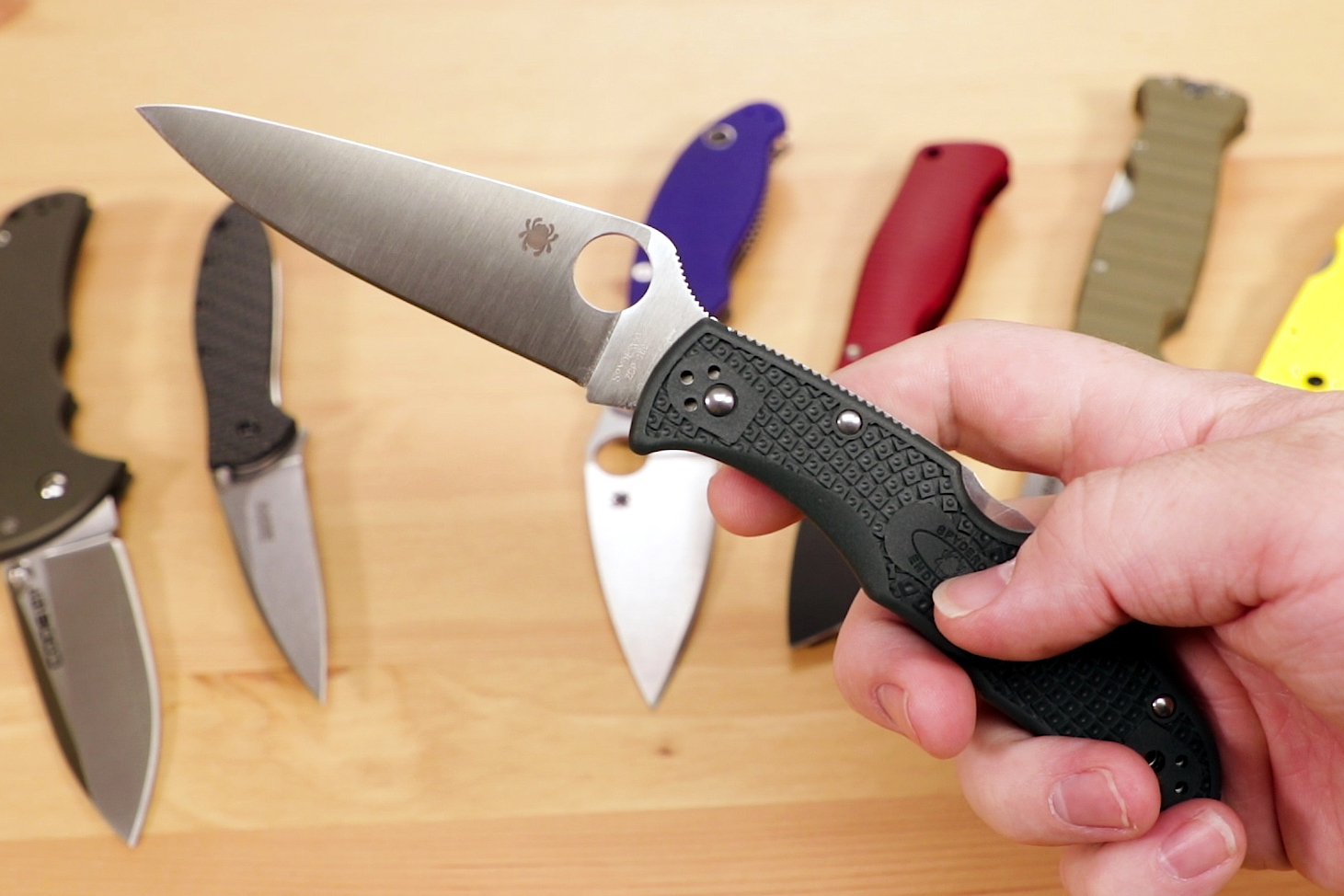 ZDP-189 is an excellent steel that can be had a great price on one of our favorite EDC designs, the Spyderco Endura. ZPD-189's claim to fame is its high attainable hardness, allowing it to have a very long-lasting edge. The Endura comes from Spyderco who are not afraid to experiment with all the latest steels on the market sooner than many other manufacturers. We love the Endura design. It is one of their all-time greatest hits and it's made even better with this steel, along with its sisters the Delica and the Dragonfly 2, which are also available with ZDP-189.
S110V: Spyderco Manix 2 Lightweight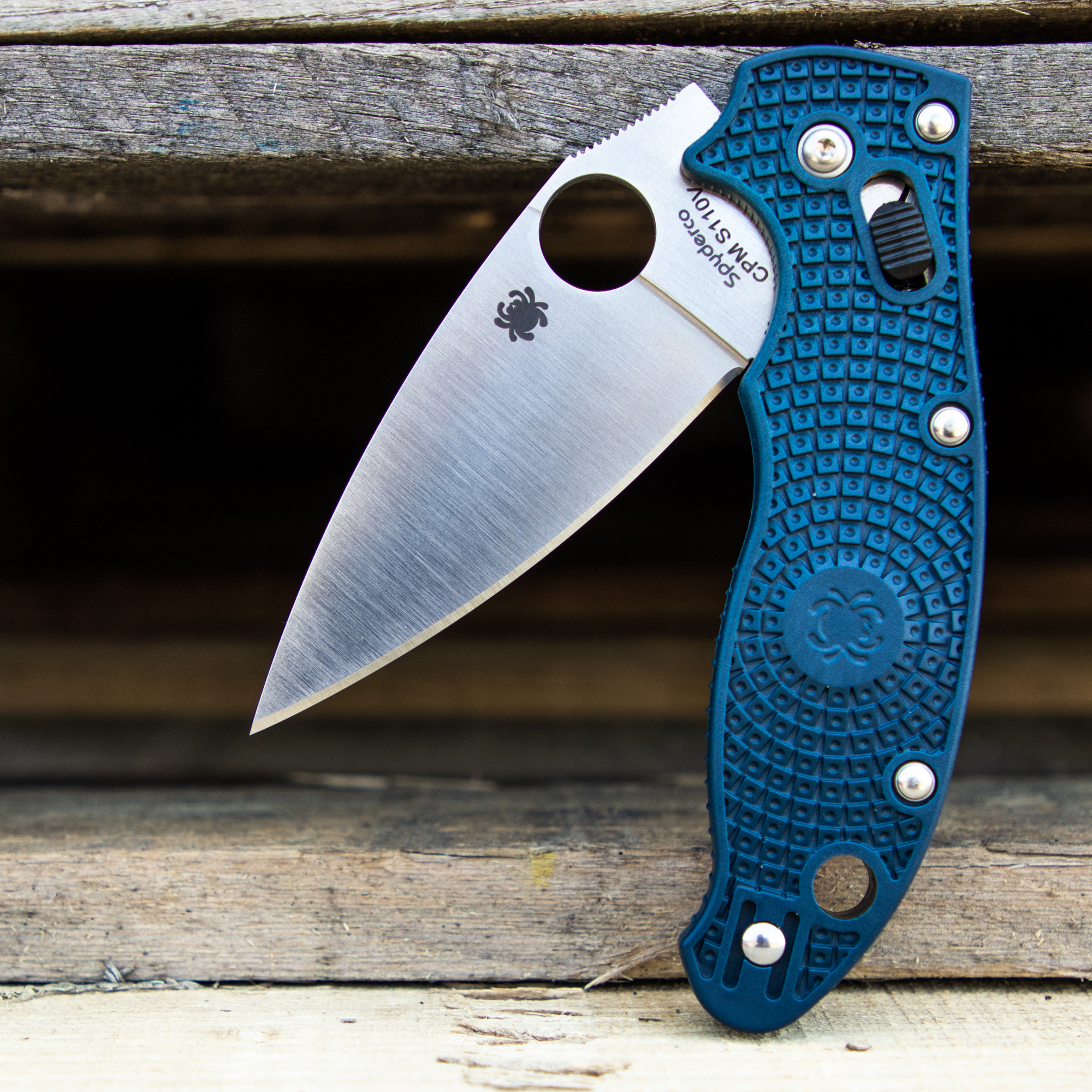 S110V is a steel that boasts extremely high wear resistance. As a result, it is harder for manufacturers to work with. The upside is an edge that just won't quit and as previously mentioned, Spyderco are not ones to shrink away from a challenge. For that reason we get the excellent Manix 2 with S110V. This knife is phenomenal for heavy-duty chores because it's got an excellent handle with a few different hand positions, plenty of girth to really bear down on heavy cuts, and an excellent lock that keeps your hand out of the way of the blade when you're closing it.
CTS-XHP: Cold Steel Immortal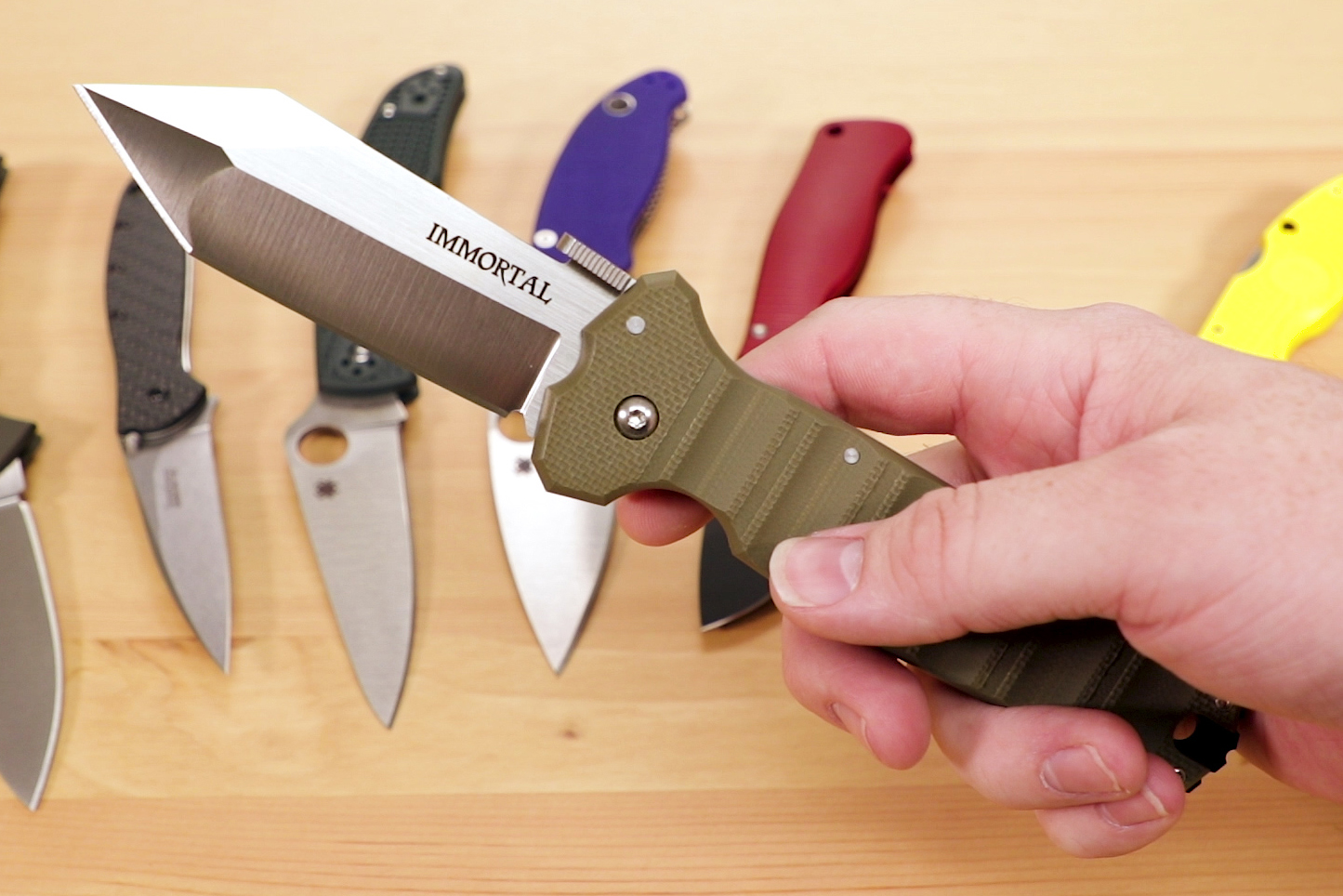 CTS-XHP can be found on the Cold Steel Immortal and according to Carpenter (the manufacturer), XHP can be described as either a "high hardness type 440C stainless steel or corrosion resistant D2 steel." Those are both solid budget steels, but XHP takes the best characteristics of both and kicks them into high gear. With the Cold Steel Immortal, we get an excellent tactical design that doesn't sacrifice performance at the expense of its attitude. This knife also transitions well to heavy-duty work thanks to a very large handle and that broad tip is inspired by old Roman Gladius swords, granting an excellent tip for piercing that has a lot of strength.
Backing up that blade is their excellent Tri-Ad lock as well as their ambidextrous thumb plate. That plate allows either hand to open the knife very easily and it can also allow you to open the blade as you're drawing from your pocket.
Sleipner: LionSteel SR-2A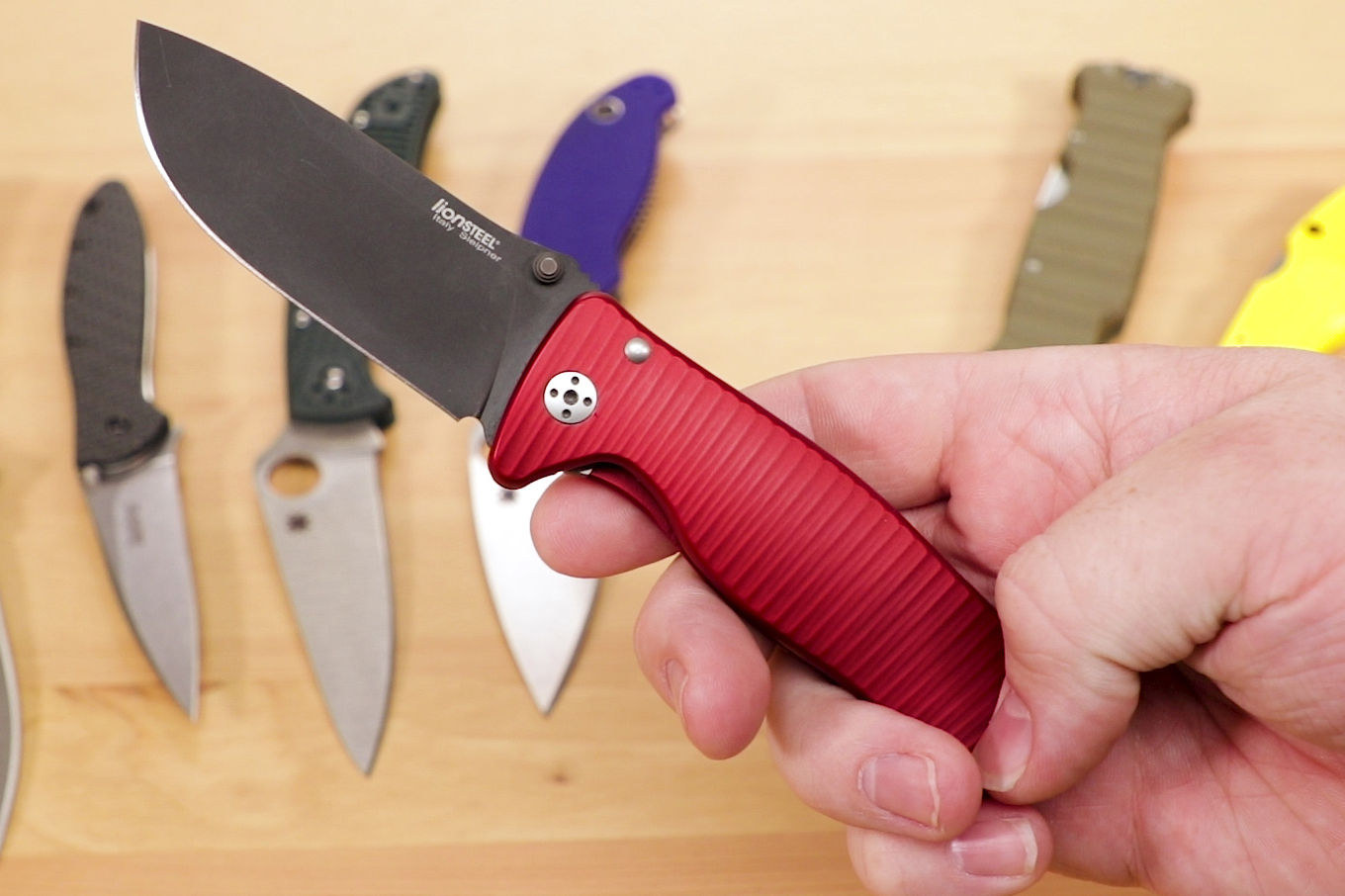 Next up is Sliepner Steel which can be found on the LionSteel SR-2A. This steel is considered by many to be another steel that is something like D2 on steroids, but it has better toughness and chipping resistance than D2. In addition to the SR-2A, Italian manufacturer LionSteel uses this metal on a range of their knives and in their testing they've even found it to outperform some of the other steels that are on this list, despite it being a non-particle metallurgy steel.
What's great about the SR-2A is it's a fancier EDC design with the chops to transition to heavier tasks. We get LionSteel's famous integral construction which looks fantastic and also creates a stronger handle because there's no back spacer or screws to get loose. It also rocks a nice frame lock as well as their patented Rotoblock system, which can be rotated to hold that frame lock in place to prevent it from being disengaged.
LC200N: Spyderco Native 5 Salt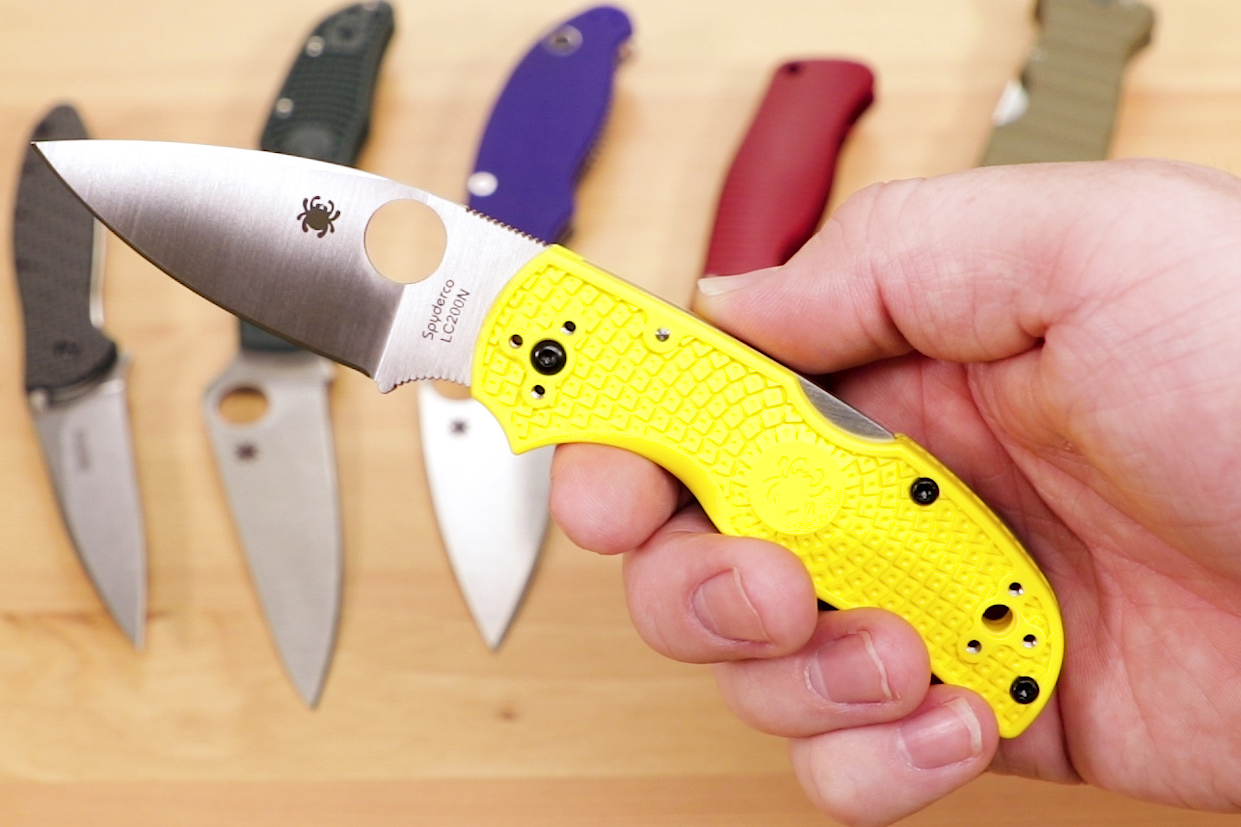 The only other non-particle steel on this list is LC200N, which we can be found on the Spyderco Native 5 Salt. Spyderco is using this steel extensively in their Salt series of knives because this is a truly rustproof steel, and yet unlike earlier rust proof options such as H1, LC200N has the edge retention to compete with some of the best steels in the world.
The Native 5 Salt is truly a fantastic choice for carrying in any wet environment, especially while around the water such as when boating or fishing. It's one of my favorite EDC designs that Spyderco produces. It has a nice full handle but it still carries very easily in the pocket, and it comes with a nice lock back and excellent blade geometry for efficient cutting.
M390: We Knife Company Streak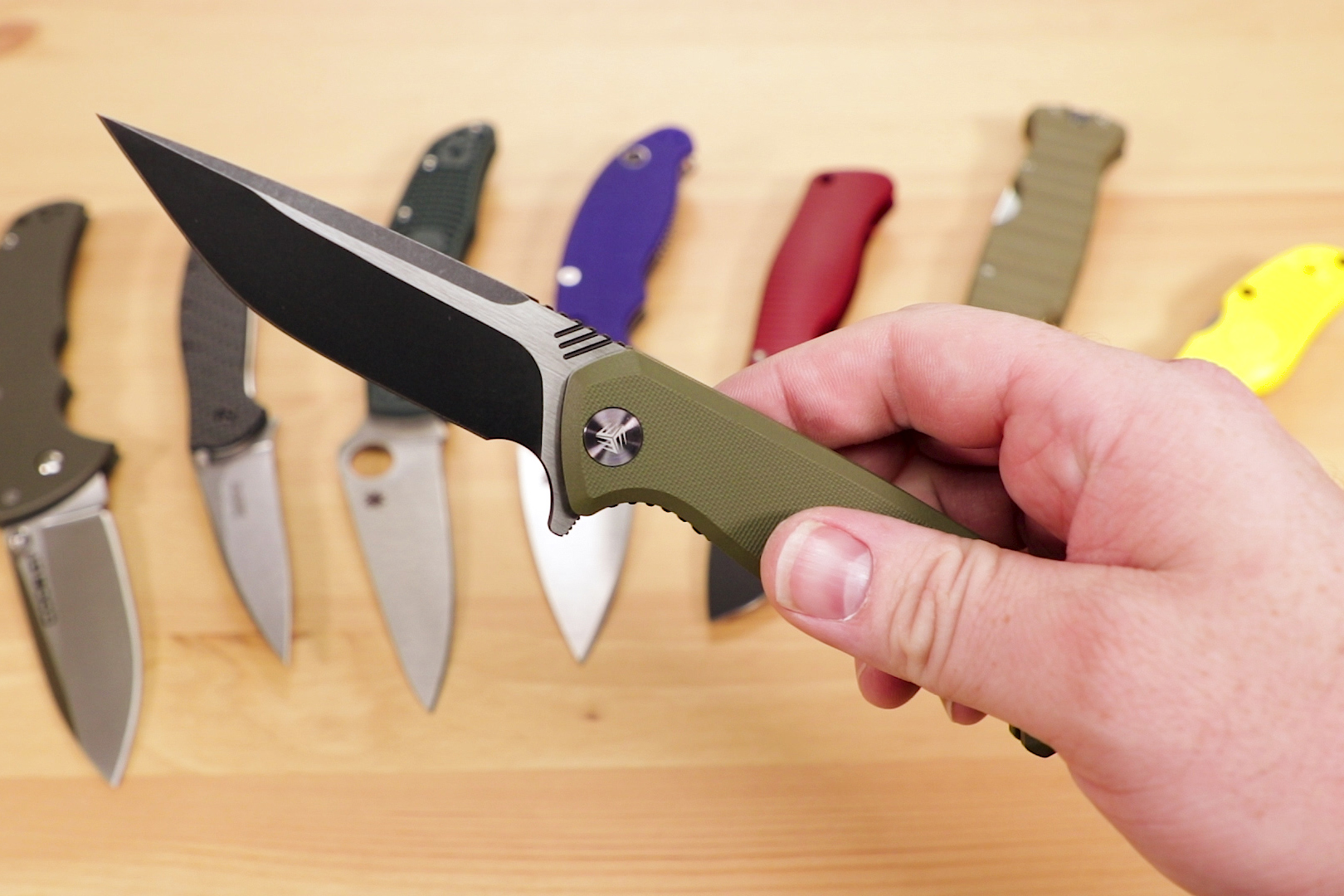 Finally we come to M390 which can be found on the We Knife Company Streak. M390 can be found everywhere in the world of high end production folders because it offers the right cross-section of edge holding, corrosion resistance, and machineability to be used in a wide variety of situations. The steel is just now trickling into our price range.
Like the steel itself, the Streak has a phenomenal cross-section for a variety of uses. It's great for everyday carry as well as tactical roles and heavy-duty work without being too large to comfortably carry. The handles are made from G10 and are nice and comfortable. They're thick enough that you can really throw down on some big jobs, but they're lightweight enough that they don't weigh down your pockets. Like everything We Knife Company does, the fit and finish is excellent and we've got great flipping action meaning you really get your money's worth when you put it down on the Streak.
You can't really go wrong with any of these steels. They all offer high performance that older steels simply can't compete with. To get your hands on one of these or to see what other great knives we carry in these steels, use the links below to head over to KnifeCenter.com.
Shop All S35VN Folders
Shop All CPM-154 Folders
Shop All ZDP-189 Folders
Shop All S110V Folders
Shop All CTS-XHP Folders
Shop All Sleipner Steel Folders
Shop All LC200N Folders
Shop All M390 Folders