Offering strength and utility in a compact package, if you've never carried a neck knife before, here are some good reasons you might want to consider it.
For one thing, a fixed blade will almost always be more reliable than a folder. They have fewer moving parts to break and are easier to clean when dirty, but may not be as convenient to carry or as socially acceptable as a folding knife. Neck carry solves the second problem as you can tuck the blade under your shirt when not in use, keeping it handy and unobtrusive without advertising its presence on the belt.
As for best uses? The strength during heavy utility work is a definite plus. For tactical-minded folks, they can be a great last-ditch option. They are also useful for campers and especially backpackers and ultralight crowd. A hiking pack will likely have a padded waist belt, so carrying the knife around the neck keeps it accessible without affecting the fit of your pack. I'll show you some of the best options below for each of the above three categories.
Top 10 Neck Knives Available In 2020
BEST EDC/UTILITY NECK KNIVES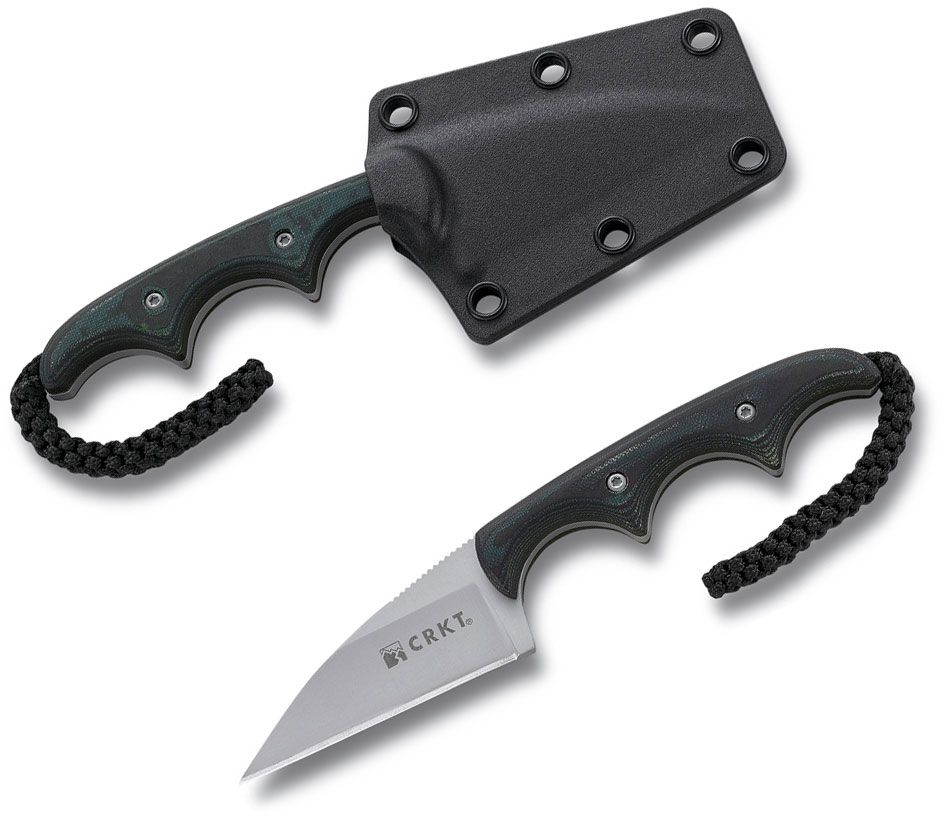 This series of neck knives is small and affordable at right around 25 bucks. They are very unobtrusive to carry with an injection molded sheath that can be worn around the neck or on the belt if you prefer, and they are great for opening up packages or boxes or other small daily needs.
There are several blade shapes in the lineup including a clip point Bowie, drop point, a tanto, an aggressive Wharncliffe, and a very popular new cleaver profile. Each will get you roughly 2 inches of sharpened edge, made from 5CR15Mov steel. This is nothing too noteworthy in terms of edge retention but it sharpens easily and is highly stainless, which is important for a knife that is going to sit next to your skin for hours at a time.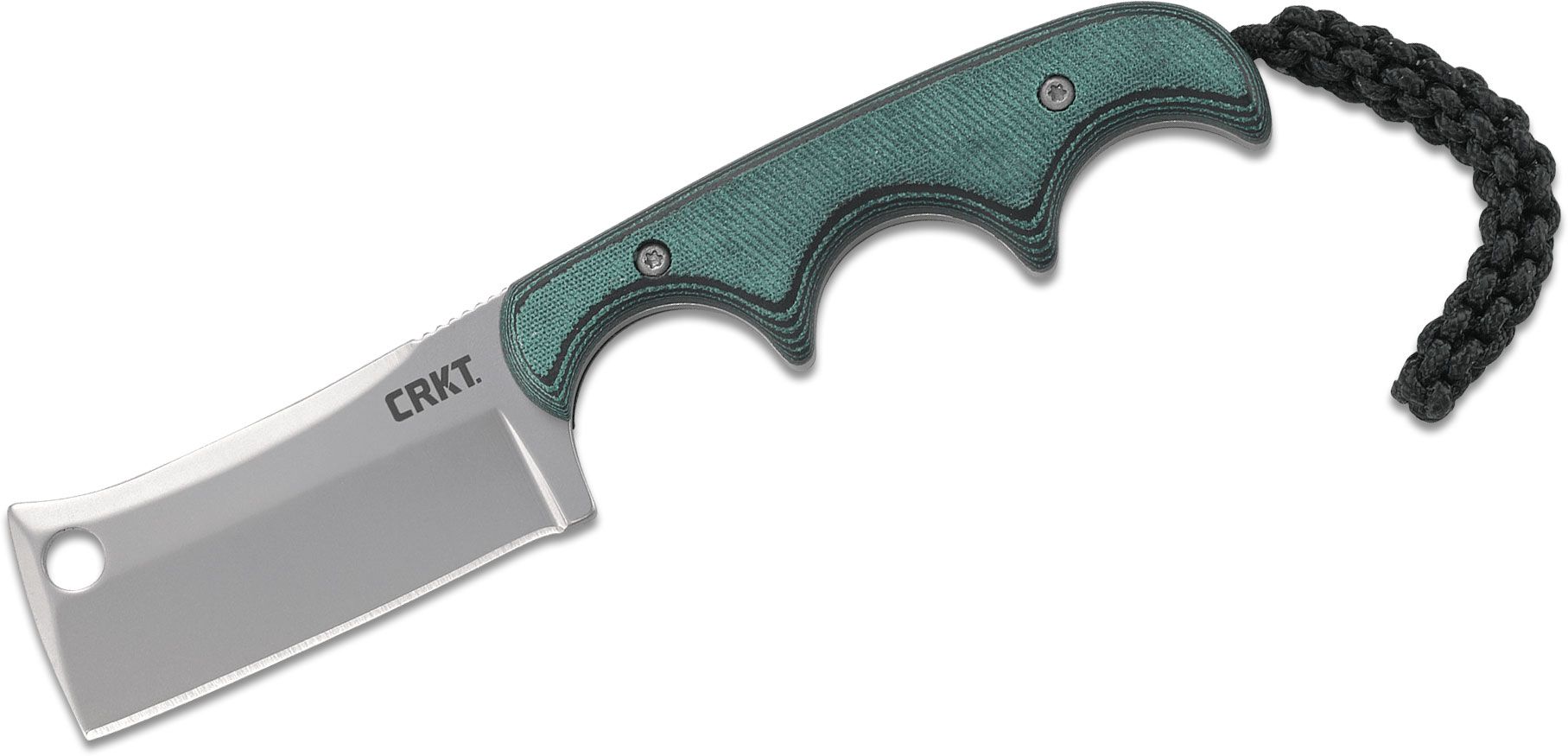 The distinctive handles with three prominent finger grooves are the most striking feature of this knife. Even my big fingers fit in them very nicely and it makes the grip absolutely rock-solid, despite the small size of the knife overall. The braided lanyard that comes standard provides even more grip for your pinky finger as well.
The CRKT Folts Minimalist is a very effective little design, and priced as they are, they make a great way to dip your feet into the neck knife world and still get a very worthwhile design.
CRKT Folts Minimalist Specs
Blade Length: 2.131″ (54.13 mm)
Handle Length: 2.929″ (74.39 mm)
Overall Length: 5.06″ (128.52 mm)
Blade Material: 5Cr15MoV Stainless Steel
Blade Thickness: 0.102″ (2.59 mm)
Blade Grind: Hollow
Blade Finish: Bead Blast
Handle Material: Polished Resin Infused Fiber
Sheath Material: Polypropylene
Weight: 1.7 oz. (48.19 g)
Weight with Sheath: 2.3 oz. (65.2 g)
Designer: Alan Folts
Made in China
---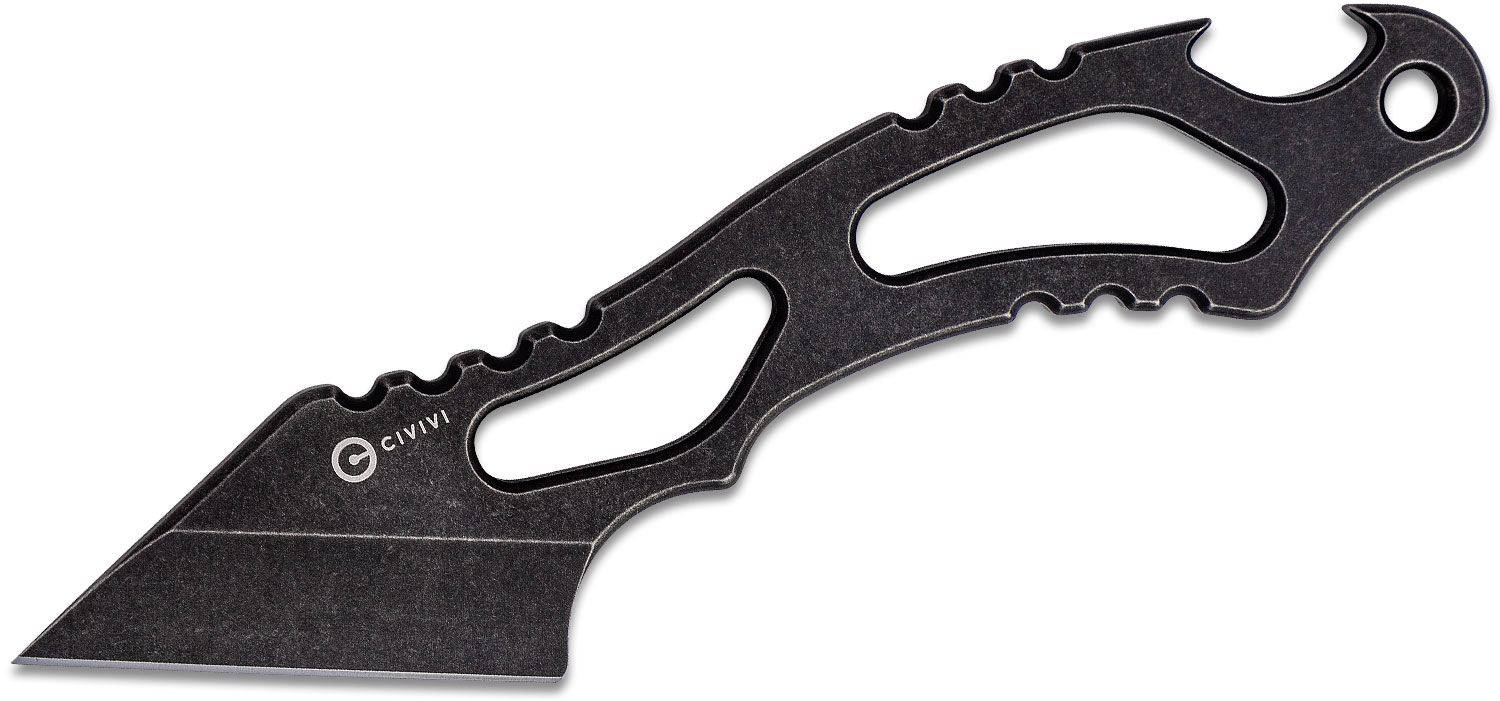 The CIVIVI Kiri-EDC is a solid utility blade inspired by the kiridashi, a traditional Japanese carpentry knife used for wood carving and marking.
The price is slightly higher, coming in right around $40, but you should get a bit more edge retention than the CRKT. The blade is made from 9CR18Mov stainless to give you performance roughly equivalent to 440C, and stonewashed and black stonewashed options are available. The stonewash option is especially nice for hiding scratches resulting from using the knife, and both finishes help to up the corrosion resistance of the steel too. The edge is a bit under 2" and the grind is nice and stout. It is not exactly a slicer but should have the strength for tougher cuts that you may not want to attack with a lesser knife.
The handle designed very smartly – it is skeletonized for weight reduction and has no handle scales to help it carry nice and flat, but the edges are chamfered to maintain decent comfort, despite lacking scales. Finger grooves tell you how to hold this knife which brings your fingers right behind the edge. In a thoughtful touch, they have rounded over the point at the heel of the blade so that it doesn't poke you while you are using it.
The back end of the handle even has a bottle opener built-in, which technically makes it a multitool! You'll see a lot of makers sneak something like this into their neck knives, and it doesn't get in the way, so why not? Just make sure you have the knife sheathed when popping open your beverage!
Blade Length: 1.80″ (45.7 mm)
Cutting Edge: 1.80″ (45.7 mm)
Handle Length: 3.30″ (83.8 mm)
Overall Length: 5.10″ (129.5 mm)
Blade Material: 9Cr18MoV Stainless Steel
Blade Thickness: 0.157″ (4 mm)
Blade Hardness: 58-60HRC
Blade Style: Kiridashi
Blade Grind: Flat
Blade Finish: Black Stonewash
Handle Material: 9Cr18MoV Stainless Steel
Handle Thickness: 0.157″ (4 mm)
Sheath Material: Kydex
Weight: 1.55 oz. (44 g)
Designer: Alessandra De Santis
Made in China
---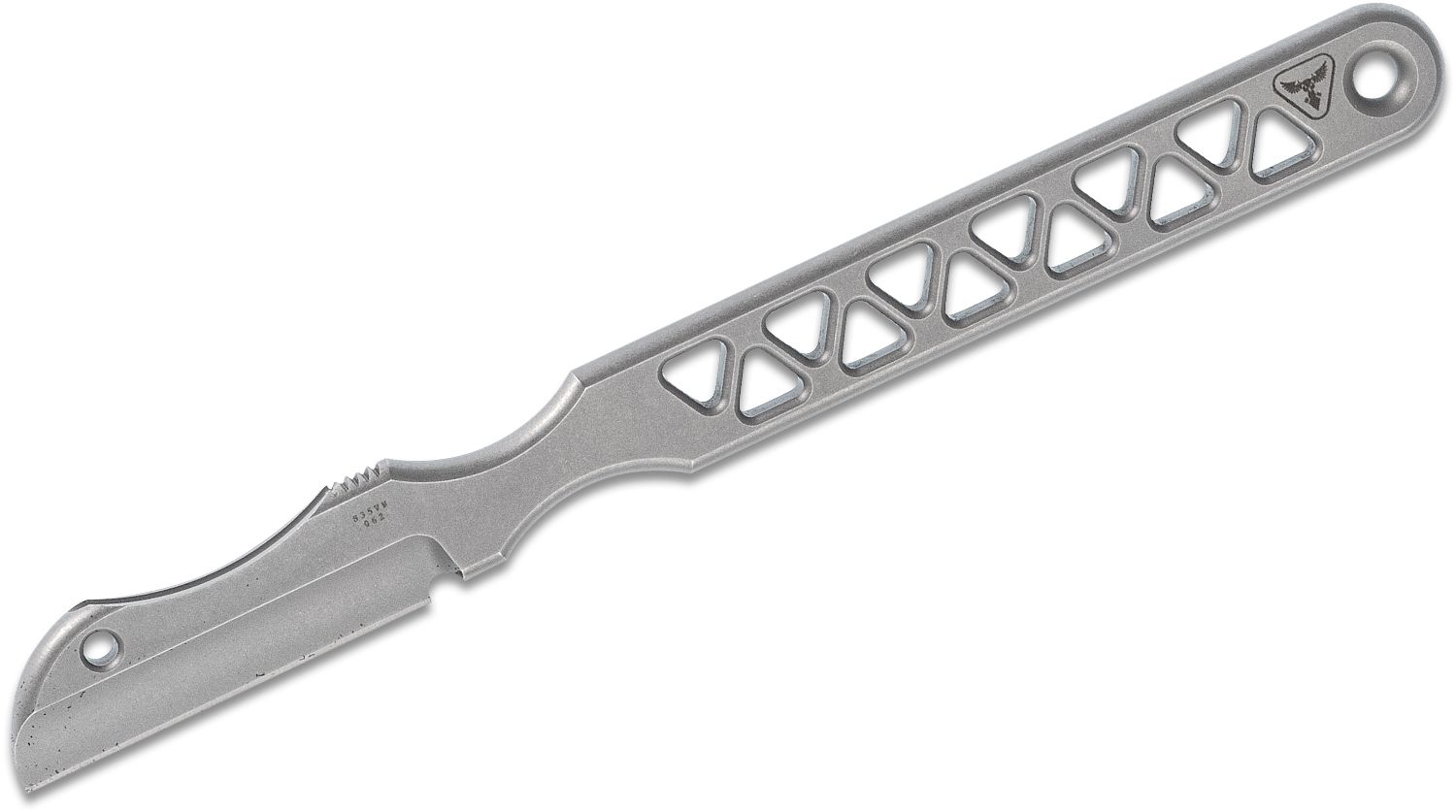 Although its name would suggest it is an outdoor knife, I think the Backcountry Scalpel is more suited to everyday carry. This is a more premium option coming in at the $140 range right now, and sports S35VN stainless steel, a definite step up in edge retention over the first two we've looked at. The blade itself is smaller at about 1.5 inches. Audacious Concept calls it a Wharncliffe (I would say its a sheepsfoot) and this is another great utility option for quick cuts.
The handle is definitely a high point here. Not only do they give you plenty of length to grip, making it very stable in use, but they also completely crown (round over) everywhere you would grip it. This makes the knife about as comfortable as you can ever hope to get on a skeletonized neck knife. This means you can really bear down when cutting and get the most out of the edge.
Blade Length: 1.6″
Cutting Edge: 1.5″
Overall Length: 5.5″
Blade Material: S35VN Stainless Steel
Blade Thickness: 0.16″
Blade Style: Sheepsfoot
Blade Grind: Hollow
Sheath Material: Black Kydex
Weight: 1.1 oz.
Made in China
---
BEST TACTICAL NECK KNIVES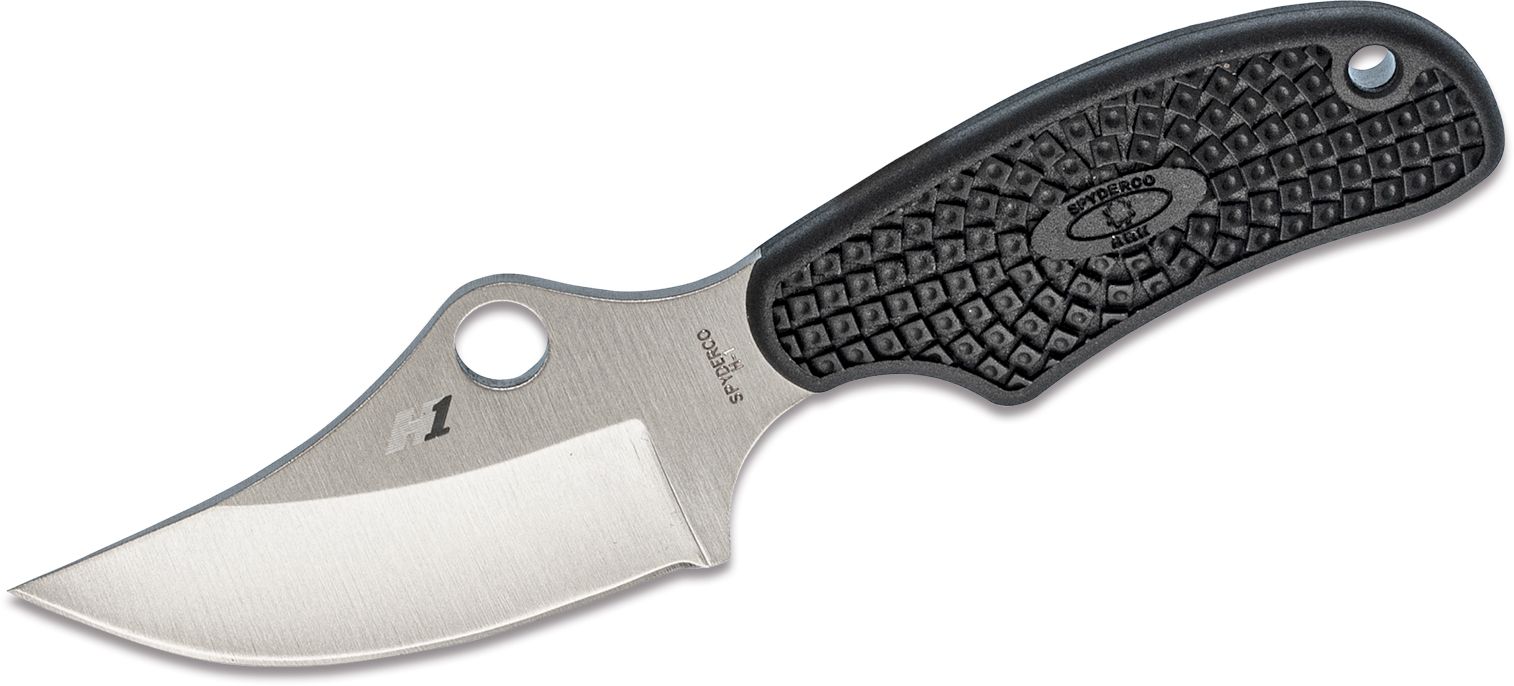 The Spyderco ARK was initially designed for soldiers in Afghanistan who were being assaulted in the showers of all places. The ARK was made to be carried even there, allowing our armed forces to defend themselves no matter where they are.
To that end, we see Spyderco's H1 steel offering rust-proof performance while still offering decent edge holding. The deeply curved clip point shape comes to a very sharp point and you can get with a plain-edge or with full serrations for even more aggressive cutting.
The handles are purpose-driven as well, with Spyderco's bi-directional FRN molded directly onto the tang. This provides an insane amount of grip even when things are wet or slippery, and it negates the need for metal fasteners.
The sheath design is not an afterthought either. Made from injection-molded polymer, it is supplied with a breakaway ball chain for neck carry. As the name suggests, it will break away under a lot of pressure, which means it can't be turned against the wearer as a choking device.
Despite its niche mission, the ARK is going to be a useful tool in all walks of life, and you've got to salute Spyderco for taking on such a specialized mission and putting it into production, all for less than 75 bucks right now.
Blade Length: 2.5″
Cutting Edge: 2.1″
Overall Length: 4.98″
Blade Style: Clip Point
Blade Grind: Hollow
Blade Material: H1 Stainless Steel
Handle Material: Fiberglass Reinforced Nylon (FRN)
Sheath: Injection-Molded Polymer
Weight: 2 oz.
Made in Japan
---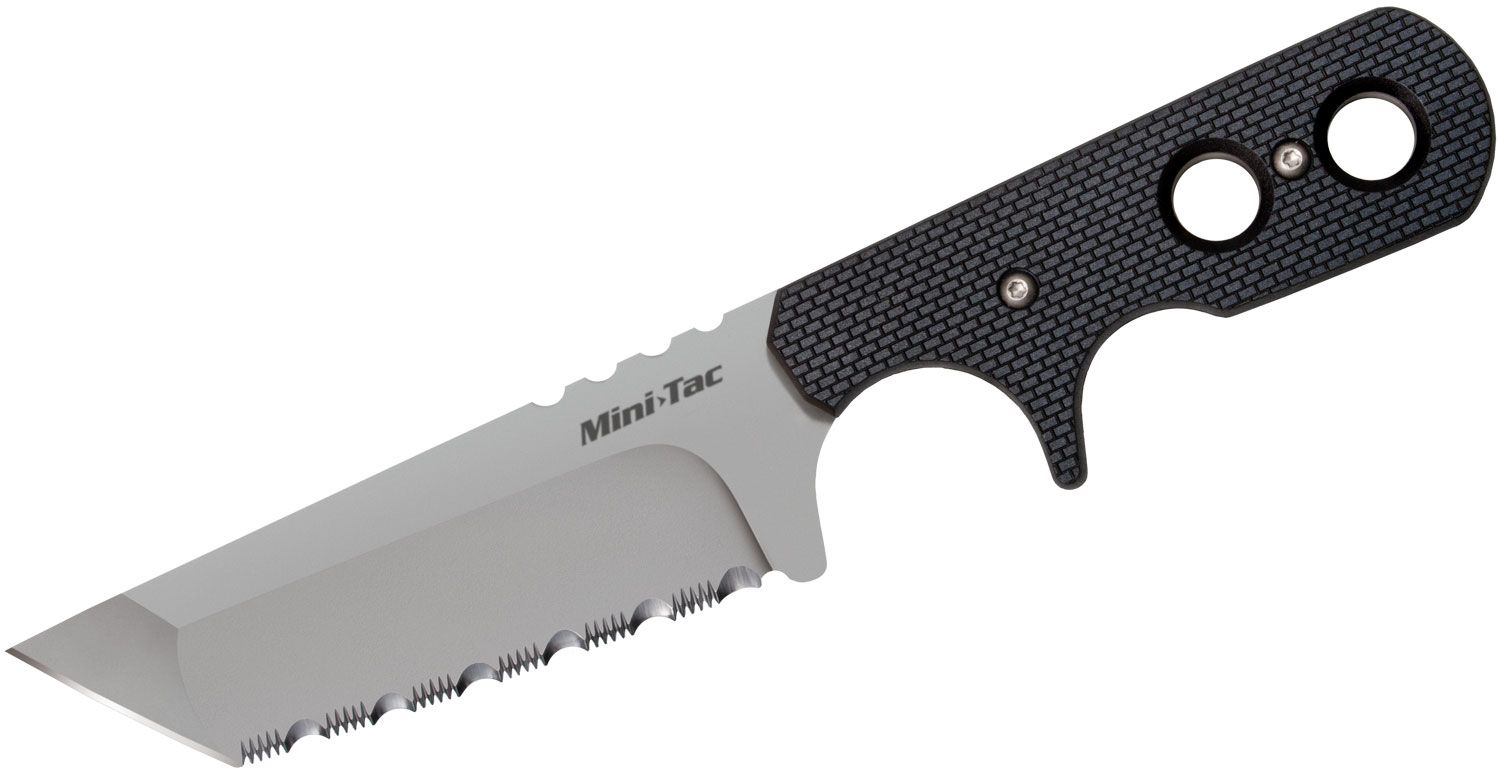 If you want a tactically oriented neck knife that has a bit of eastern influence, you'll want to check out the Cold Steel Mini-Tac tanto, coming in at a very affordable $30 right now. It features an AUS-8 stainless blade with a broad tip for strength during penetration. If you'd prefer something more acute there is also a clip point Bowie version which is a little poker.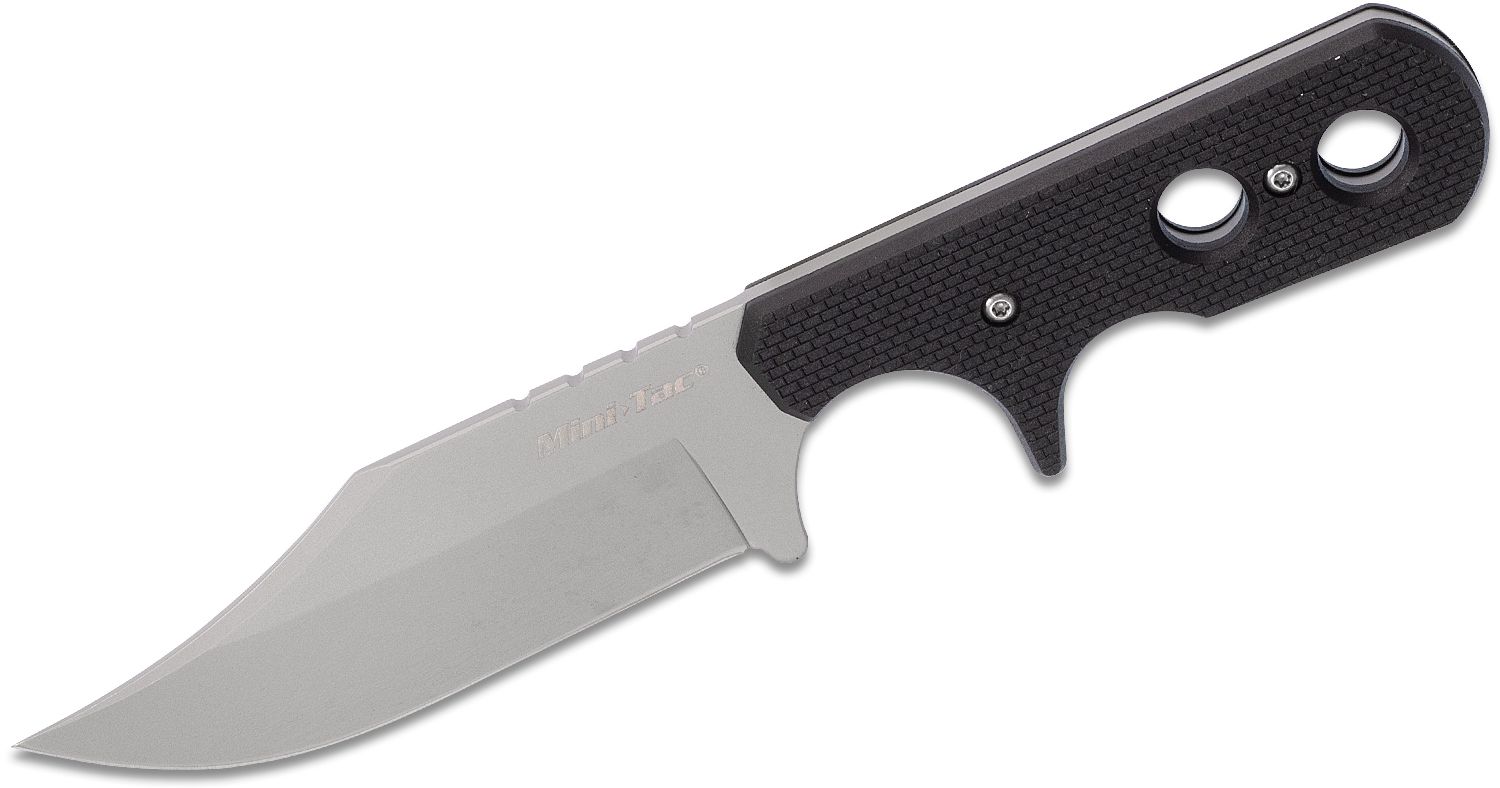 The blade length is balanced out by a slightly shorter handle, which offers a three-finger grip. Despite the length, it is more secure than you might think. The Griv-Ex scales feature a G10 like texture and a big finger guard locks your hand into place. This means you won't have to think twice about tackling big targets with this blade, yet it is so flat and lightweight that you can virtually forget about it until you really need it.
Blade Length: 3.75″
Handle Length: 3.00″
Overall Length: 6.75″
Blade Thickness: 0.98″
Blade Material: Japanese AUS 8A Stainless Steel
Blade Finish: Bead Blast
Handle Material: Textured Griv-Ex
Handle Color: Black
Sheath: Secure-Ex with Beaded Chain
Weight: 2.7 oz.
Made in Taiwan
---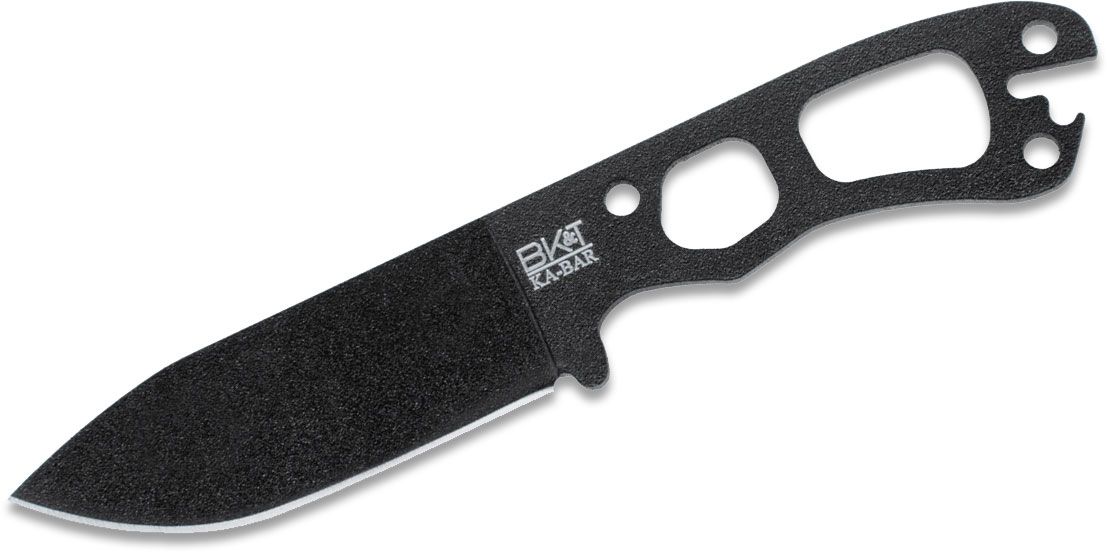 The Becker Necker actually has a bit of crossover appeal. In addition to tactical and military uses, the classic 3.25″ drop point shape that lets it work well for outdoor and EDC needs as well.
Made by KA-BAR in New York, it features a tough 1095CV carbon steel blade that can withstand heavy abuse. If you are worried about the carbon steel rusting, the powder coating on the knife should keep that at bay, excluding the edge and laser-marked logo, of course, but these should be easy to care for.
The handle incorporates a trick at the back end. The cutout design works as both a bottle opener and a wire/fence breaker. We also see a few holes which make the design very conducive to wrapping with paracord if you want to add a little more thickness and soften the edges of the handle for more comfort. If you want more to grab onto than that, KA-BAR makes a nice set of bolt-on Micarta scales that are comfortable and easy to install.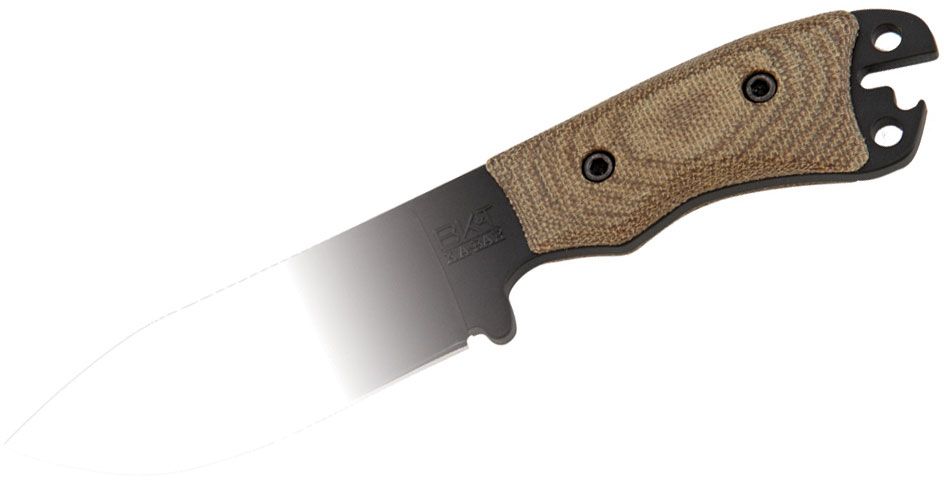 The hard plastic sheath provided works for more than just neck carry. You can string paracord through the holes to create your own belt loops or add KA-BAR's TDI belt clip for easy on-and-off the belt action when you want it. All this US-made quality comes in at a very reasonable 50 bucks at this point in time!
Blade Length: 3.25″
Blade Finish: black powder-coated
Overall Length: 6.875″
Blade Steel: 1095 Cro-Van Carbon Steel
Weight: 2.50 oz.
Proudly Made in the USA
---
BEST OUTDOOR NECK KNIVES
ESEE Knives: Izula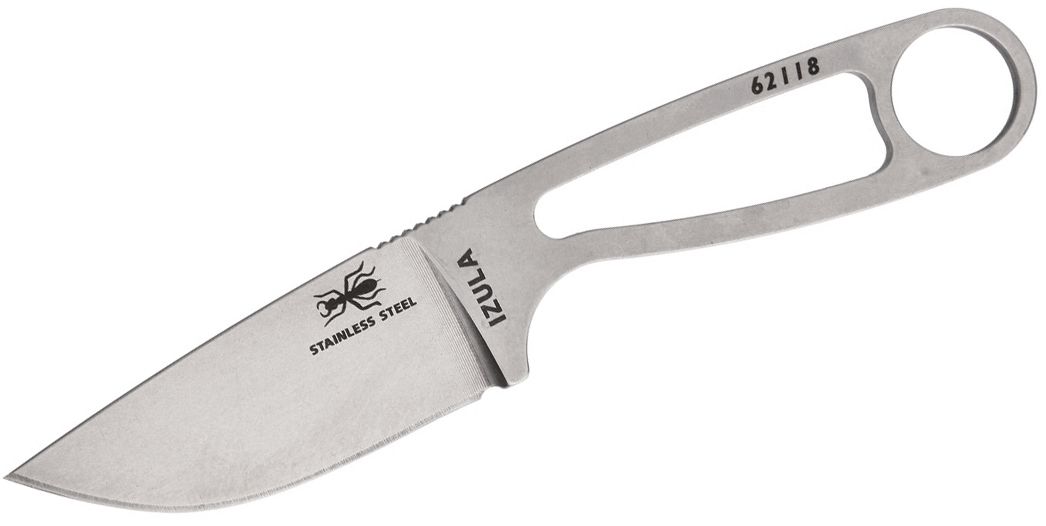 The ESEE Izula, also made in America, has similar crossover appeal, but in my mind, it leans less tactical and more towards outdoor and EDC, and they start around the $60 price point.
Most Izulas are 1095 carbon steel with a powder coating and you can get a handful of color options, not just black like the Becker. You can also get it with 440C with a stonewashed finish if you prefer a stainless blade. The sharpened edge comes in a little under three inches and it features a lot of belly. Sometimes this can impact the usability of the tip of the knife, but they have angled the blade down from the line of the handle so that it remains easy to use for delicate work while still leaving plenty of belly for slicing and skinning.
Like the Becker, you can easily paracord wrap the Izula handles as well as purchase handle scales separately, with ESEE offering Micarta or G10 choices. The Izula-II is also an option. It has the same blade with longer handles and is comes with Micarta installed right from the box.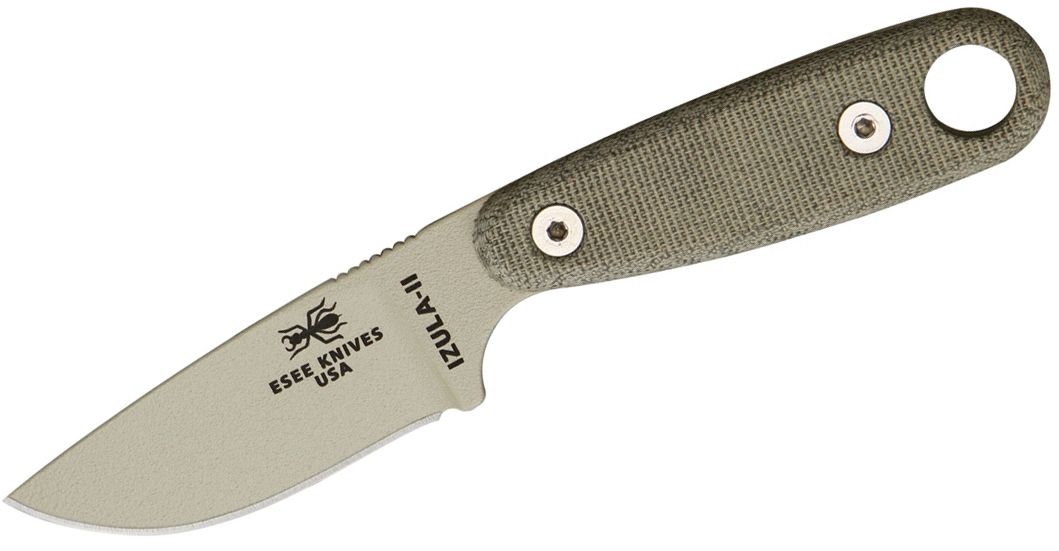 If the design doesn't speak for itself – I think it does – ESEE also has one of the best warranties in the business – lifetime, no questions asked. With that kind of confidence in the product, you know you can abuse the knife without feeling guilty.
Blade Length: 2.875″
Cutting Edge: 2.625″
Handle Length: 3.375″
Overall Length: 6.25″
Blade Material: 440C Stainless Steel or 1095 Carbon Steel
Blade Thickness: 0.156″
Blade Style: Drop Point
Blade Grind: Flat
Blade Finish: Stonewash (stainless models) or powder coat (carbon models)
Handle Material: Optional Scales Sold Separately
Sheath Material: Plastic with Clip Plate
Weight: 2.0 oz.
Made in the USA
---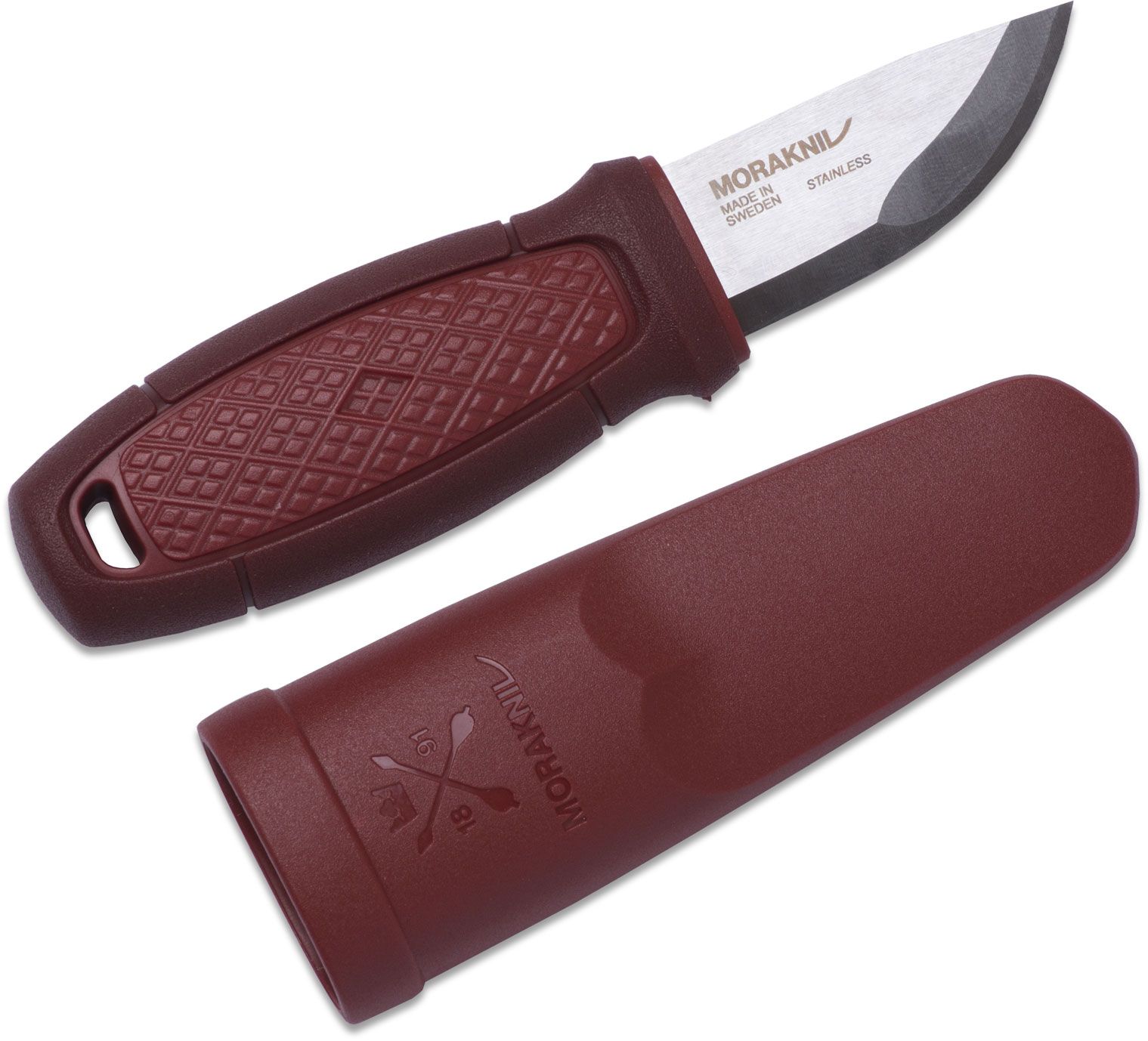 Next we have a bushcraft neck knife, the Mora Eldris which is made in Sweden. Nordic peoples actually have a long history with neck knives as the knife could be accessed without removing cold-weather clothing, something that still holds up today. A neck knife could also be accessed more easily in the event of falling through ice to use as an improvised pick to pull themselves to safety.
The Eldris is a great design and is by far the best whittling and woodcarving knife we've looked at yet thanks to a palm filling synthetic handle. The barrel shape lends itself to hours of wood carving with a lot of comfort. Several colors are available including orange and blue, both of which will be highly visible.
The blade is just under 2.25″ long and made from Sandvik 12C27 stainless steel. This alloy is quite tough, easy to maintain, and you can get a very fine edge on it pretty easily. It features a scandi grind which is phenomenal for carving wood, but they have also scalloped the shoulders away near the belly to make it more efficient for general-purpose tasks and slicing.
The sheath is hard plastic with holes at the top for lanyard/neck carry and the knife clicks into place with positive retention. In this configuration, the Eldris comes in at about $25 at this point in time.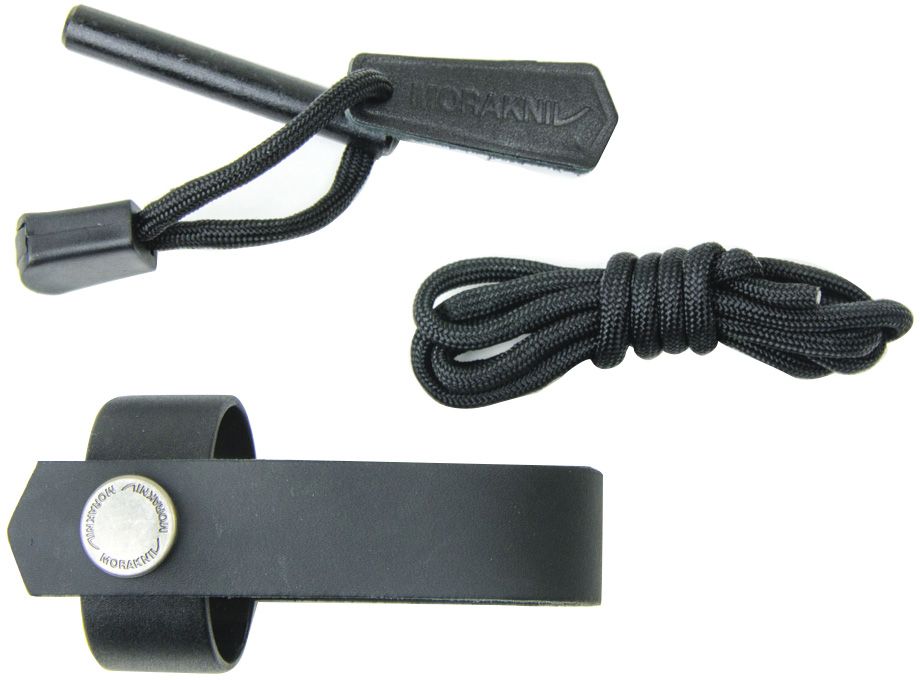 Also available is a $40 bundle. This package adds a leather snap loop for extra retention when the sheath is inverted and it includes a paracord lanyard, and a firesteel for starting your bonfire or camp stove. The spine of the knife is crisp enough to use as the striker so this package includes everything you need to survive and thrive in a nice compact form factor.
Blade Length: 2.2″
Blade Steel: Sandvik 12C27 Stainless
Overall Length: 5.6″
Blade Thickness: 0.08″
Handle Material: Polymer
Weight: 2.8 oz.
Sheath: Polymer
Made in Sweden
---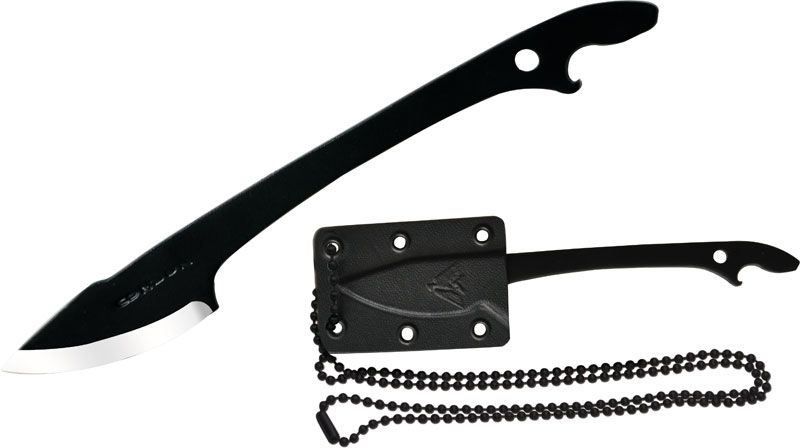 Next outdoor design is a pick from Condor Tool & Knife designed by Joe Flowers, the BBT – Bird, Bottle and Trout Knife priced about $25. Like the Backcountry Scalpel above, this knife is nearly all handle with a smaller blade roughly 1.75″ long. This lets you exert more control over the edge and with this design, in particular, it is suited to lashing to a stick for use as an impromptu spear
Now, a word of caution. I'm not generally a fan of that idea of lashing your knife to a stick. In a true survival situation, you wouldn't want to lose your knife after all, but it is an option here if you disagree with me.
The blade is made of 1075 carbon steel, which is easy to maintain while offering a high degree of toughness and a black coating to keep the rust demons away. The small drop point blade is a good shape for camp craft or even as a small hunting knife.
Once the hunt is done you can kick back with your favorite beverage thanks to the bottle opener at the back end.
Blade Length: 1-3/4″
Blade Thickness: 5/64″
Overall Length: 6″
Blade Material: 1075 High Carbon Steel
Blade Finish: Epoxy Black Powder Coating
Sheath: Kydex and Ball Chain
Designed by: Joe Flowers
Weight: 0.10 lbs.
Made in El Salvador
---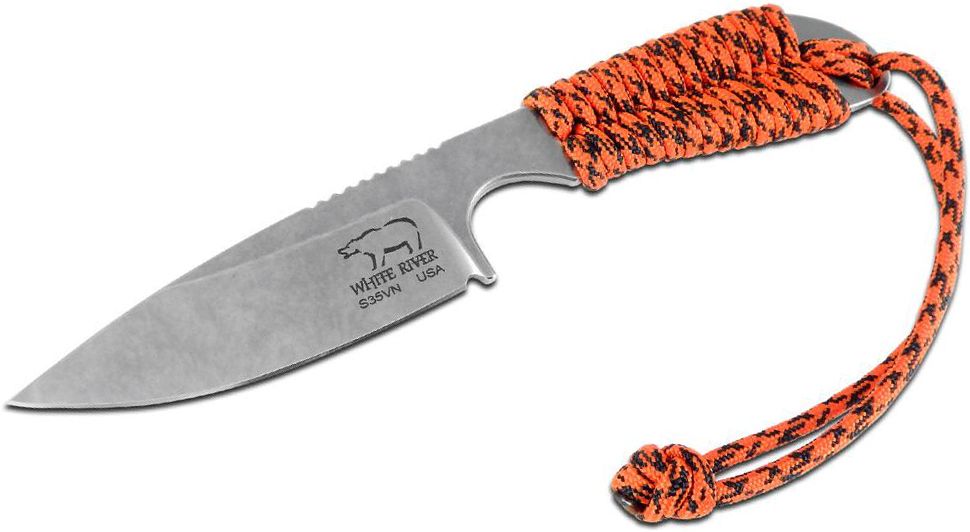 Last but not least, the White River M1 Backpacker is probably my favorite neck knife on the market, in any genre, incorporating many of the best elements from all the knives we've looked at so far. If you haven't checked out a White River knife before, you really should, and the Backpacker is a great place to start, offering premium construction, great materials, and a blade that is useful for everything from camping, hunting, EDC utility, and even tactical, especially if you go for one of the black-coated models.
Prices start at $95 at this point in time and the blades are made in the USA from S35VN steel. The 3.25″ blade, as I said, is useful anywhere with its drop point shape, acute tip, and flat grind. The standard stonewashed finish looks great, while black versions feature an ionbond coating for fewer reflections.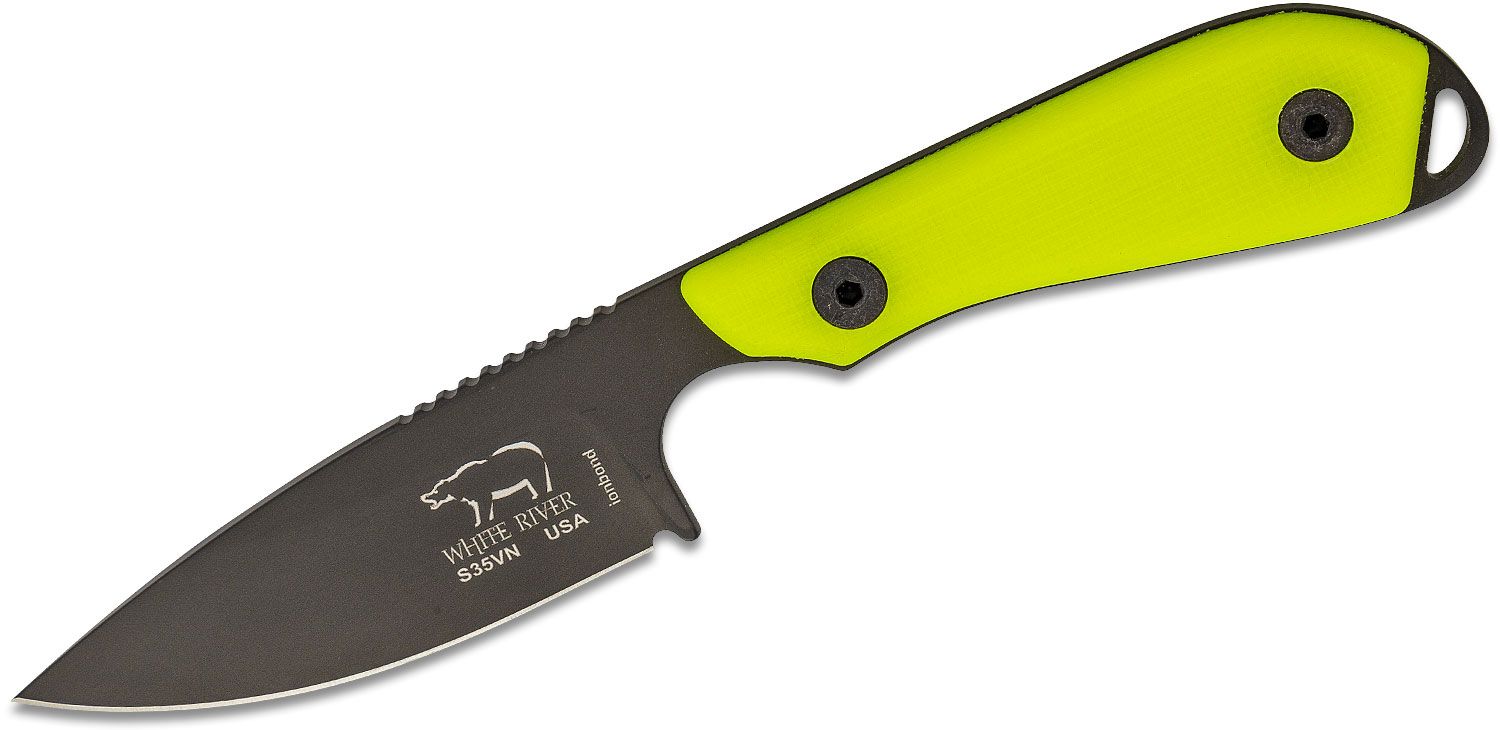 The handles are wrapped in paracord wrap right from the box, or for a little bit more money you can get the Backpacker Pro which features bolt-on scales from various colors of G10 or Micarta. Their Caper model is an even more premium option. Despite the different name the profile is the same, but it features permanent handles with a pair of tubes running through the handle for more lashing options.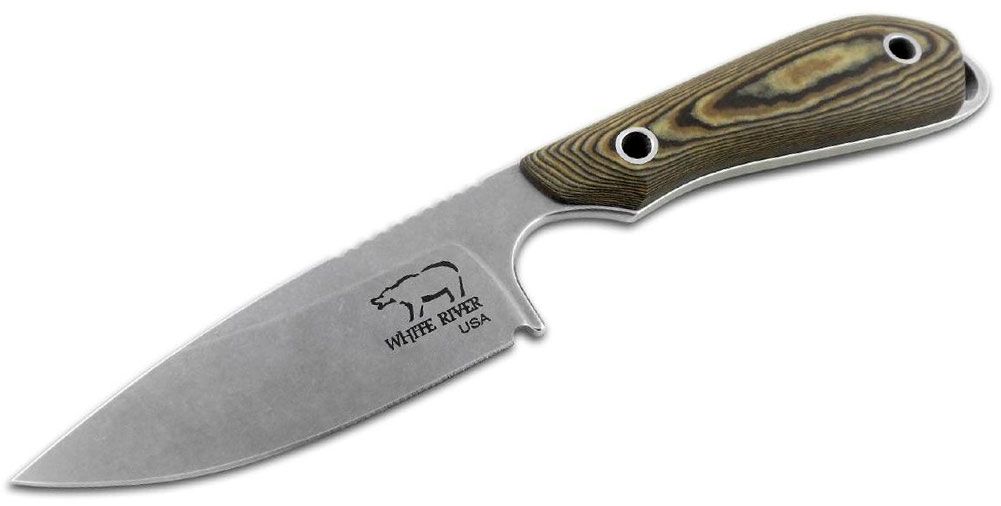 My favorite detail though is the way they treat the index finger area of the handle. It forms a prominent finger guard for safety, but for increased comfort, that area is crowned very nicely, something I wish more manufacturers would take note of. Whether you are piercing with the blade or powering through a cut, it is a very comfortable and appreciated feature.
The sheath is also, in my opinion, the best we've looked at so far, featuring a custom Kydex fit that can be carried around the neck or on the belt with the included attachment hardware. It can even fit popular aftermarket belt hardware such as the Blade-Tech Small Tek-Lok.
Blade Length: 3.25″
Cutting Edge: 3″
Blade Steel: S35VN Stainless, 58-60HRC
Blade Thickness: 0.096″
Overall Length: 7″
Handle: S35VN Paracord Wrap
Sheath Material: Kydex
Weight: 2.4 oz.
Made in the USA
---
So that concludes our list for today. Make sure to let us know your favorites in the comments section and follow the links to get your hands on any of these great knives!