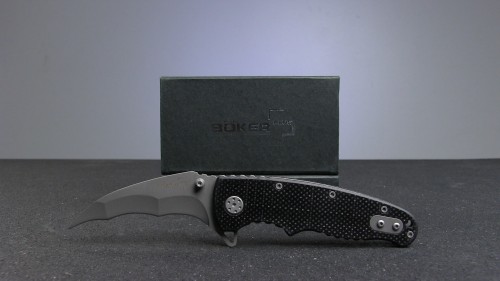 Our weekend special this week is a blade that would not seem out of place in the arsenal of a certain Gotham vigilante: this is the Boker Plus Baby Bat.
The knife is a more compact version of the original Bat, which was the brain-child of South African designers Kevin and Heather Harvey. The smaller model offers the same exciting Heavinforge design, while cutting weight and bulk.
The three-and-an-eighth inch hawkbill blade is made from 440C stainless steel and is deployed via the flipper feature or dual thumbstuds. The curved design gives the blade a rather ominous and aggressive look, despite its slimmer profile.
The handle features rugged G10 scales, and a good amount of jimping for grip, and a liner lock design. Clocking in at around four ounces, it's a pretty easy carry option. There is also a reversible pocket clip for left or right tip-up carry.
Overall, the Boker Plus Baby Bat is a compact off-shoot of its big brother and a good pick for those who like their knives a bit more stylistic.
Check out more about the Baby Bat here, and see all our items at KnifeCenter.com!