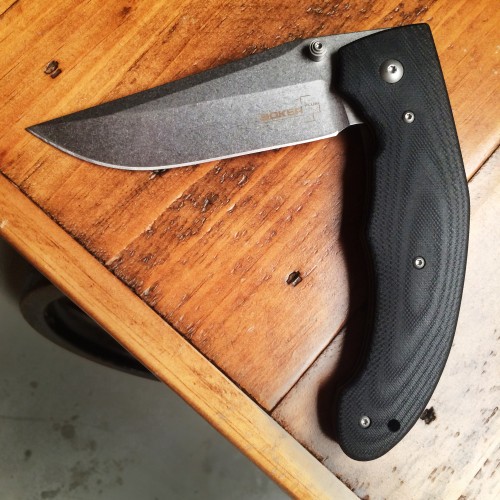 Welcome to KnifeCenter.com's Weekend Special! This week we're looking at a highly functional full-sized folder. This is the Böker Plus Gitano.
The Gitano was designed in collaboration with Arkansas knifemaker Tom Krein, who is most well-known for his fixed blades and outdoor knives. But his folders are quite popular as well, and this production model plays on some of his specialties, particularly his use of very thin blade edges, which Böker tries to emulate here with the Gitano's deep hollow grind.
The long, curved handle and the very slight up-swept look of the blade calls to mind the Spanish Navajas style. It gives the knife a great ergonomic feel and flowing design. Despite its large size – nearly 10 inches long, with a four-and-a-quarter inch blade – the Gitano's slim profile and lighter materials allow it to be carried much more comfortably than one might first think.
The stonewash blade is made from 440C stainless steel, a very good steel that will hold and take an edge, and the handle consists of G10 scales with a liner lock design. It is deployed via the dual thumbstuds and opens and closes smoothly. There is also a pocket clip for tip-down carry.
Overall, the Böker Plus Gitano features great design and surprising portability. It's a nice value option for people in the market for a full-size folder.
Thanks for checking out our review. Click here to see more about the Gitano, or browse our extensive inventory at KnifeCenter.com!