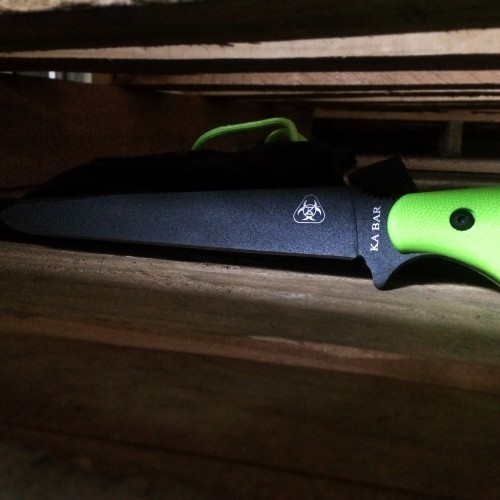 Our Weekend Special this week is a knife built with an imminent apocalypse in mind: this is KA-BAR's Zombie Killer Death Dagger.
It's the most intensely-named blade I have ever come across; and while we'll probably never know the extent of knife's zombie-killing prowess – at least until Umbrella Corporation finally takes over – it still has a few upsides in terms of practical applications.
The dagger shaped blade is nice and slim and made from SK5 Carbon Steel – very sharp right out of the box. The textured handle has good grip and is pretty much identical to the parang-style machete we reviewed from KA-BAR a few weeks back. It includes two sets of scales – a standard black and a toxic green version.
There is also a sizable nylon sheath and an "Acheron" skeleton knife included in the box, making for a nice, versatile outdoor adventure package.
Overall, the Death Dagger is solid, sharp, and comes with a number of extras and features that definitely make it worth checking out.
See more of our extensive inventory at KnifeCenter.com!