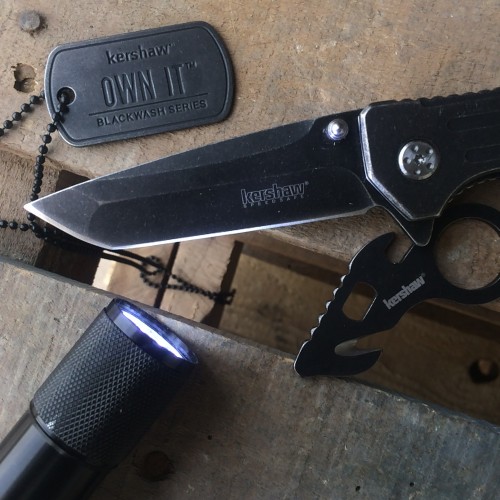 The week's special is a combination kit that will help you stay sharp in every situation: this is the Kershaw 1304 Own It 4-Piece Set.
The main attraction of the kit, of course, is the blackwash assisted folder. It's a solid knife you won't feel bad about abusing in less-glamorous tasks. The three-and-a-half inch blade is made from 3Cr13 steel, and the rugged finish will hide all but the most glaring scratches. It is deployed via the flipper feature or the dual thumbstuds. The SpeedSafe assist is great, as always.
The stainless steel handle and frame-lock lock design give the knife a very solid – even weighty – feel, and there's a bit of jimping on the back of the handle to ensure grip. It also features a lanyard loop and deep-pocket carry clip for tip-down carry.
Included with the knife is a four-function multi-tool featuring a cord cutter and bottle opener, as well as a small LED flashlight. Both are nice little additions to toss on a keychain or in a glove compartment or cupboard for emergency use.
Overall, the Kershaw Own It Set is a nice combo package at a price that's hard to beat.
See more about the 1304BW set here, and view our entire inventory at KnifeCenter.com!