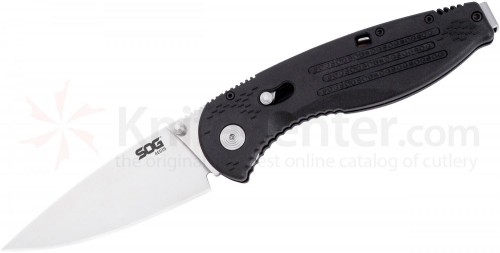 This week's Weekend Special is a full-size and compact version of the popular SOG Aegis model. Both feature the same straight edge, satin finish blade made from AUS-8 steel, though the compact version clocks in a 3.25″ blade (compared to the full-sized 3.5″) and a little over 1″ shorter overall.
The zytel handle provides great grip and SOG's Arc-Lock technology allows users to deploy and utilize the blade comfortably with either hand.
SOG Assisted Technology works through the balance of opposing high-tension coil springs. As one opens the blade the force to propel the knife open becomes greater than the closing force and the blade will open on its own. The end result propels the blade out once the operator has initiated the one-handed opening action.
Check out the more about the Aegis here, and view our entire inventory at KnifeCenter.com.